Horses are majestic creatures that captivate us with their beauty, strength, and grace. One of the most endearing aspects of these magnificent animals is their ability to sleep peacefully. Just like humans, horses need their rest, and they do so by lying down on their sides for a few hours a day. While they sleep, their bodies and minds recharge, and they dream just like we do.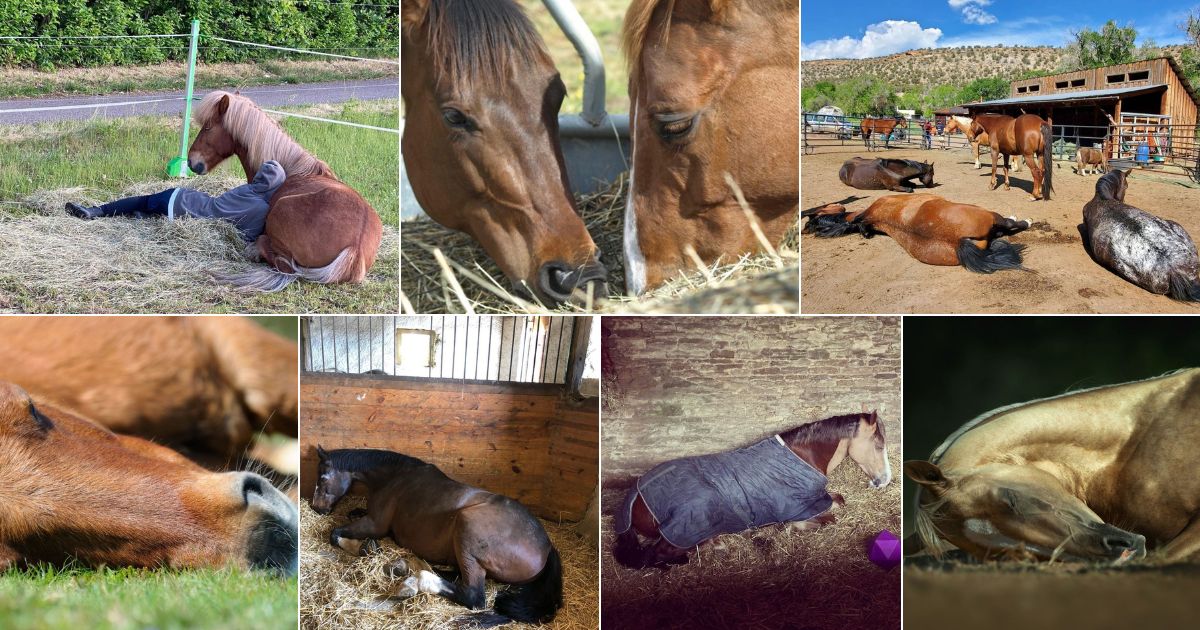 In this collection, we've gathered 11 adorable photos of sleeping horses that will warm your heart and make you smile. From newborn foals to older horses, these images capture the serene and peaceful moments of these animals as they rest. So sit back, relax, and enjoy these stunning pictures of horses in slumber.
Jump to:
1. Twilight Slumber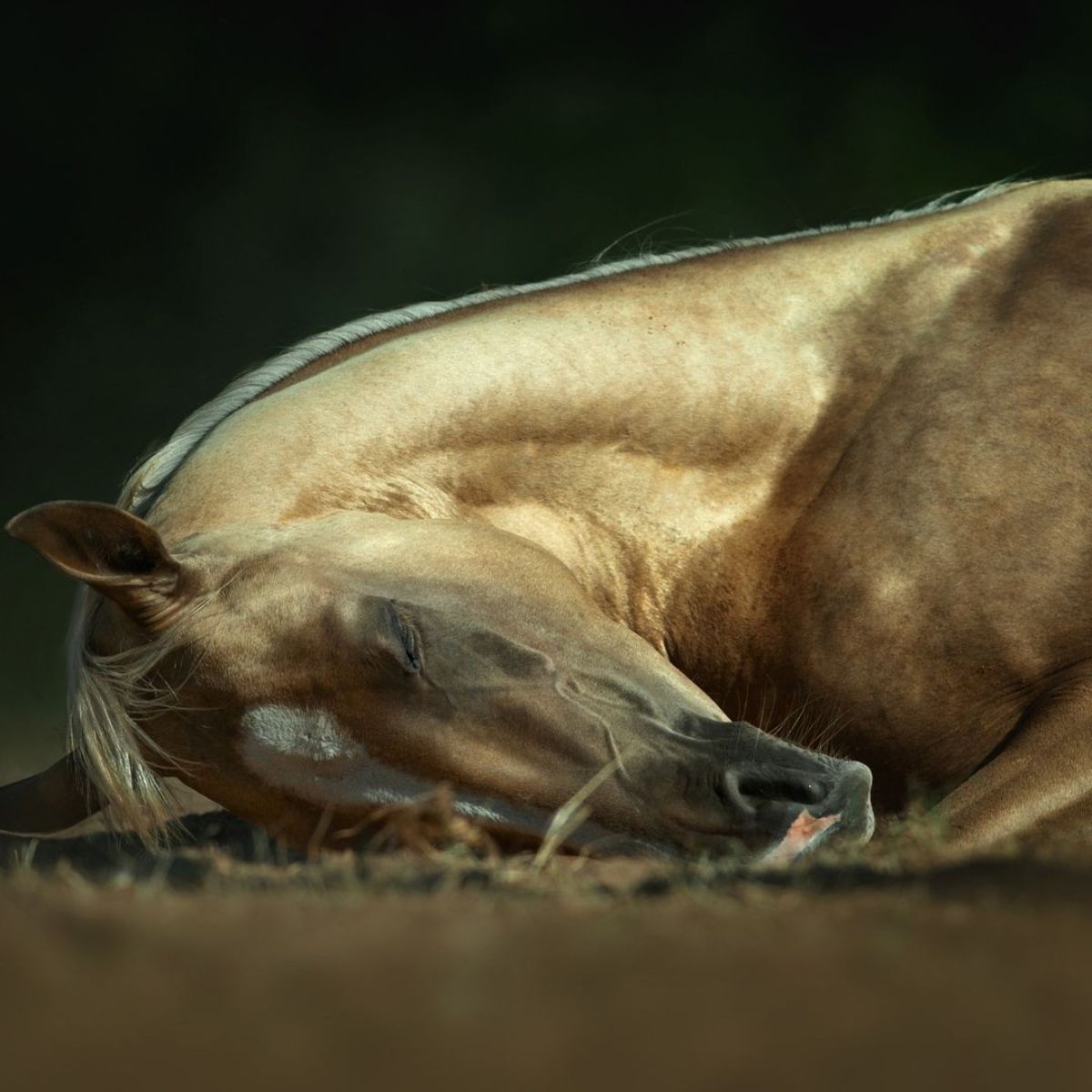 Is there anything more peaceful than a nap in a breezy pasture? This gorgeous horse is taking full advantage of the beautiful night with a comfortable rest in nature. The horse's tan coat contrasts against the night sky's darkness, while the gentle breeze causes the blades of grass to sway and rustle. The horse is lying on its side, with its legs tucked under its body. You see that its head is comfortably resting on the ground.
2. Resting In the Sun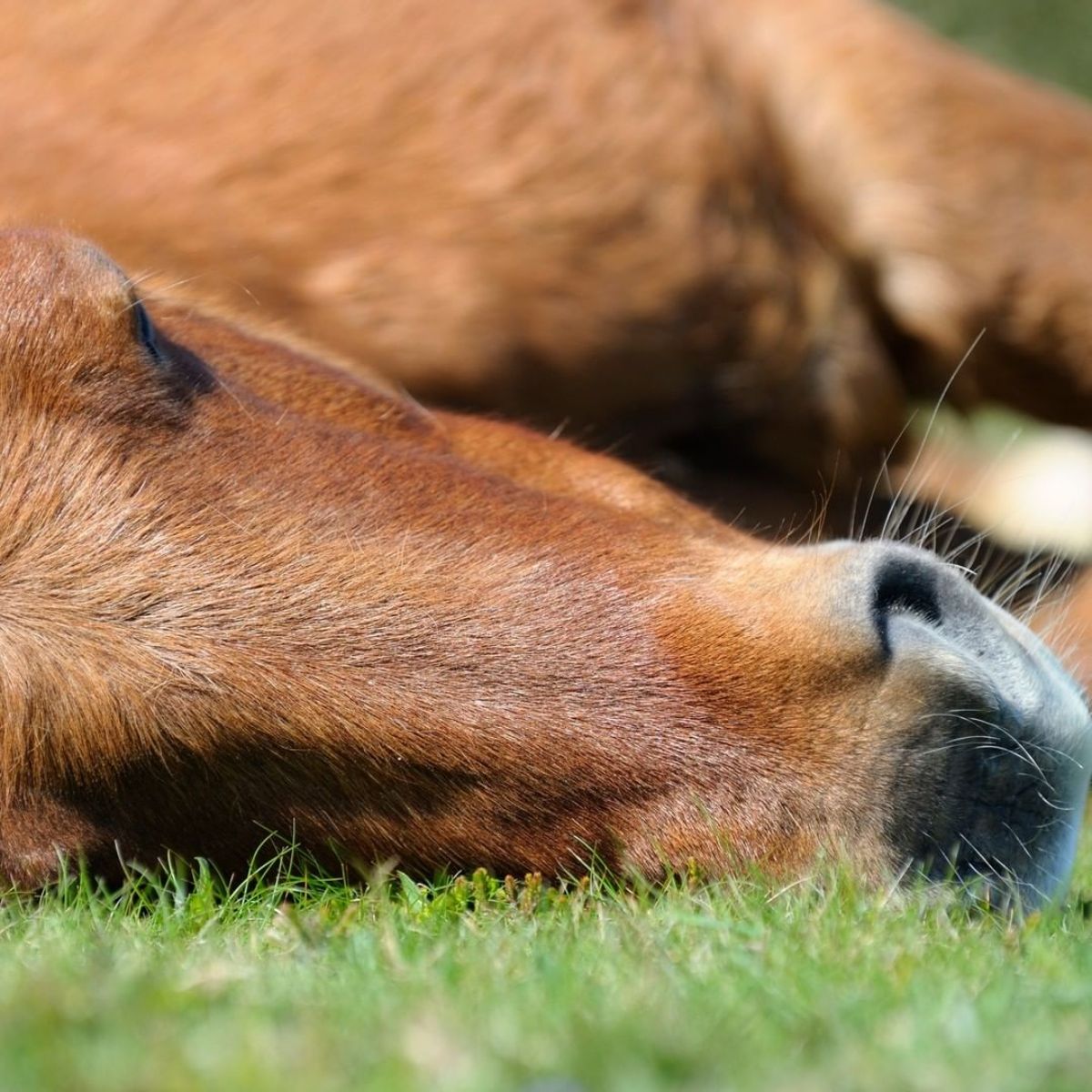 A calm brown horse rests peacefully in a lush green pasture under the bright sun, taking a midday nap. The horse is lying down on its side with its eyes closed, indicating that it is deep in slumber. The pasture is a vibrant green, with soft and natural light, casting a warm and inviting glow over the scene. The peaceful ambiance of the surroundings enhances the moment's serenity.
3. Protective and Loyal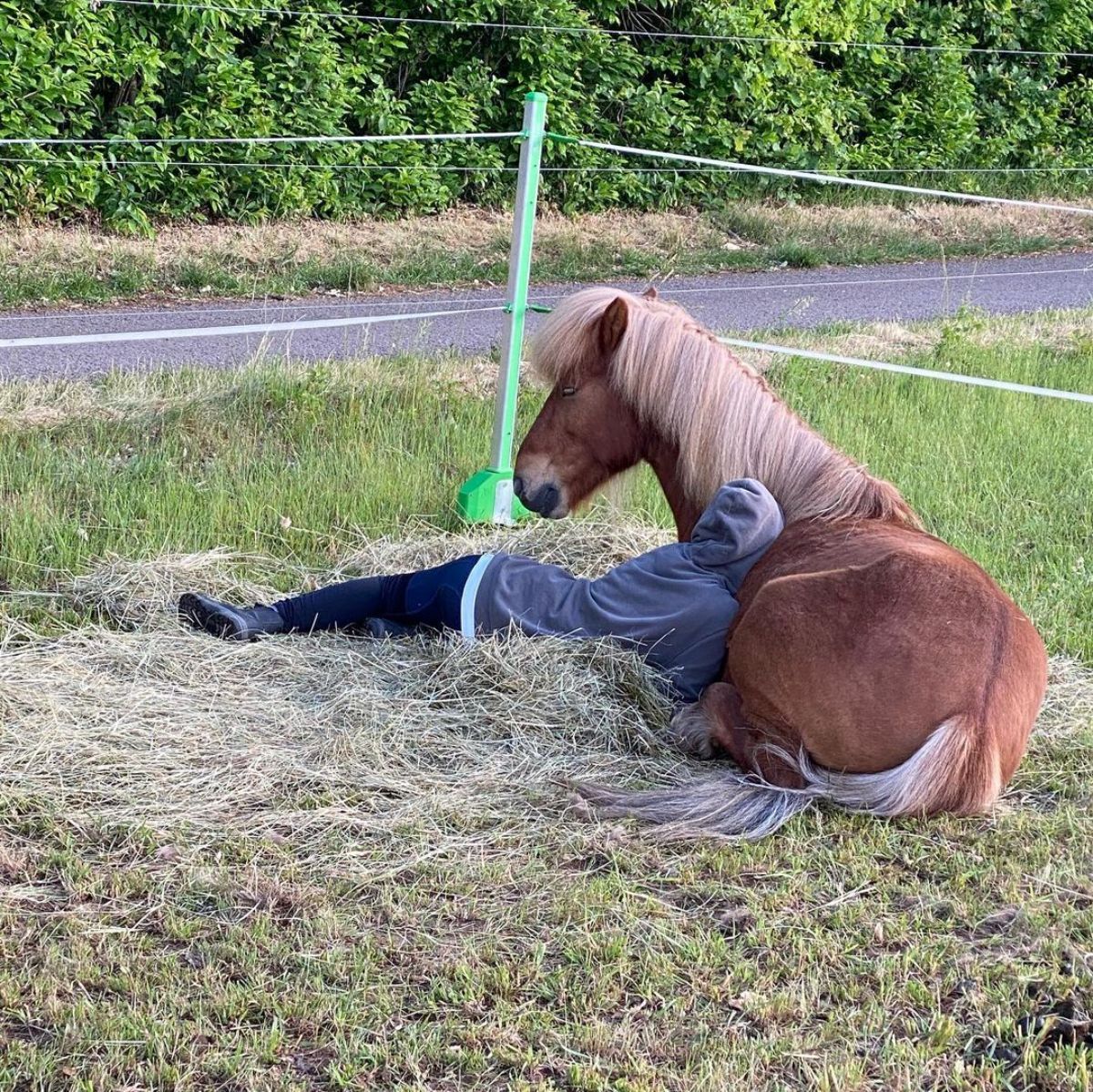 Horses are known for their keen sense of awareness and their innate ability to sense danger, even when resting. It is said that they have a built-in flight response that allows them to react quickly and protect themselves and their owners in case of danger. Therefore, even when taking a midday rest, horses are always alert and vigilant, watching for potential threats.
4. Sense of Security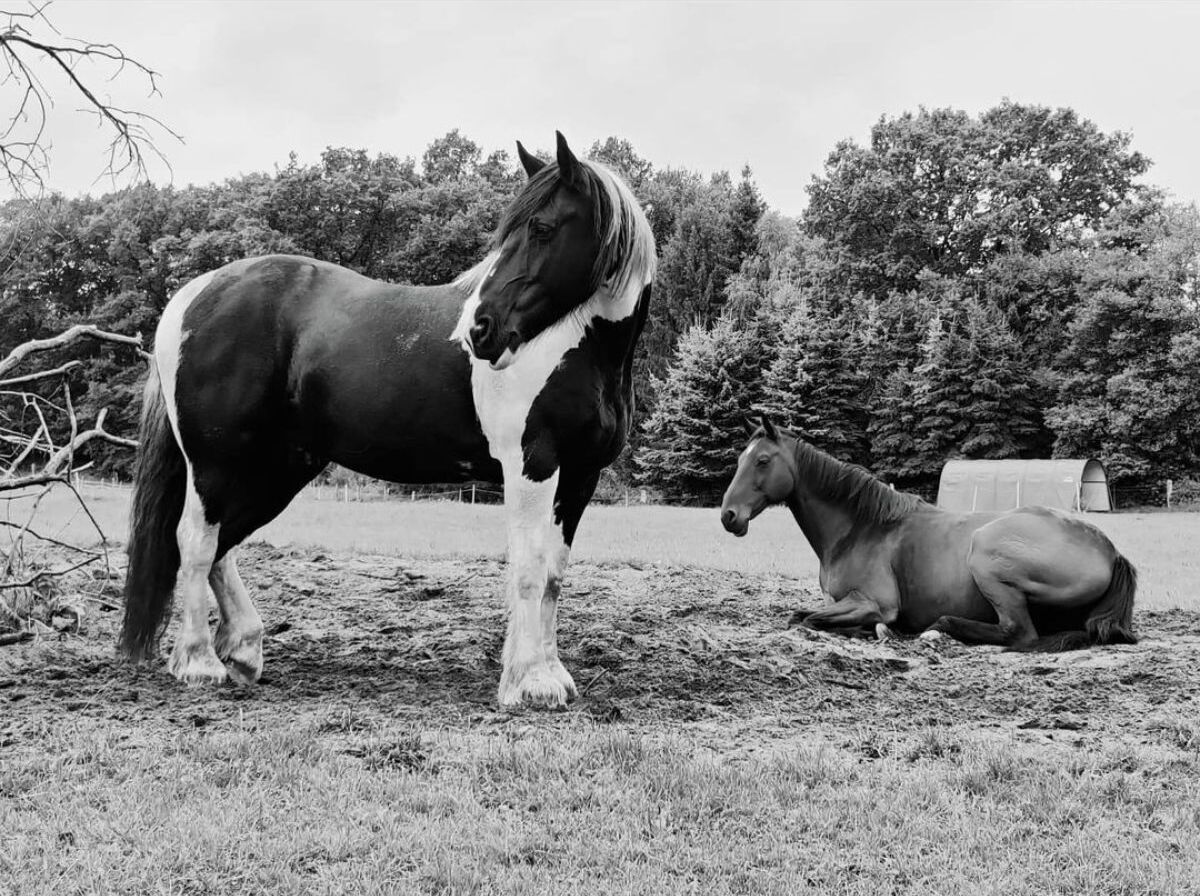 The photo captures a heartwarming scene of two horses resting in a vast green pasture on a sunny day. One of the horses is lying down on its side with its eyes closed, indicating that she is asleep. The other horse stands protectively over the mare, watching her as she dozes. At this moment, the standing horse is the epitome of loyalty and devotion, acting as a faithful protector of his companion.
5. An Image of Trust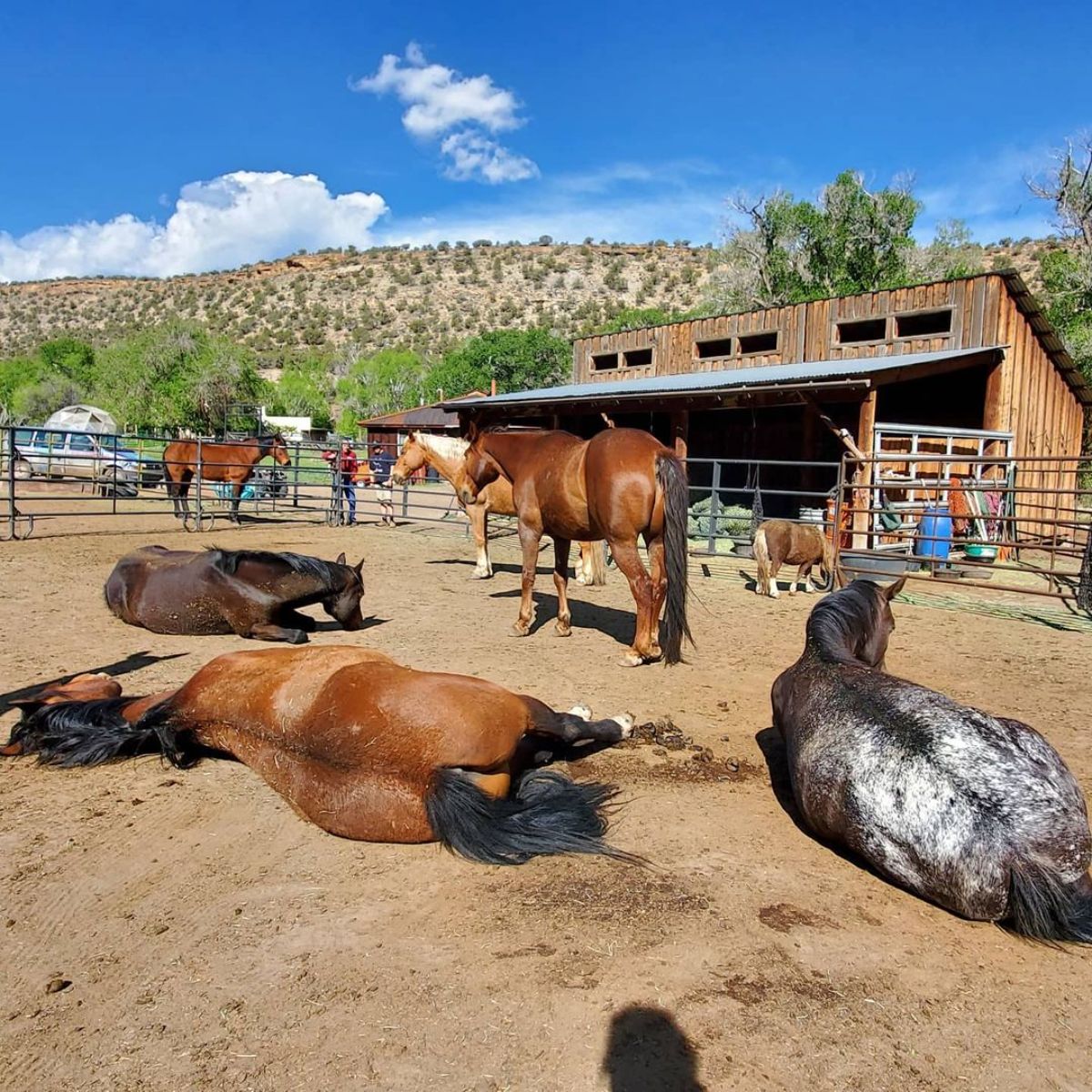 In a group of horses, the level of trust they have for their owner is palpable. They rely on their owner for daily care, including food, water, and shelter. They trust their owner will keep them safe from harm and provide them with the support they need to thrive. As a result, they become closely attuned to their owner's movements, expressions, and energy and respond accordingly.
6. Nose to Nose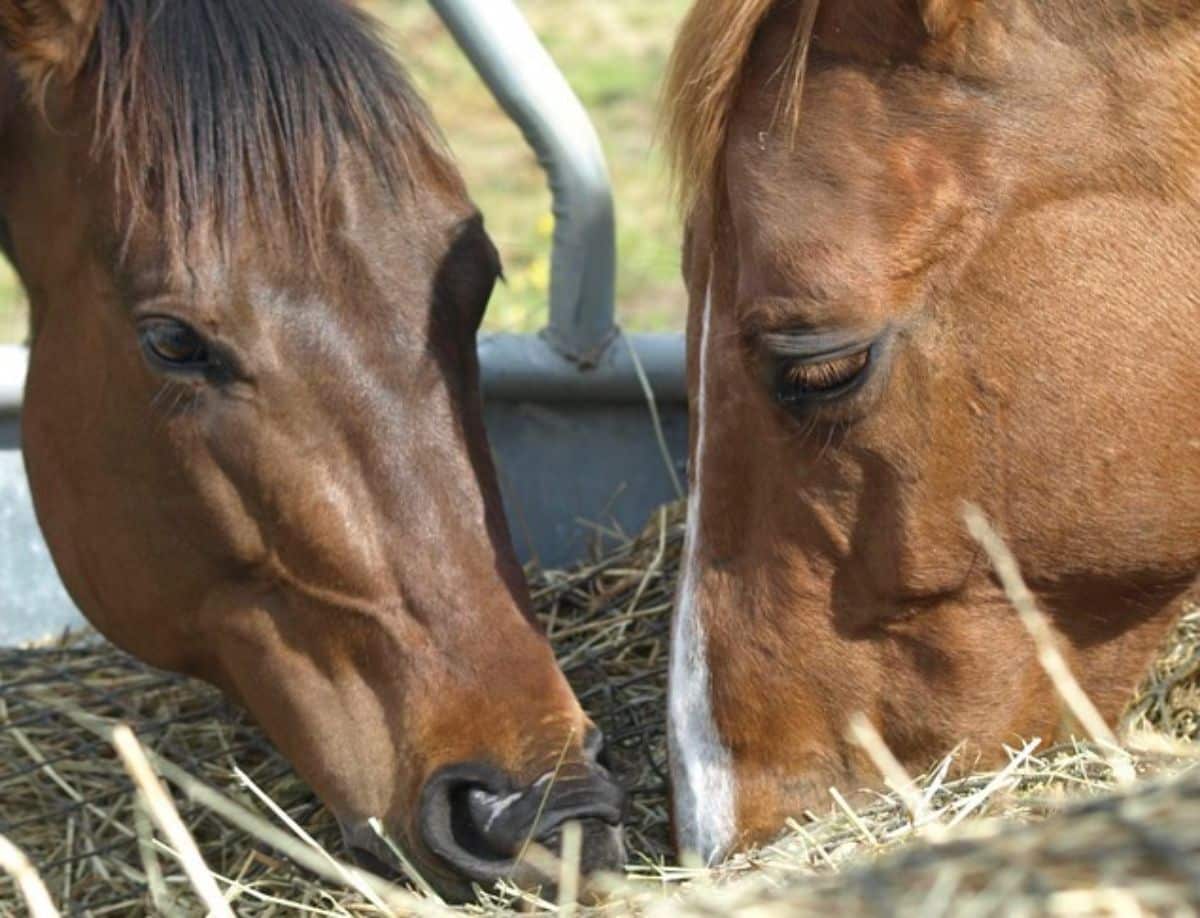 The photo captures a heartwarming scene of two beautiful brown horses nestled together in a bed of fresh hay. The horses are facing each other with their noses touching in a gentle and affectionate gesture. Their eyes are heavy, indicating that they are in a state of deep relaxation and comfort, basking in the warmth and softness of the hay.
7. Resting Pony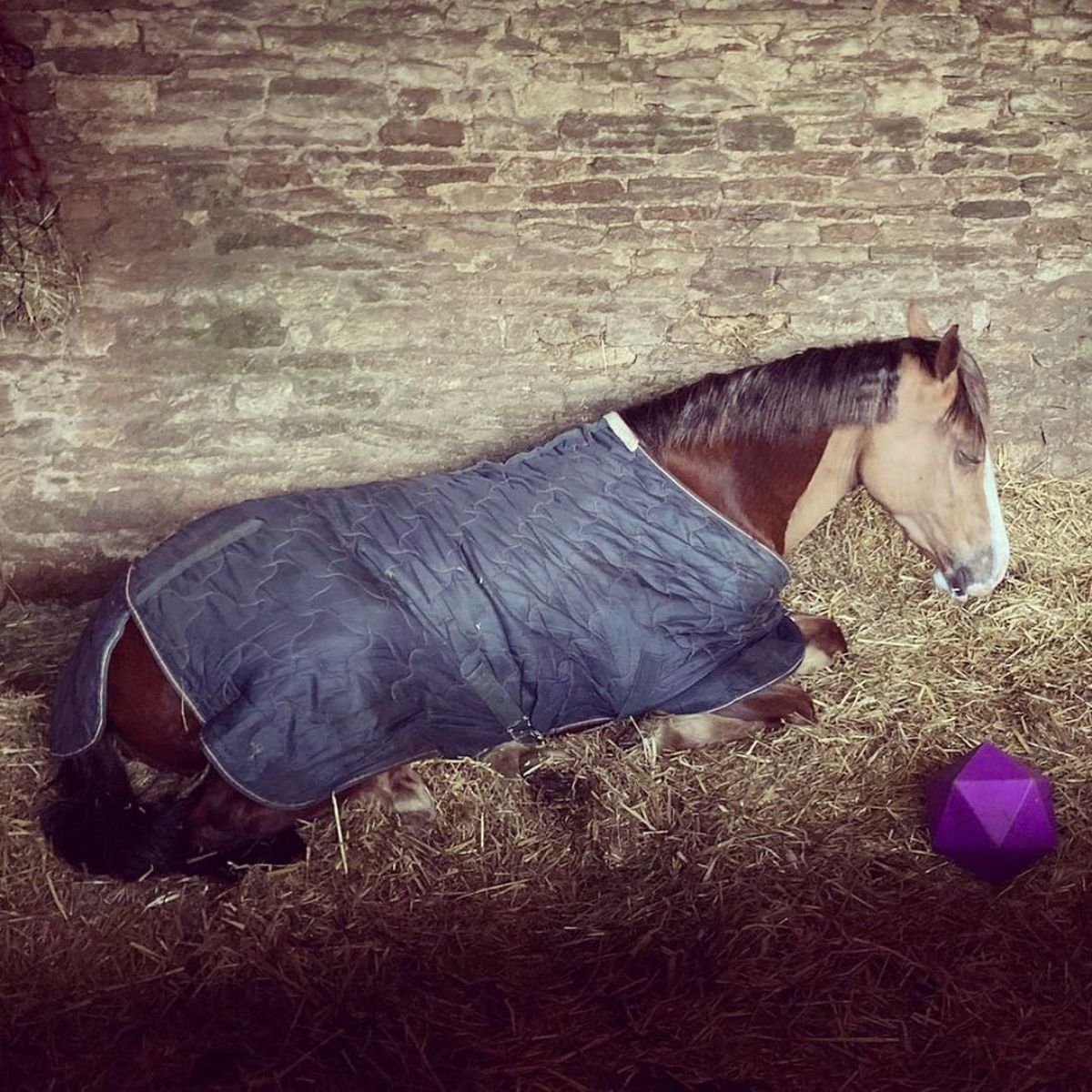 The photo depicts a young pony resting peacefully in its cozy stall, with a blue quilt draped over its body. Its soft fur and delicate features suggest a sense of innocence and vulnerability, making the scene all the more endearing. The young pony seems completely at ease, enjoying a much-needed rest after a day of play and exploration.
8. A Long Winter's Nap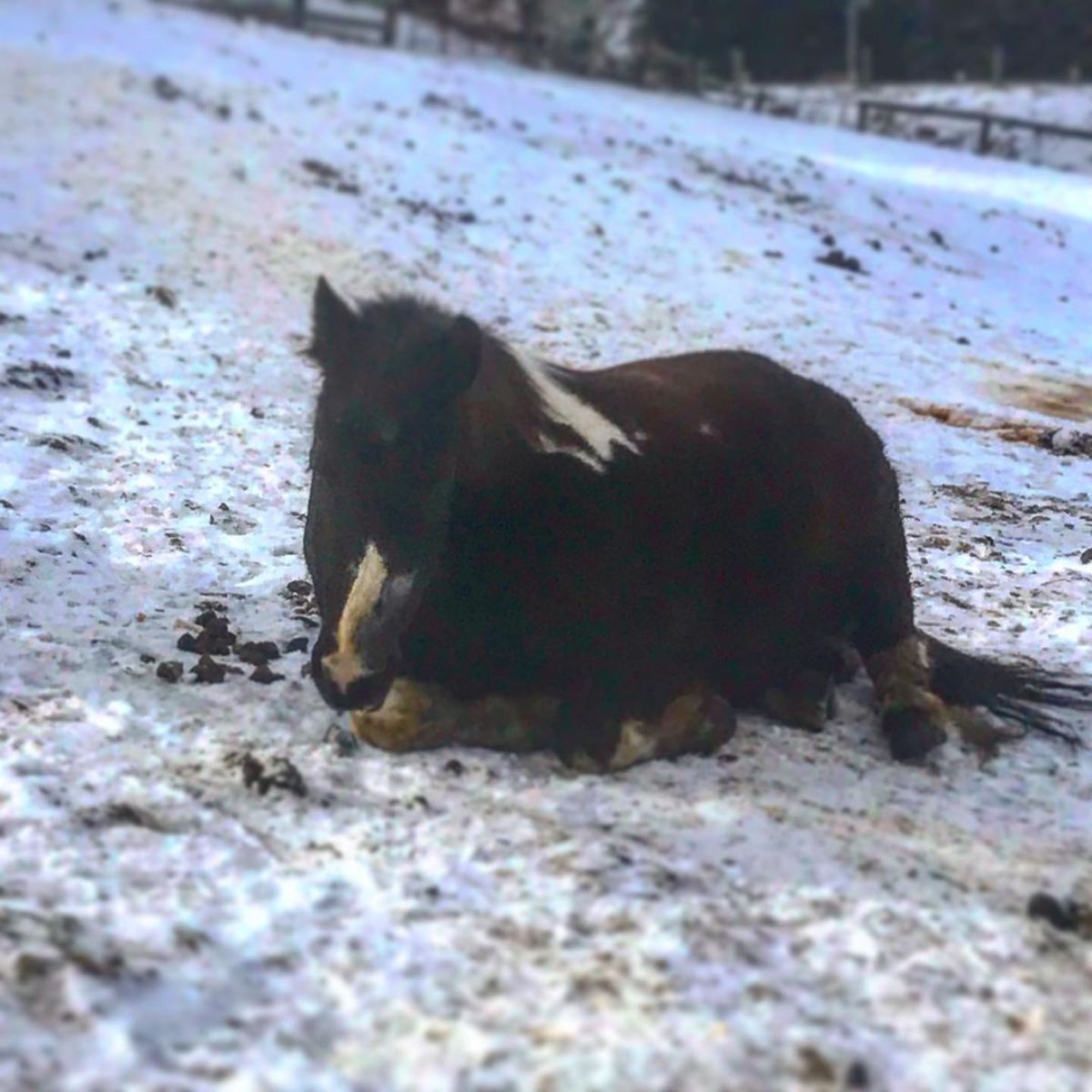 The photo depicts a magnificent dark brown horse resting atop a snow-covered hill, with its eyes closed and breathing slowly and steadily. The horse's powerful physique is visible even in its relaxed state, with its solid muscles and elegant lines suggesting a sense of grace and power.
The snow-covered hill adds to the scene's sense of serenity and calm. The white snow contrasts beautifully with the dark brown coat of the horse, creating a striking visual effect.
9. Sun Bathing and Napping
In the photo, we see a dark brown horse napping in its grassy pasture, its coat covered in mud from its active lifestyle. Despite its rigorous daily routine, the horse appears entirely at peace, soaking up the warmth of the sun and the softness of the grass beneath it. The lush greenery surrounding the horse adds to the scene's tranquility and comfort, creating a peaceful atmosphere that invites the viewer to pause and appreciate the beauty of nature.
10. Post Breakfast Doze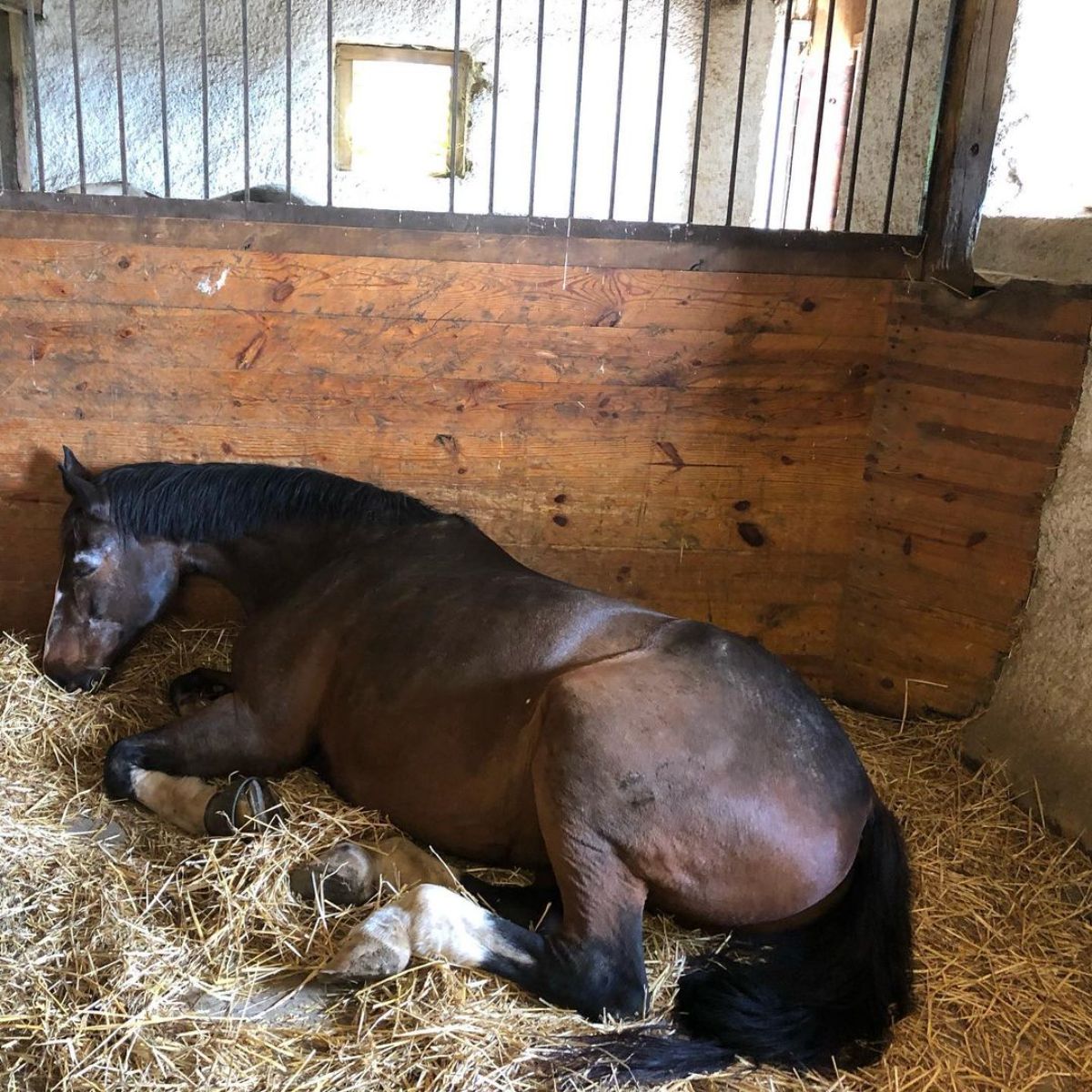 The old horse in retirement, taking a daily nap in its stall after breakfast, is a beautiful reminder of the value of rest and the importance of caring for those who have given us so much. It is a stunning portrayal of the grace and dignity of these magnificent animals and the profound impact they can have on our lives. Additionally, it is a testament to the care and attention given to the horse in its retirement, a time to enjoy life's simple pleasures and be free from the demands of work and competition.
11. Mountain Rest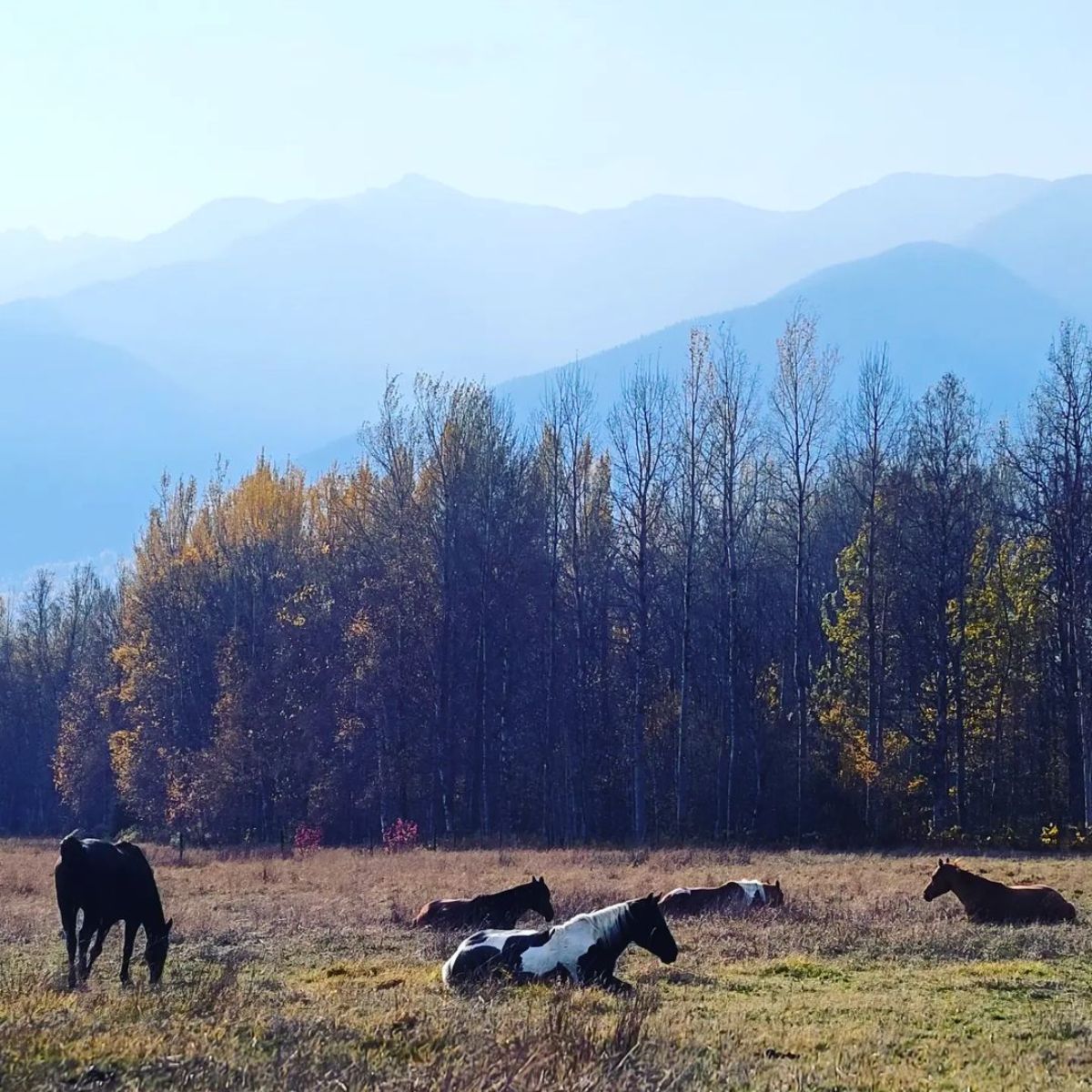 In this photo, a group of horses rests in a serene pasture, nestled amongst the stunning autumn landscape. The horses scatter across the green meadow. Each equine takes a moment to bask in the warmth of the afternoon sun. The pasture overlooks a majestic mountain range, with rugged peaks stretching towards the sky in shades of purple and blue. The crisp fall air adds a sense of clarity to the scene, allowing us to appreciate the beauty of the surrounding landscape fully.
Final Thoughts
The 11 adorable photos of sleeping horses capture the essence of these magnificent creatures in their most peaceful moments. From young foals to old retirees, these horses exhibit a sense of tranquility and calm that is both captivating and heartwarming.
Whether napping in the sun, resting in their stalls, or snuggling up with a friend, these horses remind us of the beauty and simplicity of life. Their trust in their owners, their love for their companions, and their ability to find peace in the midst of chaos are qualities that we can all learn from in a horse.
These photos are a tribute to the grace and dignity of these animals and a testament to the profound impact they can have on our lives.