Sometimes you just need to see something beautiful to make your day better. Today is that day, and here are the pictures to do just that. I spent some time gathering up some gorgeous pictures of white horses that I know you will love! Whether you are just looking to see what white horses can look like or you need a bit of inspiration in your day, I hope that these images are just what you need.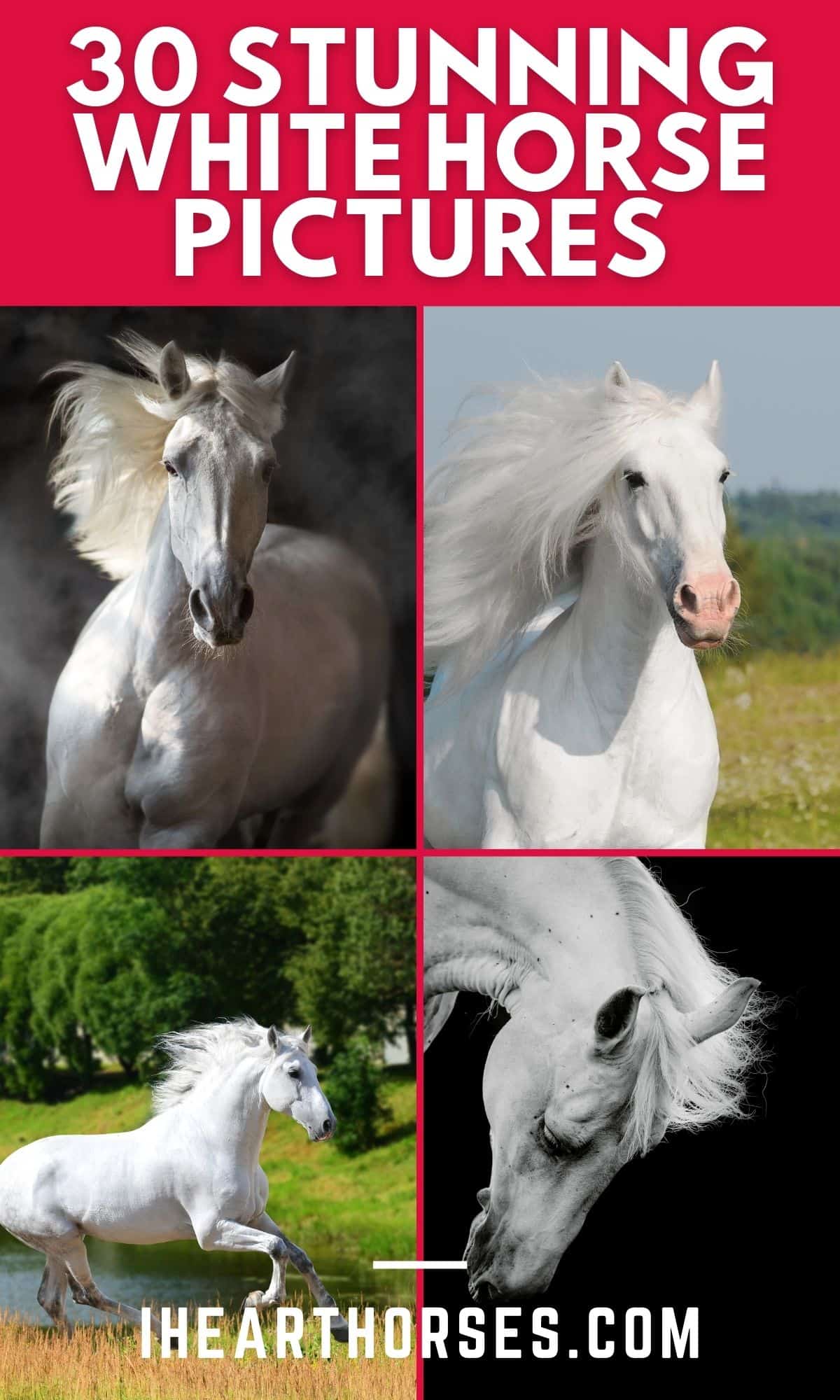 What Breed of Horses are White?
Most commonly you will find that white horses are of a specific breed. This is not a certainty but is more likely than not. Most horse breeds that have white horses have been bred to create white coats over many centuries. While it is a natural shade, it is still just unique enough to not be found in every breed. The more common breeds that regularly have white horses are the Lipizzan, Connemara, Shagya Arabian, Camargue, Cremello, Percheron, Orlov Trotter, Camarillo, and Boulonnais.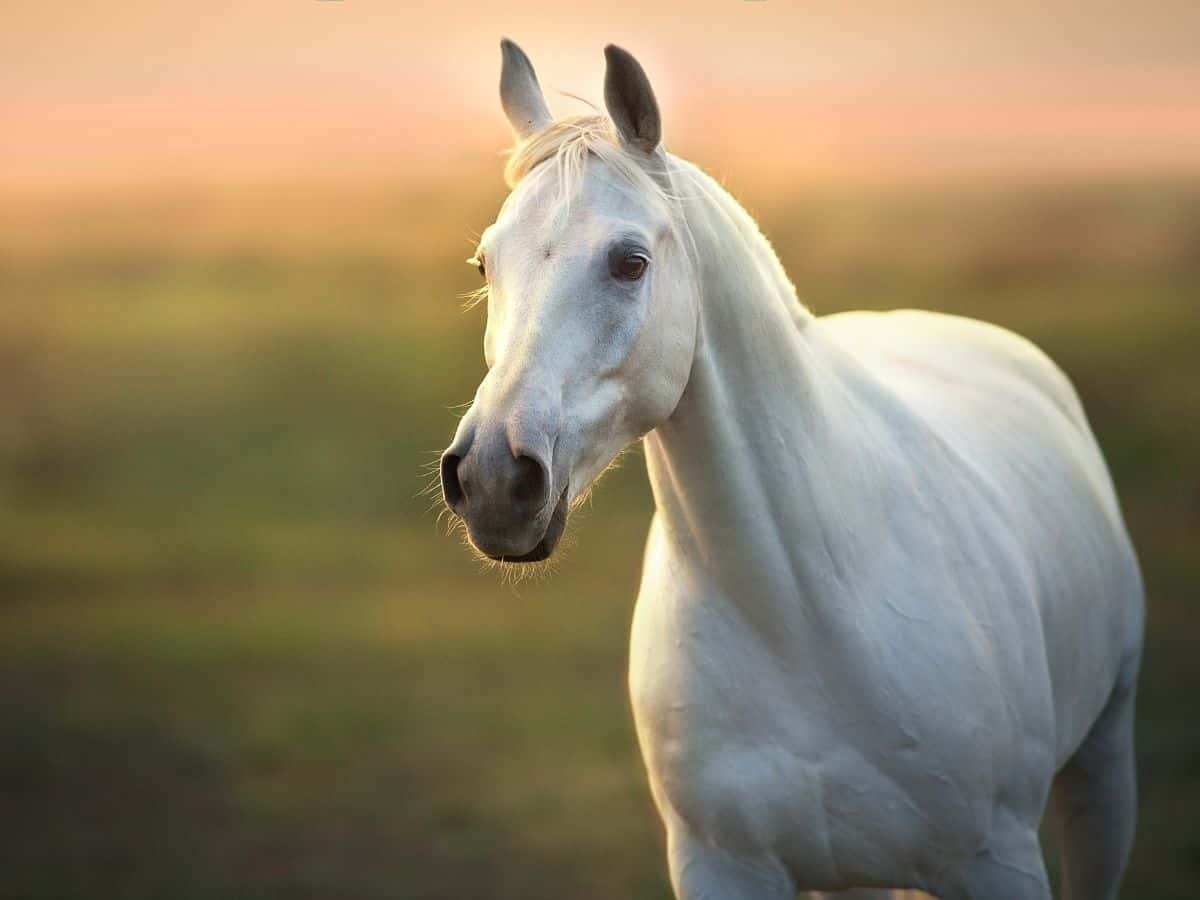 Are White Horses Different Than Gray Horses?
The list of pictures here is going to showcase both naturally white horses as well s those who are gray but have a white coat. You may also find that a lot of white horses may actually be considered gray horses with different hair colors. The difference is that a white horse will have white skin with no pigment where a gray horse will have darker skin but lighter colored hair.
If you want to learn more about different breeds, you can check out this list of breeds with spotted coats or the oldest horse breeds in the world. Of course, I also like to keep in mind horse breeds for beginners, the smallest horse breeds, and the biggest horse breeds. These lists will help you decide what horse is actually ideal for you!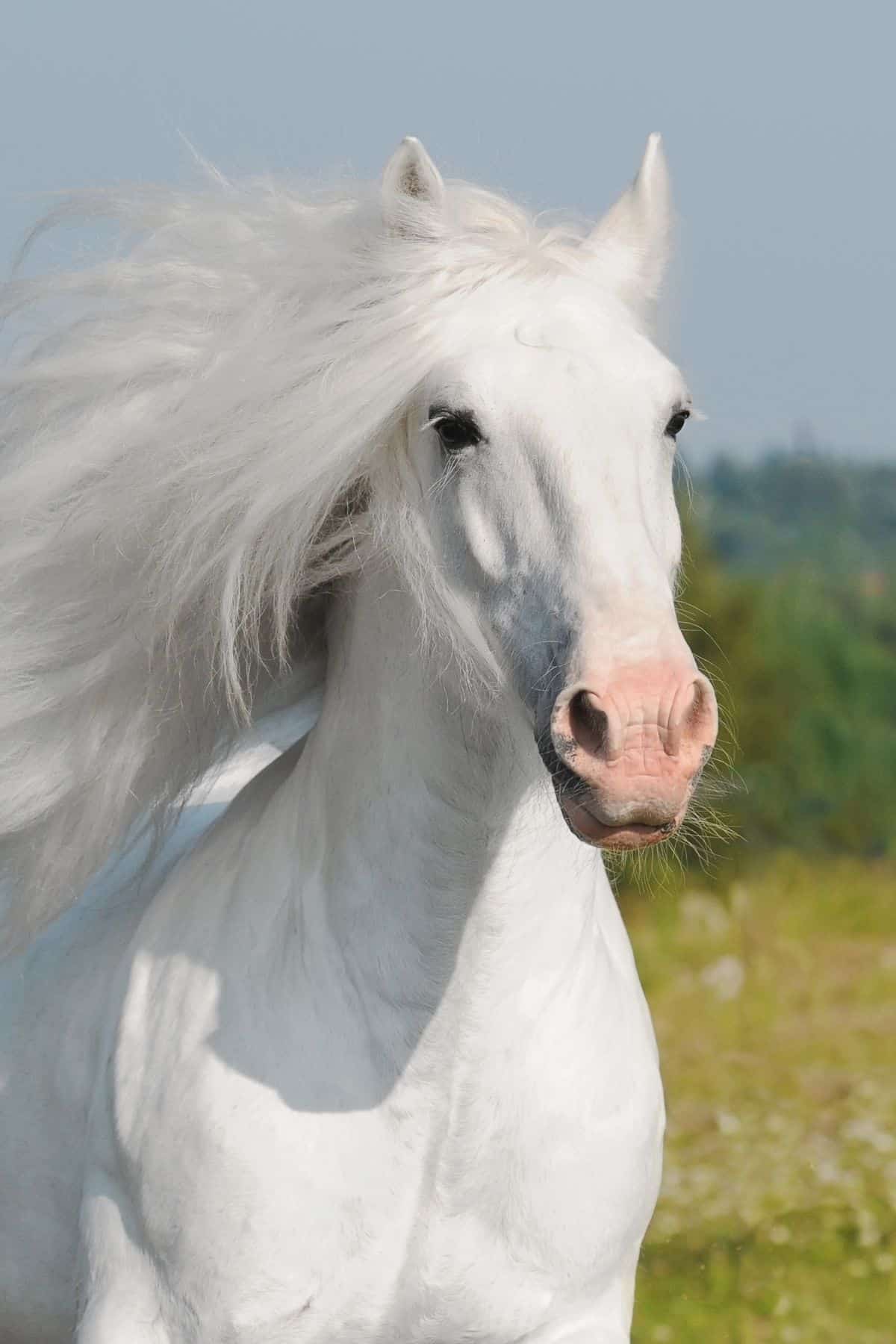 What Color Eyes Do White Horses Have?
Most horses have dark eyes (brown), but some white horses may also have blue eyes.
Aren't these two lovely? While these horses are technically gray, their coat appears white which keeps them on this list. Still stunning horses!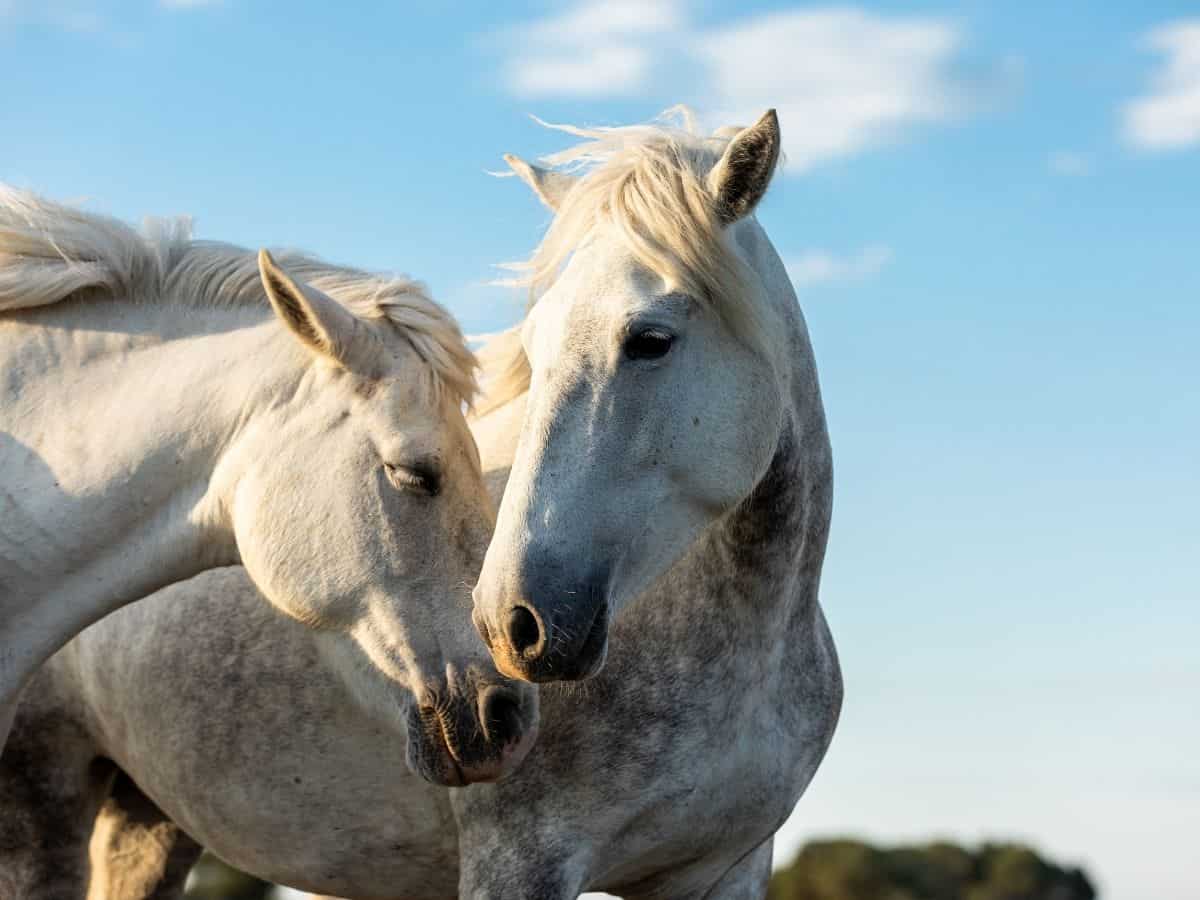 What Breed of White Horse Did President Ronald Reagan Ride?
The Camarillo White Horse is not only beautiful but know to be a favorite of movie stars, including our 40th United States president.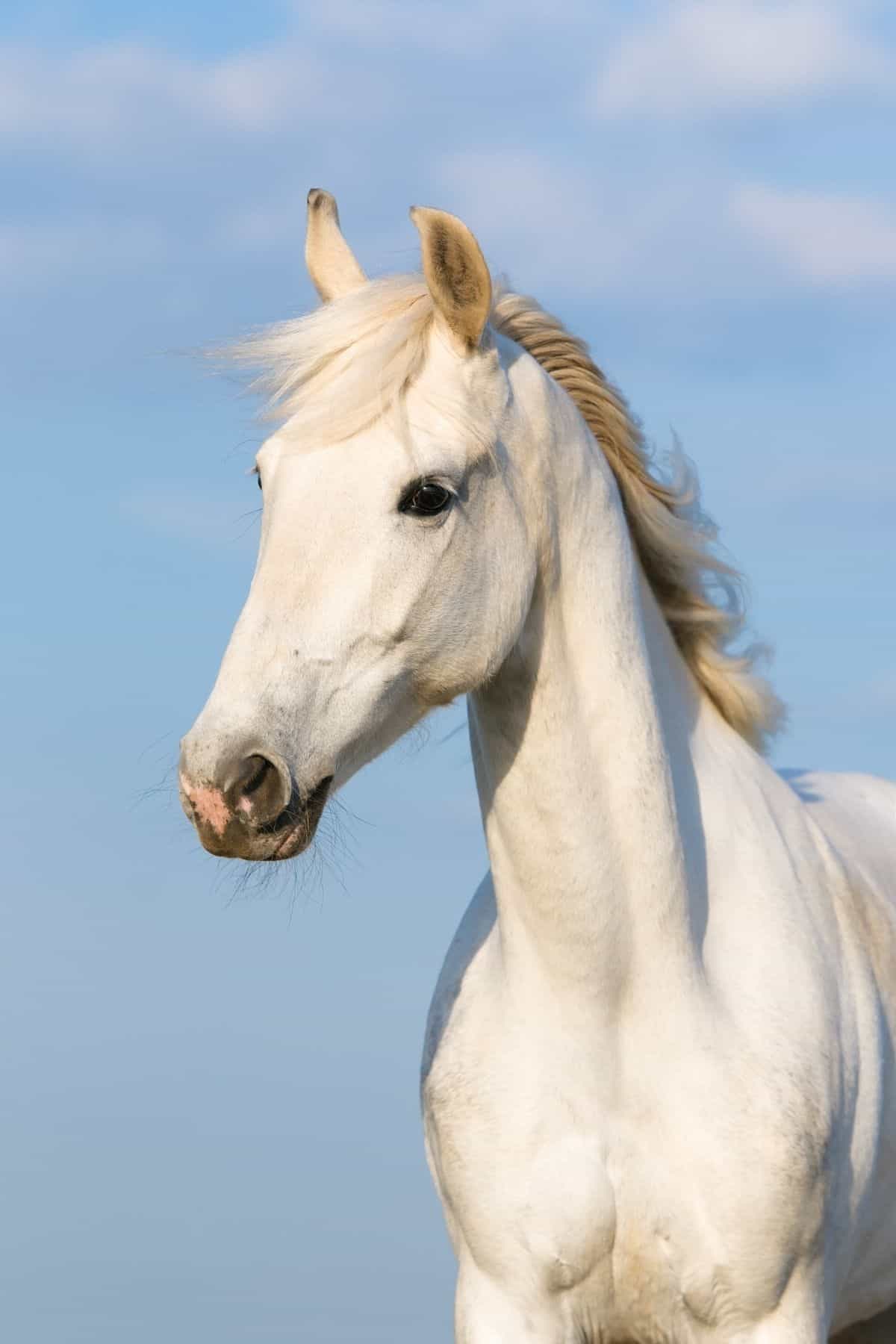 Just look at those brooding eyes! Another horse that may actually be gray with a white coat, is a true beauty and the scenery is definitely making the horse look majestic!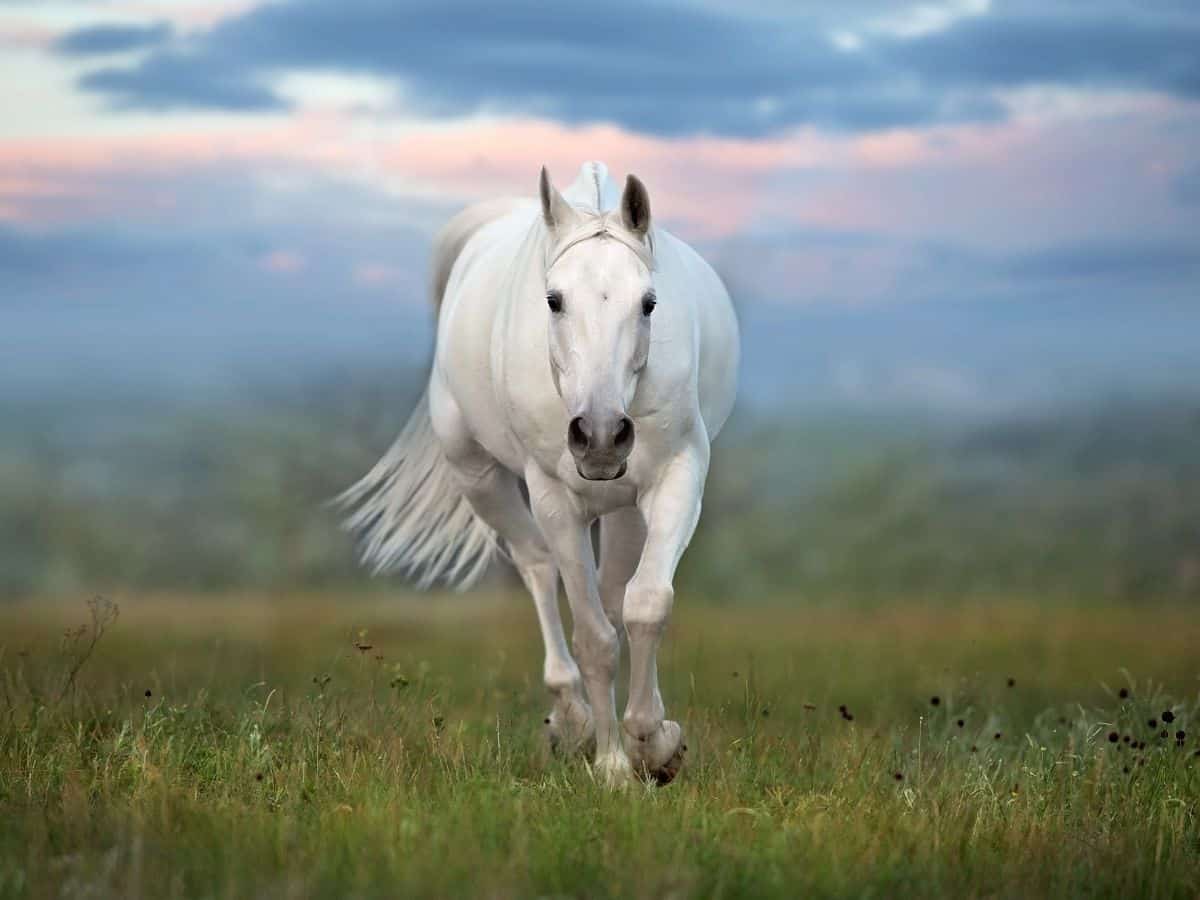 What is a Sabino Horse?
The Sabino is a pattern that appears on horses as white spots. This happens when the parents both carry the Sabino gene. A DNA test can show if your horse is likely to produce a Sabino or not.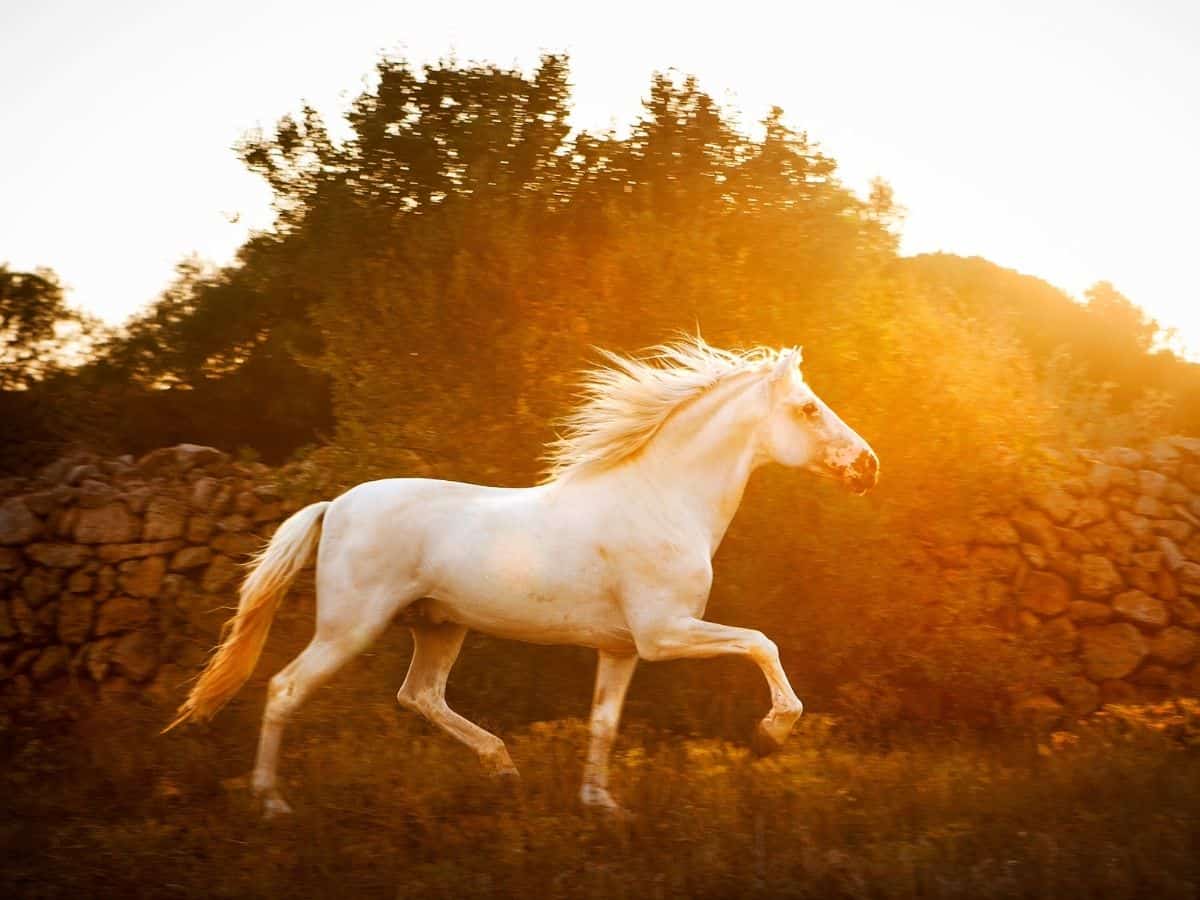 These gorgeous horses running in water are just another reason I love horses. They always appreciate nature and live in the moment!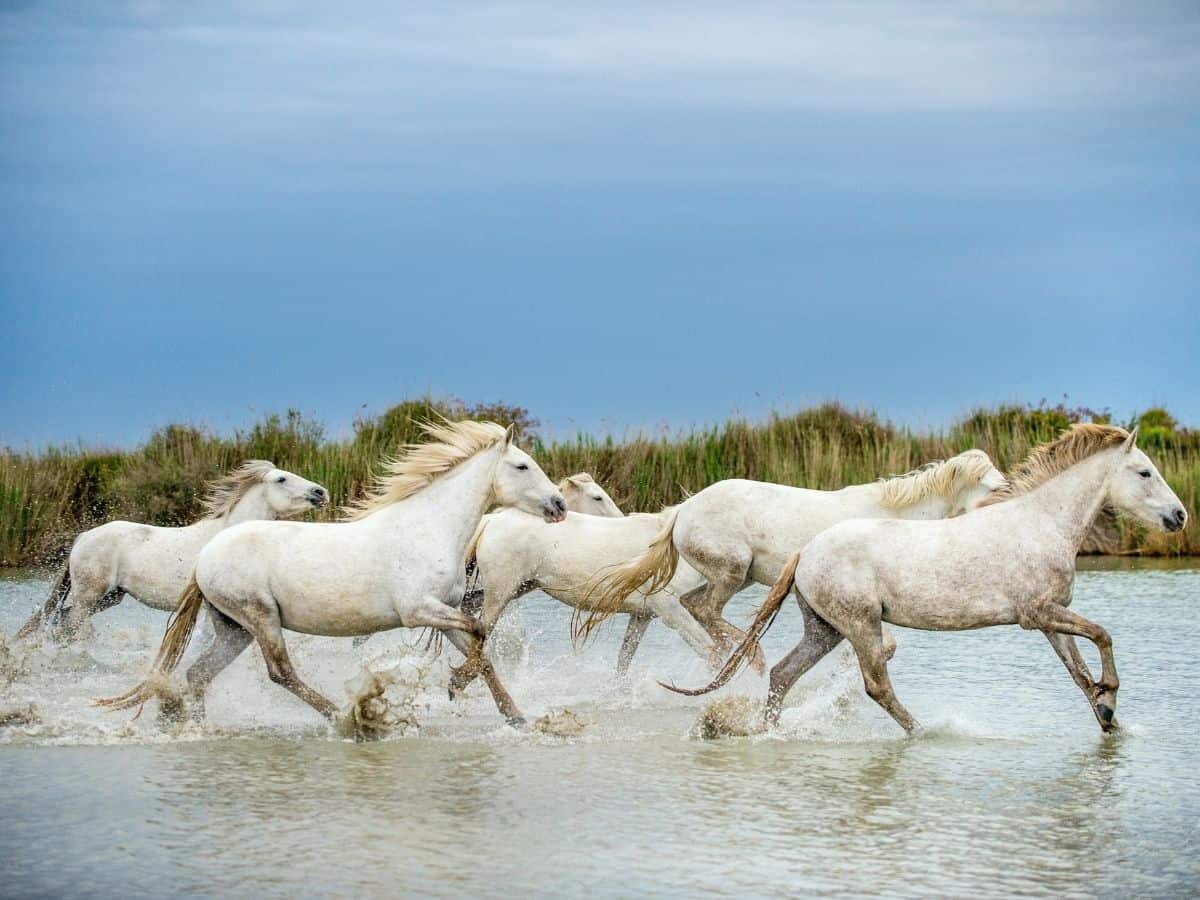 What Causes Spots on Some Horses?
While some horse breeds naturally have spots, you may notice the small spots on the image below. This white horse has what look like moles or beauty marks. While it could simply be dirt, it is more likely that they are a marking often called a Bend-Or spot.
There are also horses that are considered a "few-spot leopard" which is white horses with many spots. I wonder what this beautiful creature is?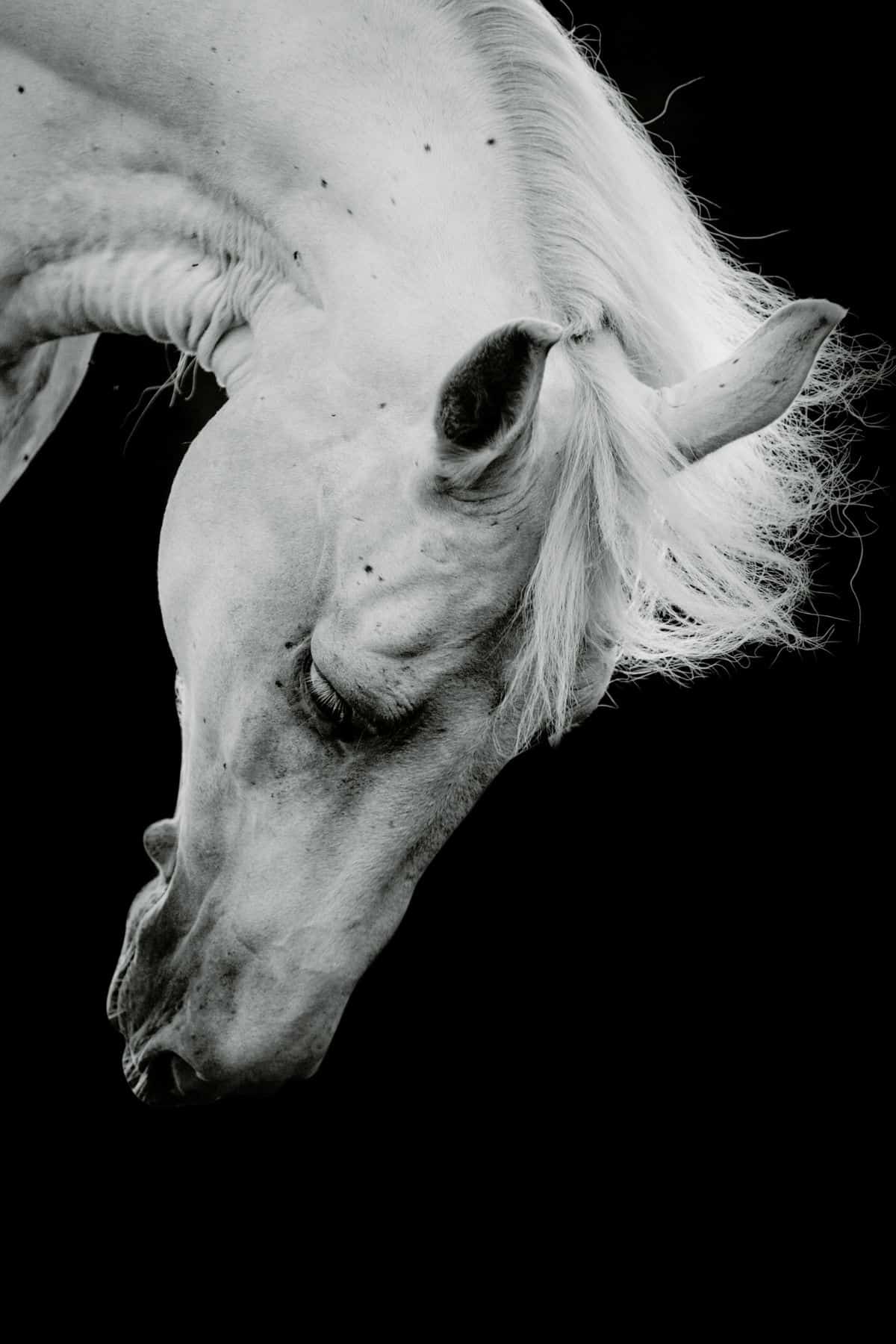 And here is a gray horse with white hair and a combination of white and gray mane. This beauty has a white tail and is truly stunning.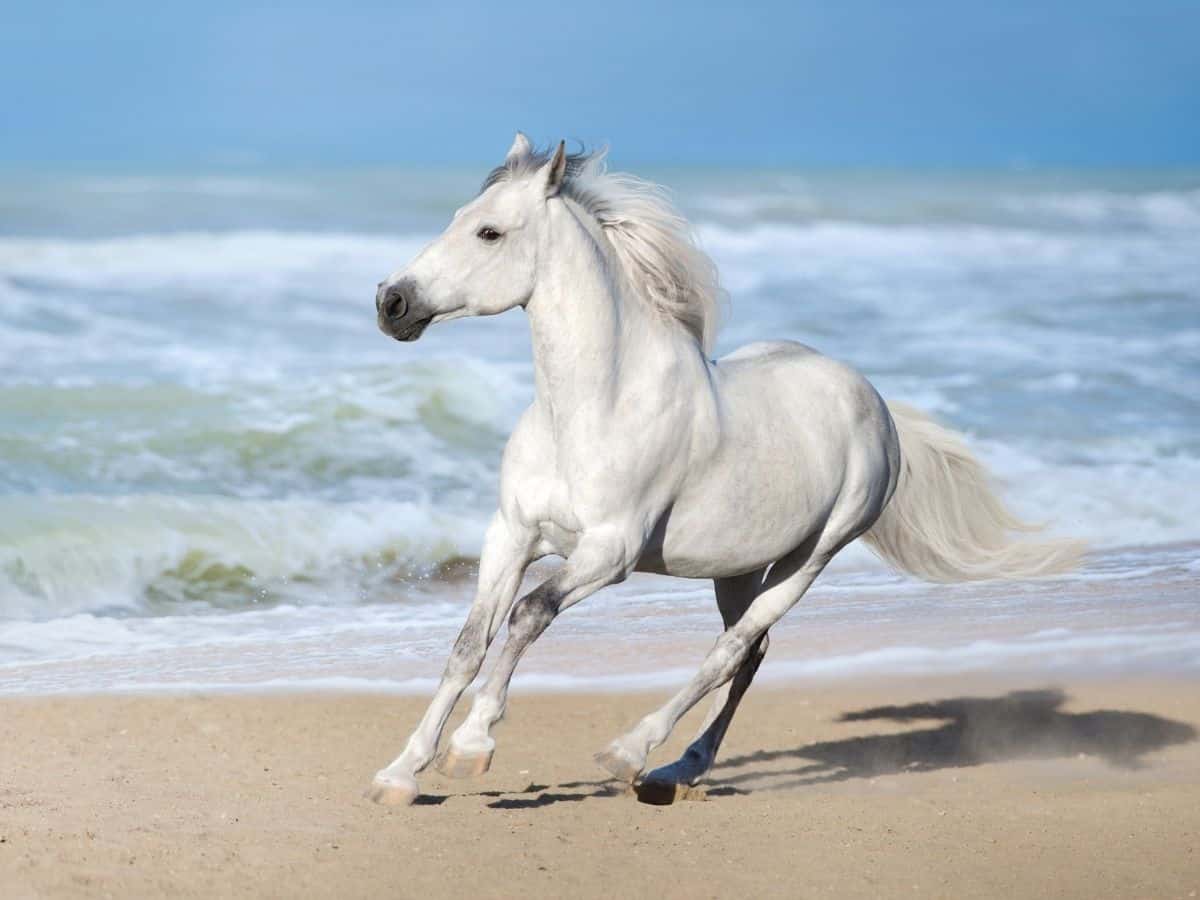 What looks better than a field of flowers? A beautiful white horse in the said field!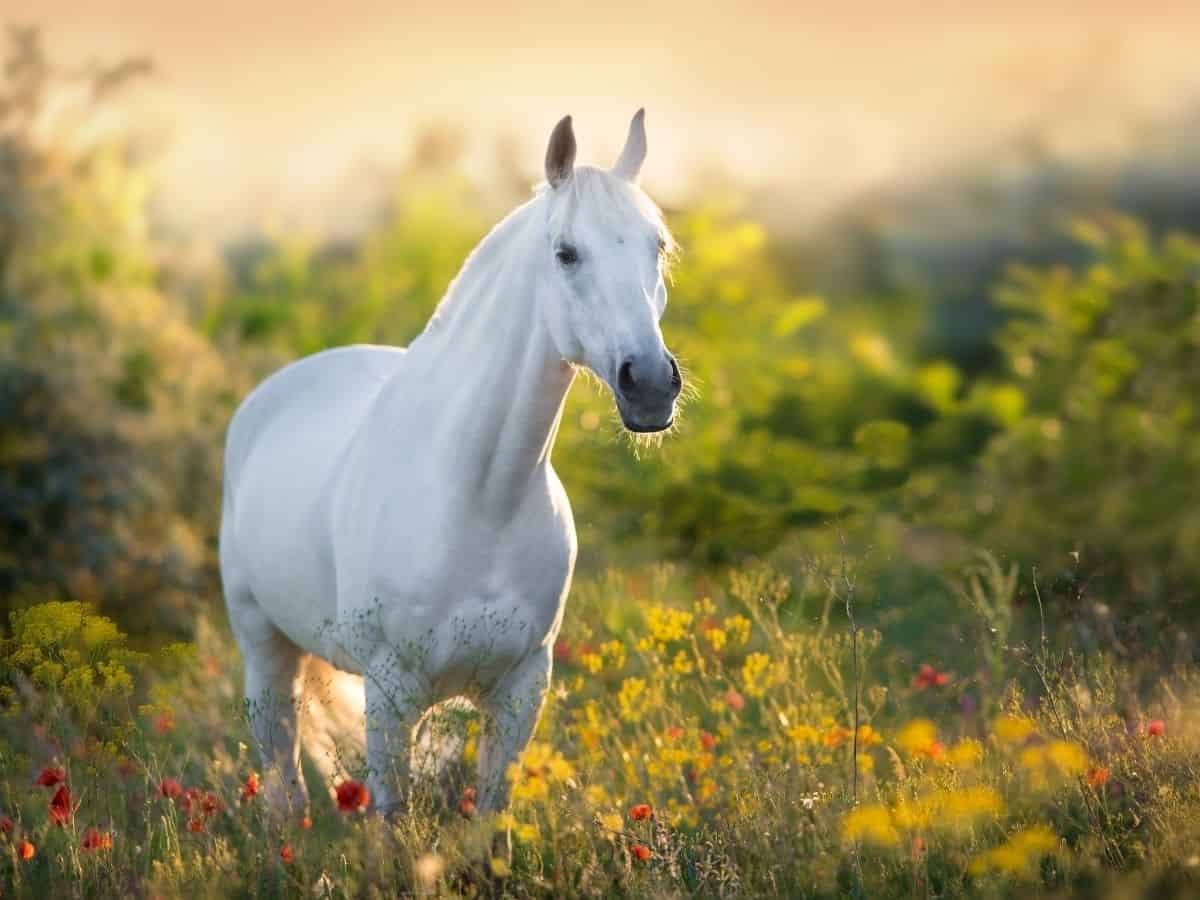 Are Palomino Horses Considered a White Horse?
The term Palomino is actually a genetic color in horses. This typically is seen with a gold or "blonde" horse that has a white tail and mane. Whit there are some who have a lighter coat, these aren't technically white horses.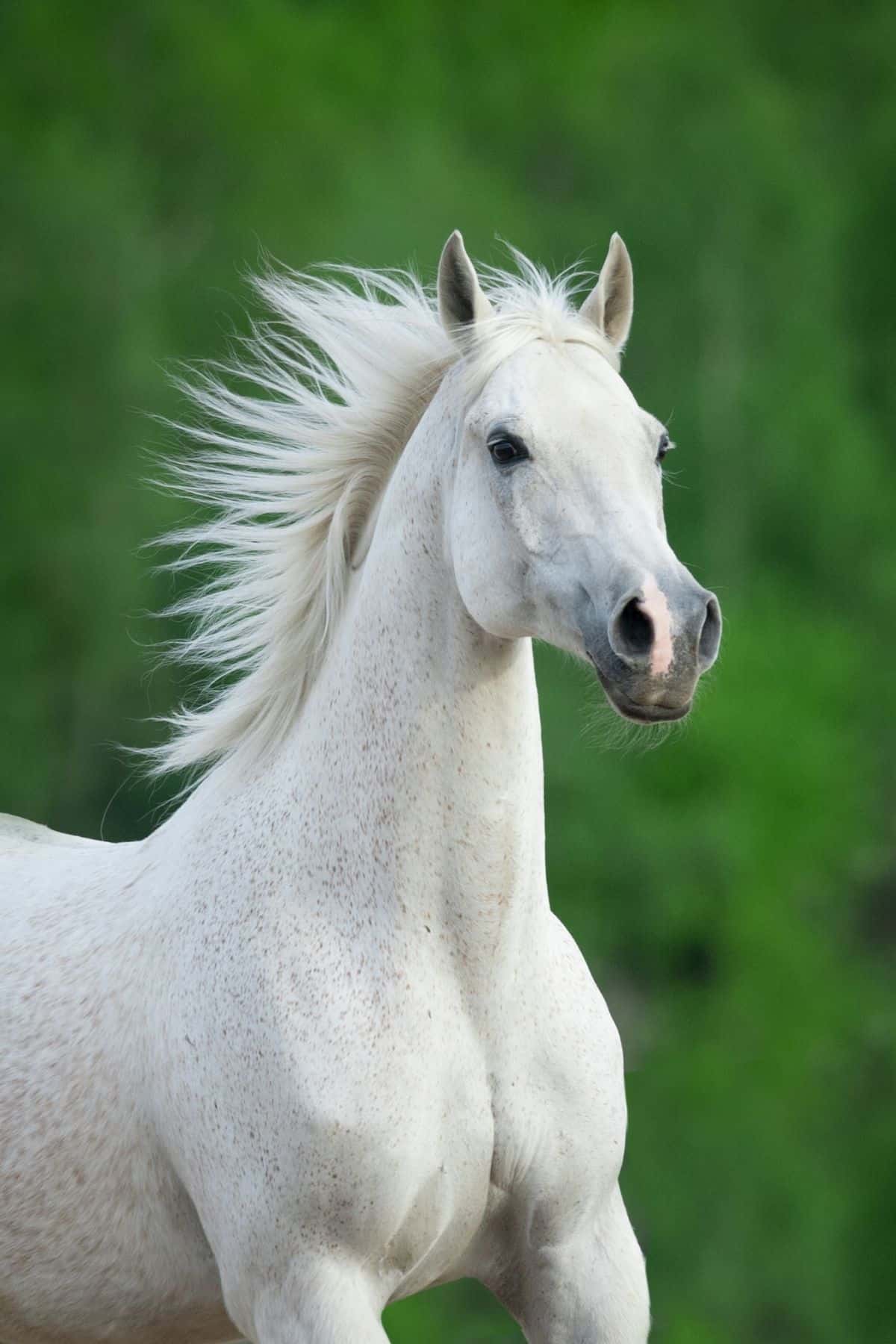 Look how stunning this horse is in the snow! Do you think it blends into the snow? I bet it would!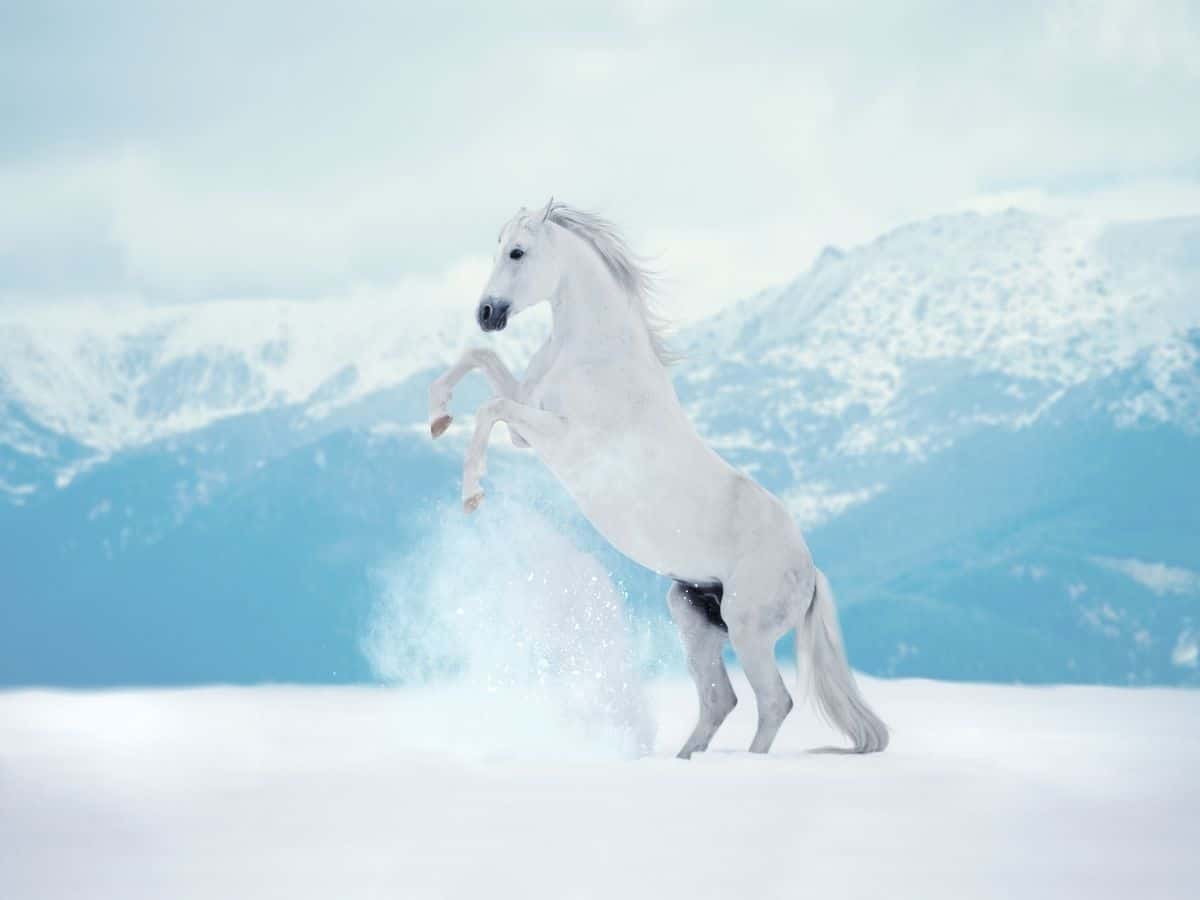 What is the Most Famous White Horse?
While there are many mythical horses through the years that may be considered the most famous white horse, I am happy to see that, Shadowfax, from The Lord of the Rings, is top on the list.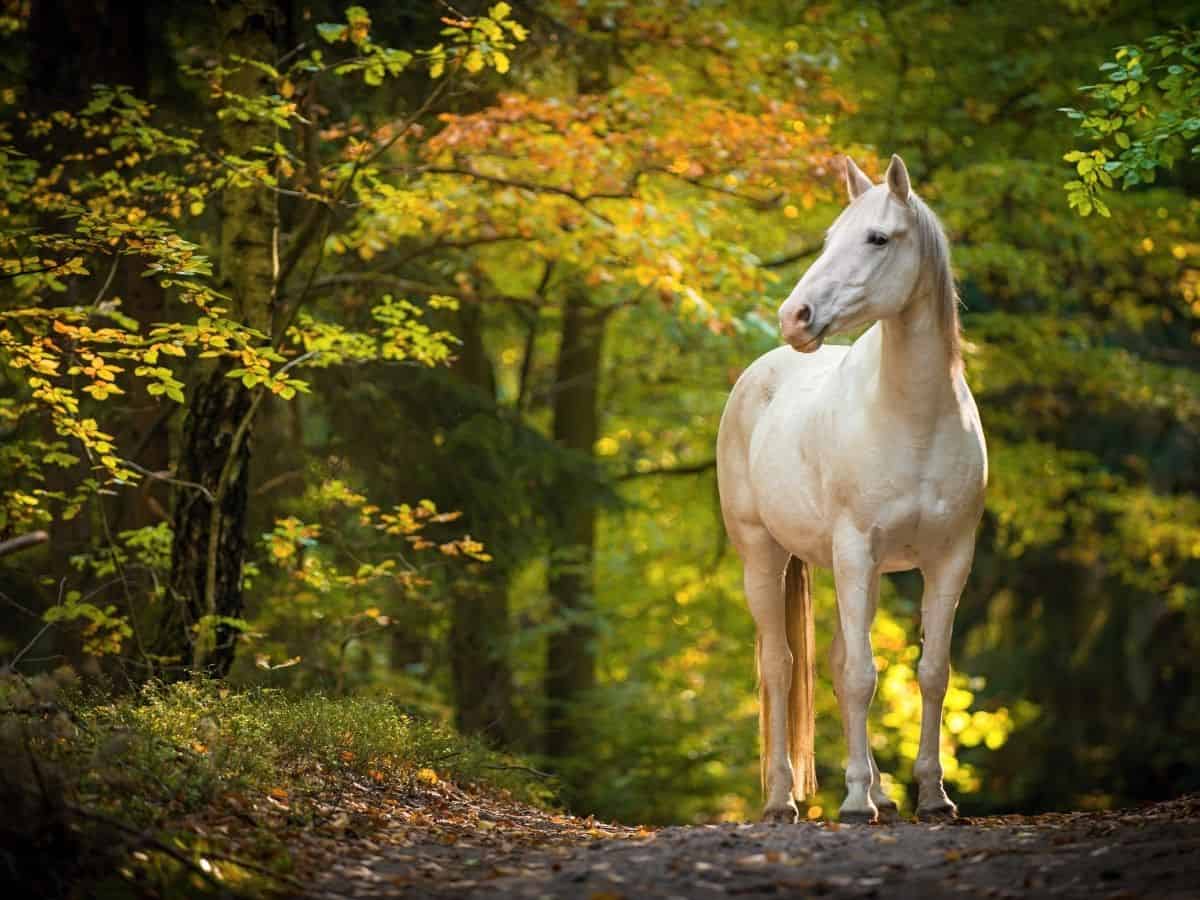 I imagine Gandalf the Gray would ride in on a white or gray horse with white hair. What do you think?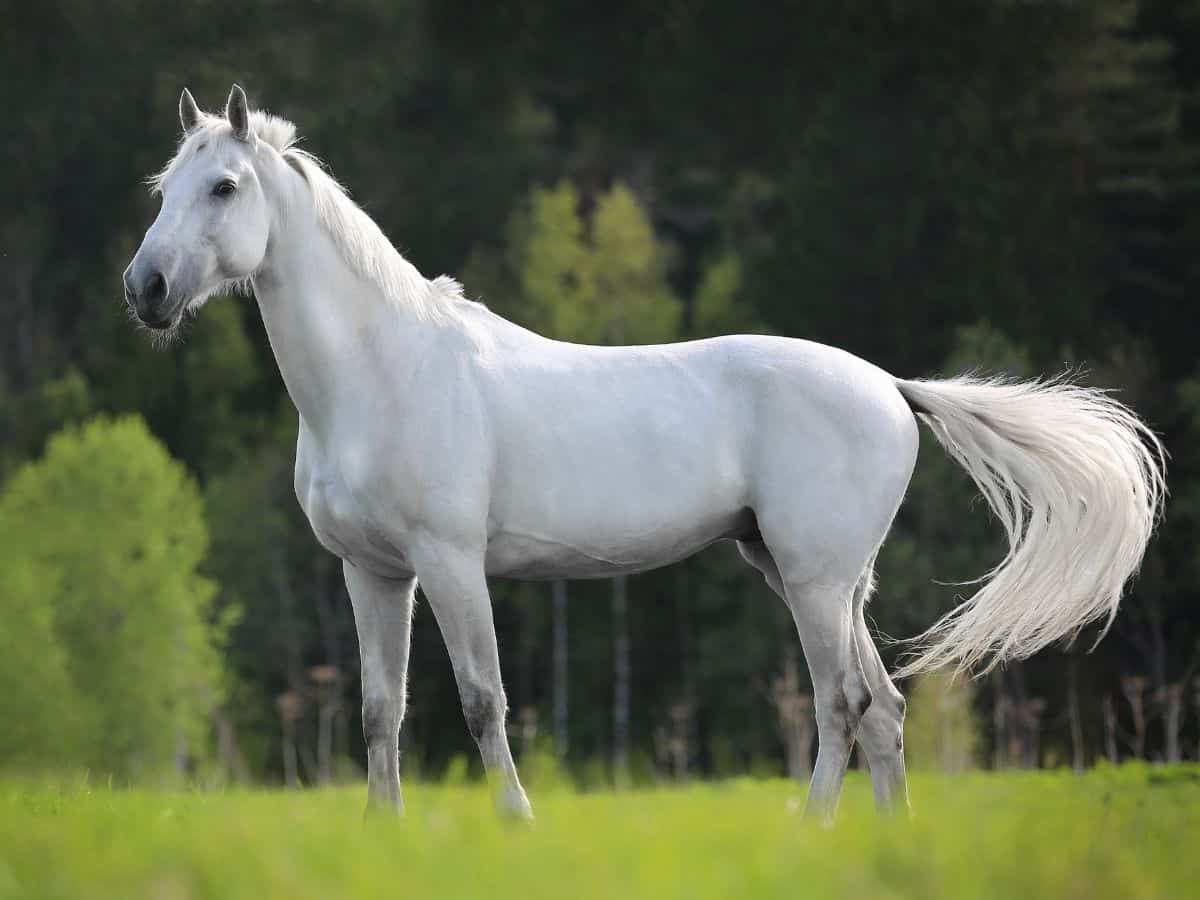 Are White Horses Considered Rare?
Yes. Truly white horses, not gray with white hair, are definitely rare. While it isn't completely unheard of, and as mentioned above there are specific breeds that tend to have them, it is a rare occurrence and not something you see on a common basis.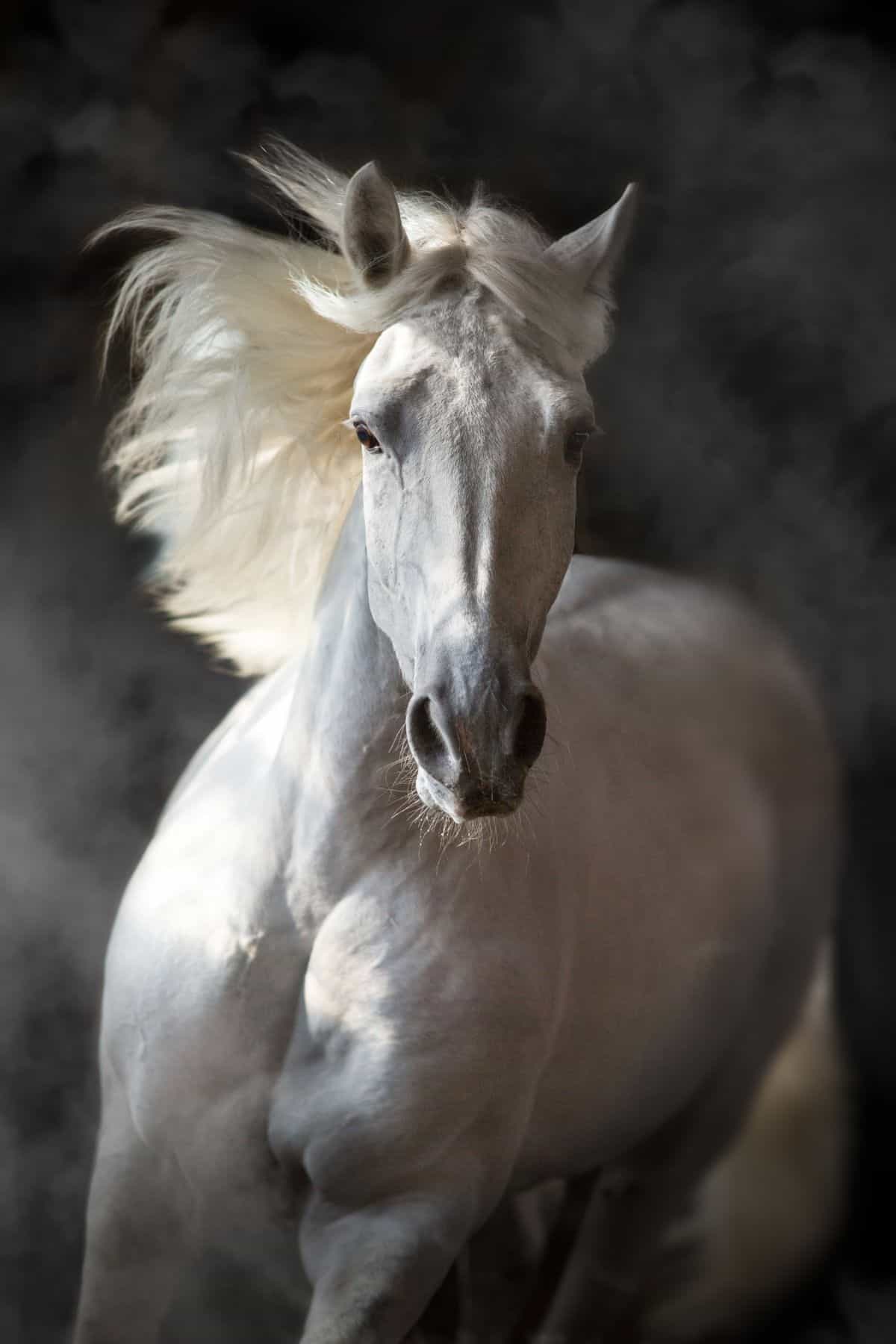 Are White Horses Albino?
Not all white horses are albino. However, a true white horse will have pink or white skin and in some instances oddly colored eyes with little to no pigment and would be considered albino. The common white hair gray horses you may be familiar with would not be called albino.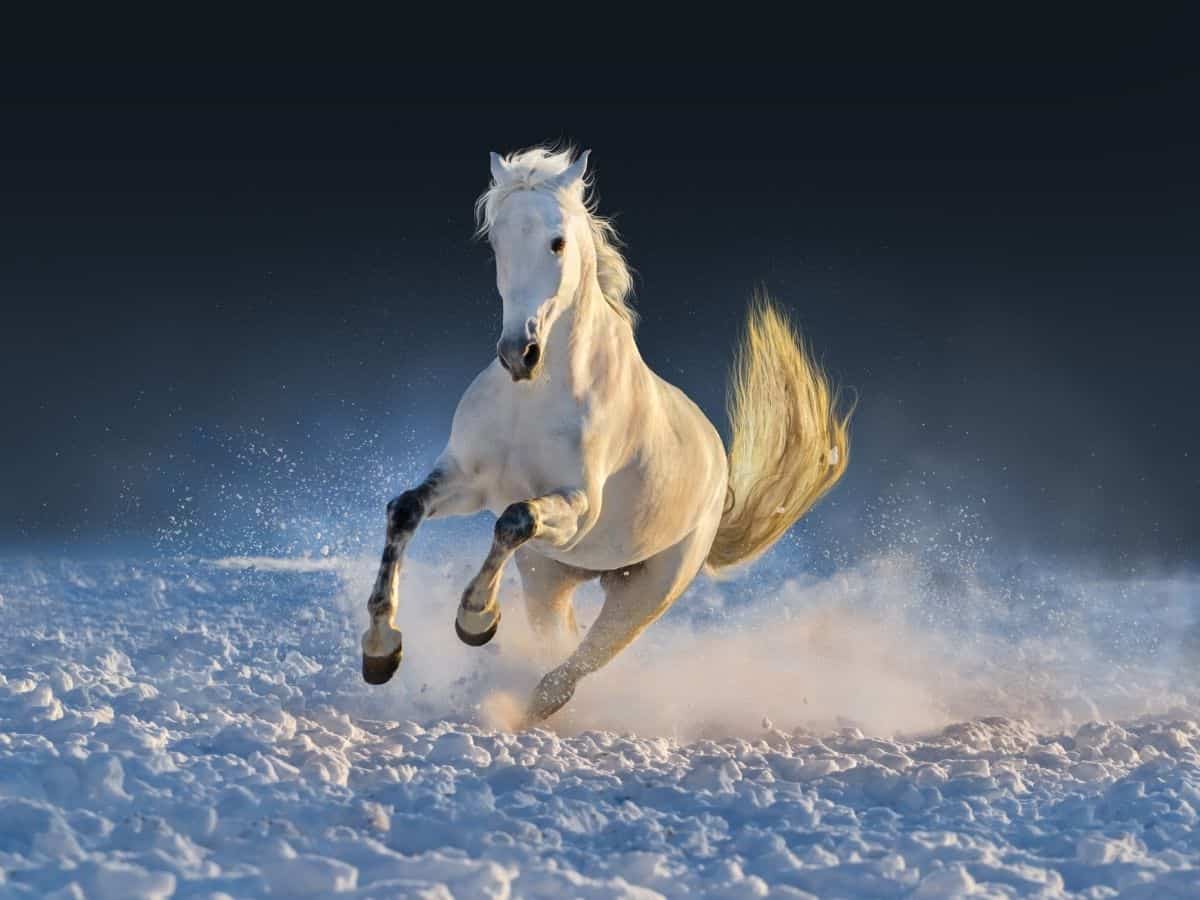 Do you think this horse is a true white or just a gray with white hair and mane? It's hard to tell!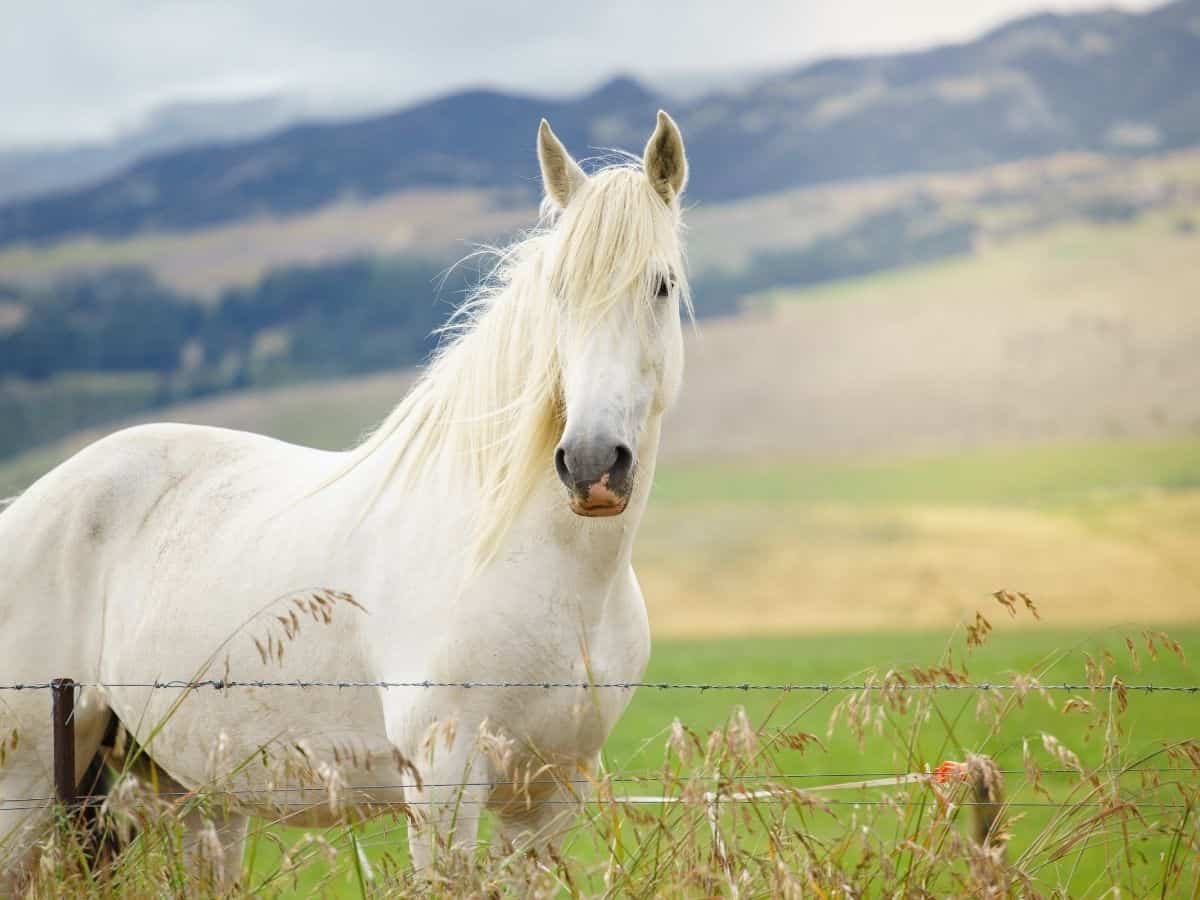 How Much do White Horses Cost?
As with any breed of horse, the cost is going to vary greatly for many reasons. You could find a horse for as little as $500 up to $150,000 and everything in between. Things to consider will be if it is for general riding, to use as a show or competitions horse, or just a general labor horse on a working farm. On average, you will seen horses priced between $5,000 to $15,000 if you are looking at a horse that won't be in shows or competitions.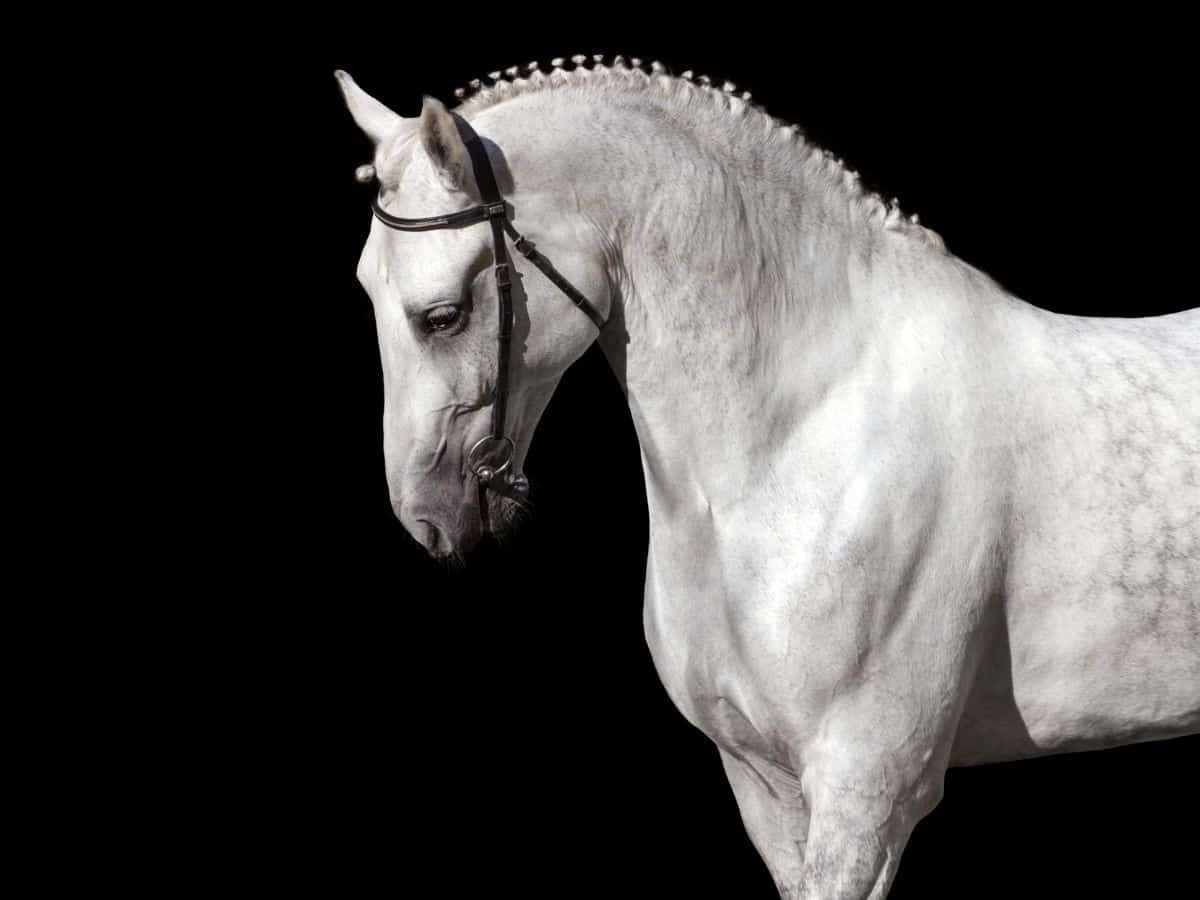 Isn't this one a perfect example of how you could have a gorgeous show horse?
How Long do White Horses Live?
The average domestic horse lives between 20 and 30 years. Some ponies may reach up to 40 years of age, but this is a rare occurrence. White horses are not unique in their lifespan and like any other breed or color are likely to live in the 20 to 30 year range.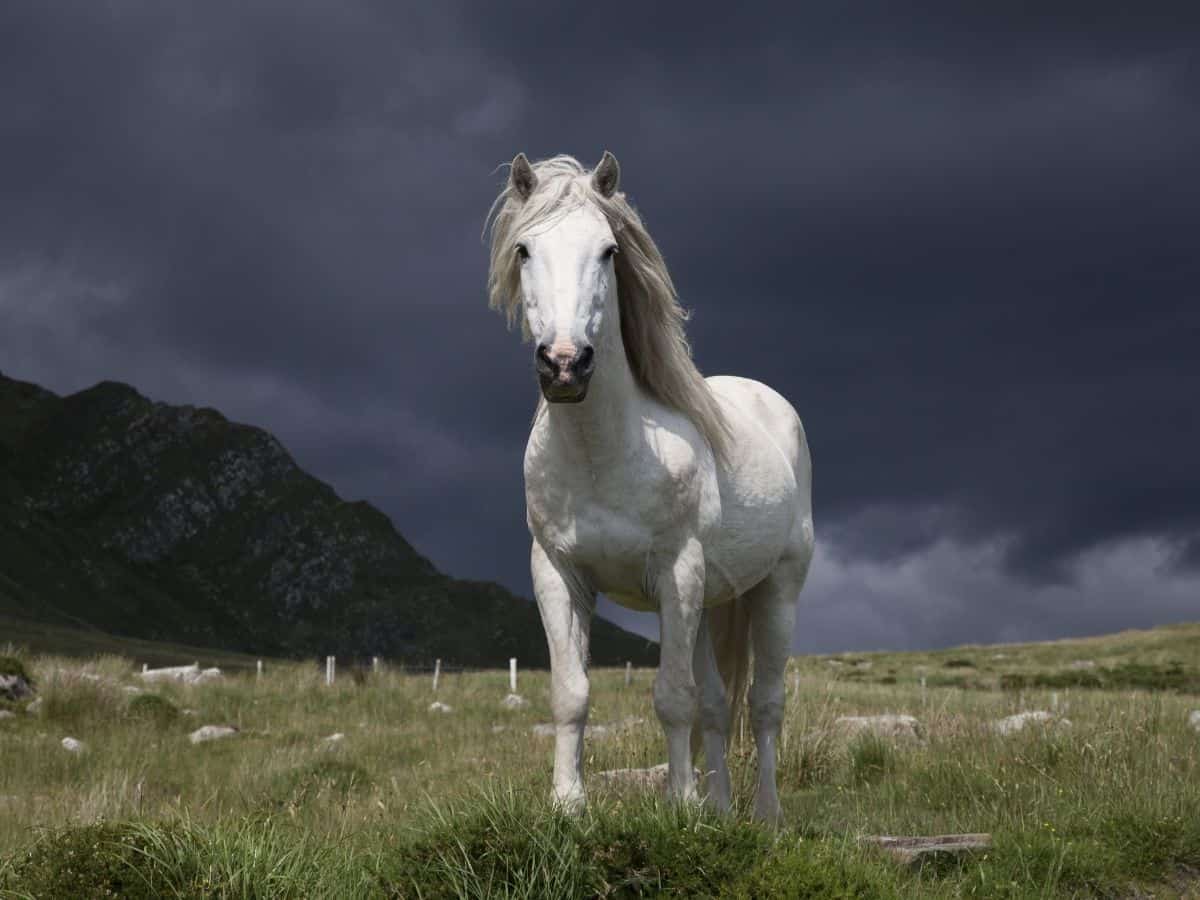 I wonder how old this beauty is?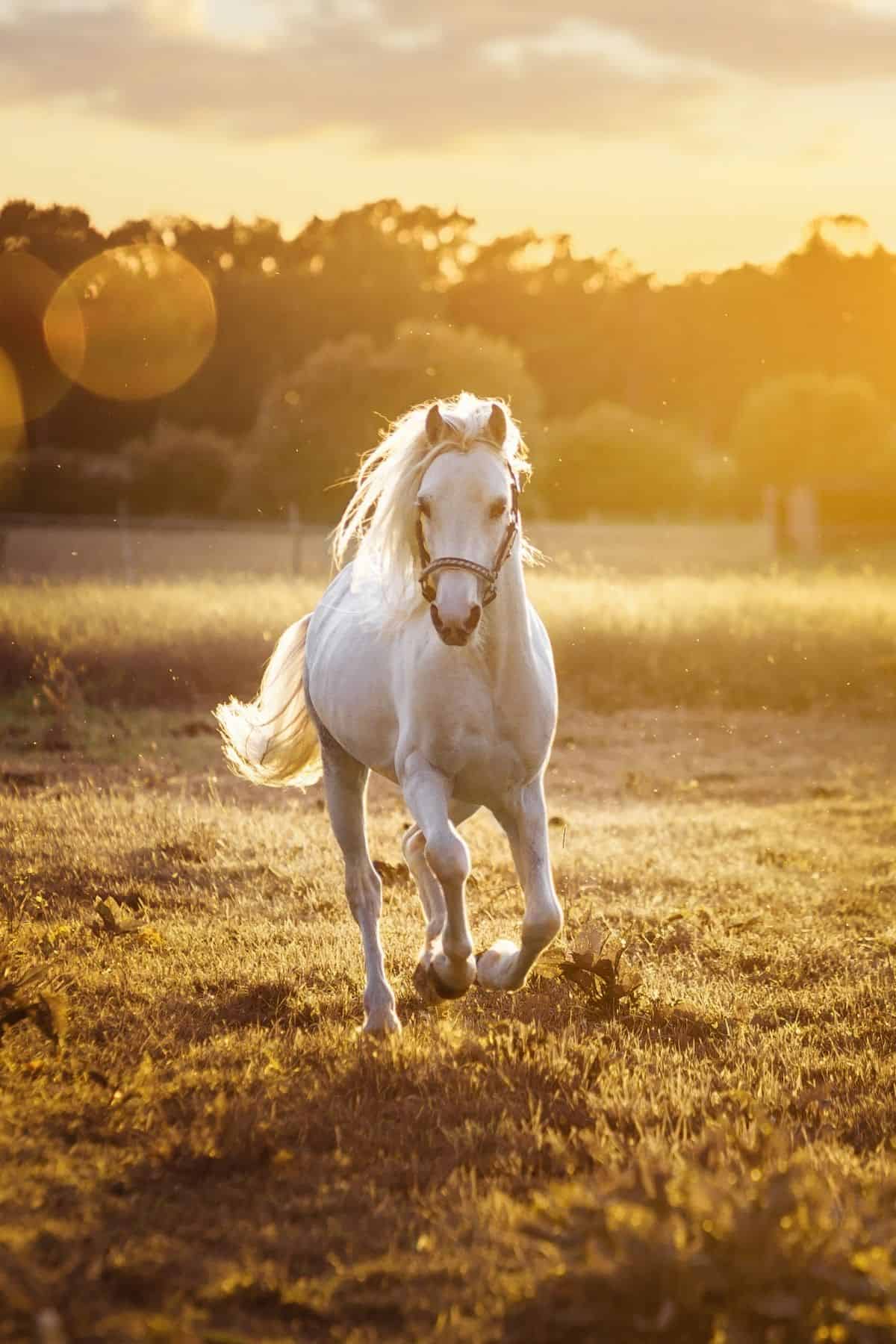 Here is another example of a gray horse with white coloring. The hair is white with different shades of gray on the mane and tail.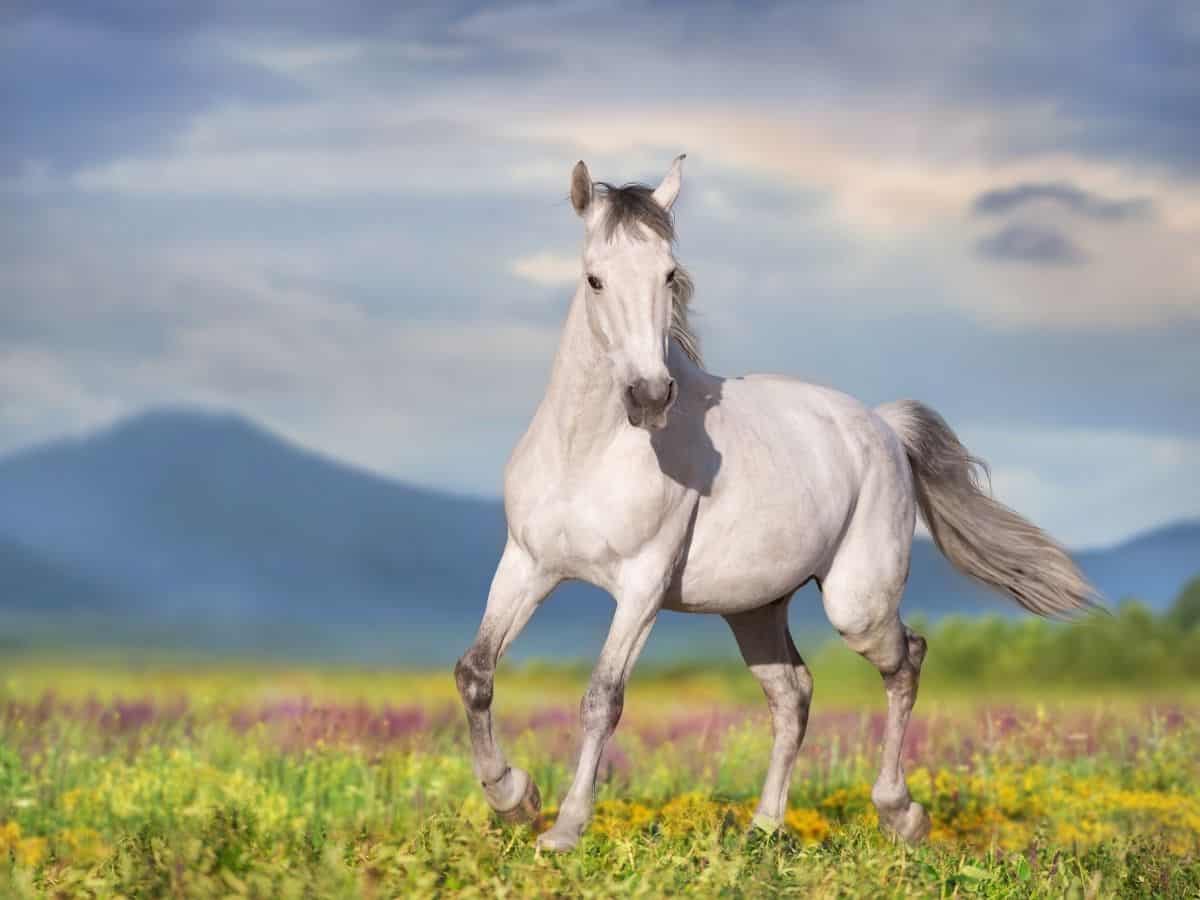 Do All Horses Like to Ride in Water?
While the movies would make it appear that all horses like to be in the water, that isn't so. Yes, most horses are truly great around or in water, just like their humans, not all enjoy the water. It could be due to movement, temperature, or a bad experience in the past, but don't assume they will. Always test the waters, pun intended.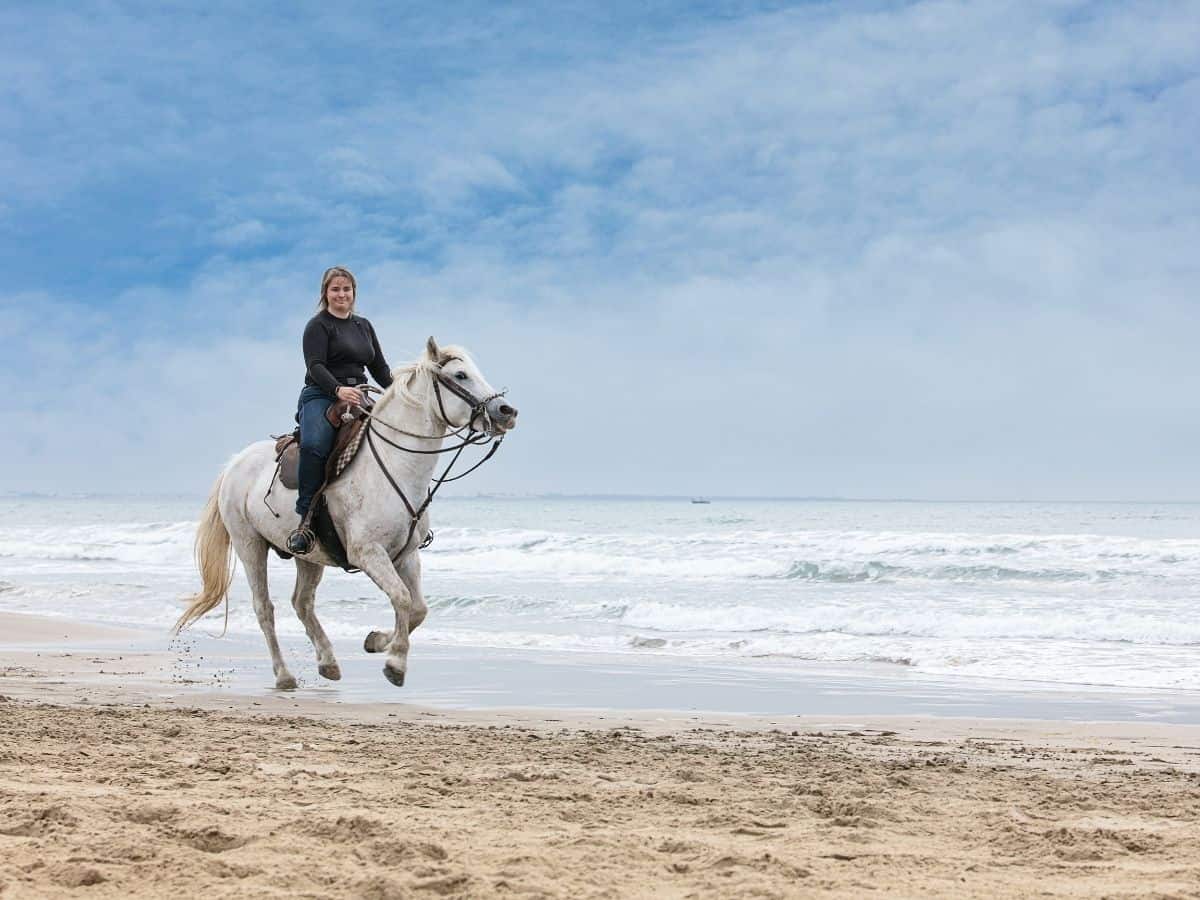 Just look at this gorgeous horse. That mane! So beautiful.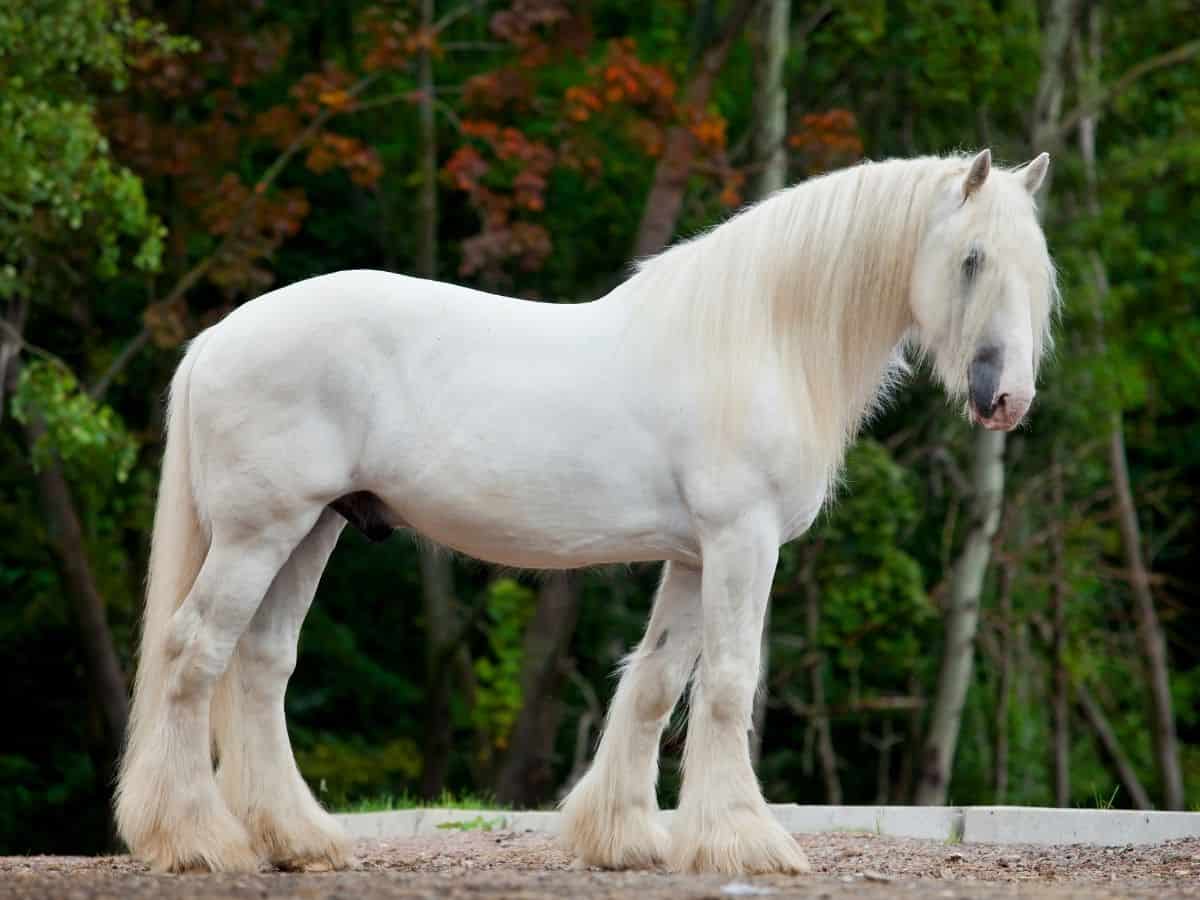 Can Horses Drink Beer?
You may have seen people give their horse beer, and it's not unusual. Many horses will enjoy a beer on occasions because of the flavor barley and hops which are commonly found in their feed. While it's not a daily occurrence, an occasional beer is safe. Just avoid hard alcohol as it is not safe and horses can actually get intoxicated.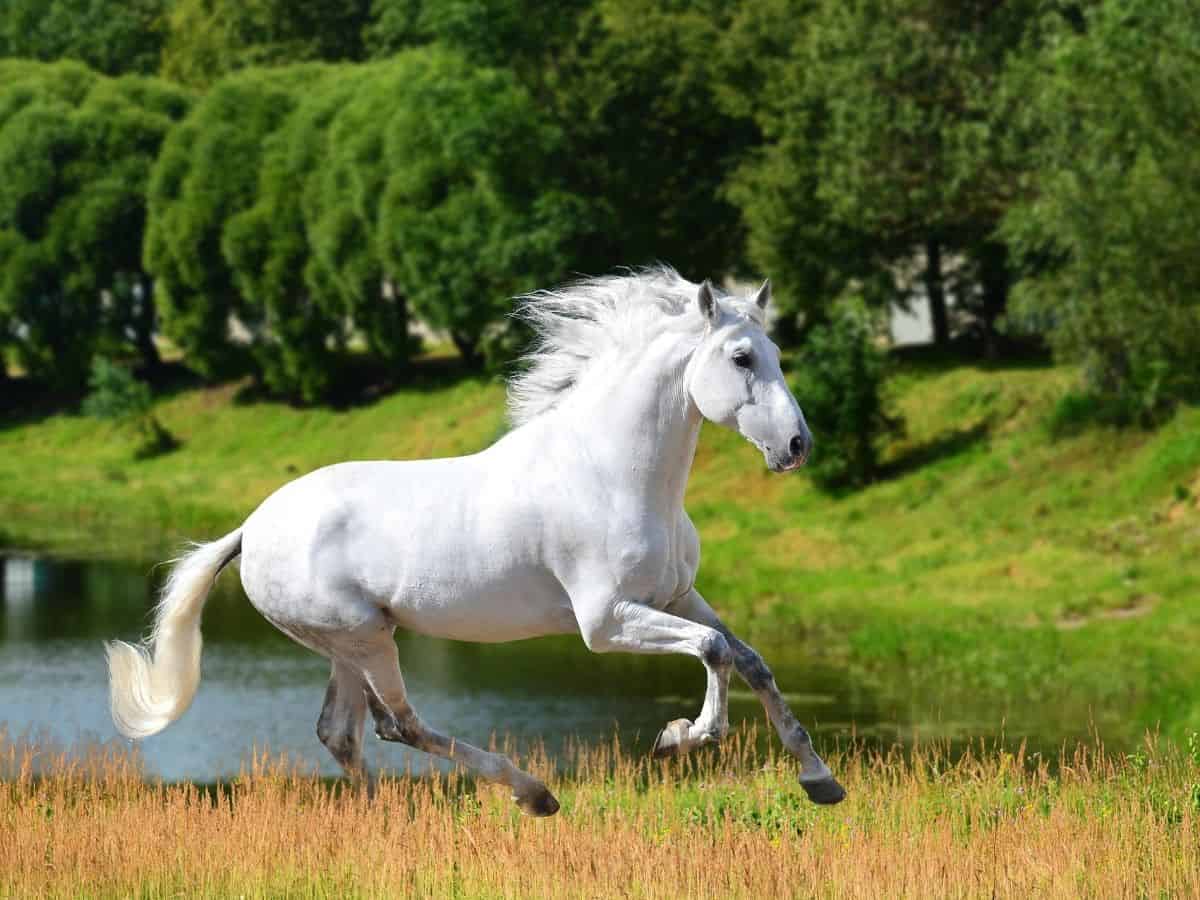 Is it Safe to Leave a Halter on a Horse?
You may be tempted to, but it really isn't safe. A halter should only be on the horse when you are riding or leading them. Once they are in the pasture, it's time for that halter to go back to the tack room until your next ride.
The image below is gorgeous but is also staged and taken while someone has a secure hold on the horse. So, in this instance, it is safe, but not something any horse owner would recommend.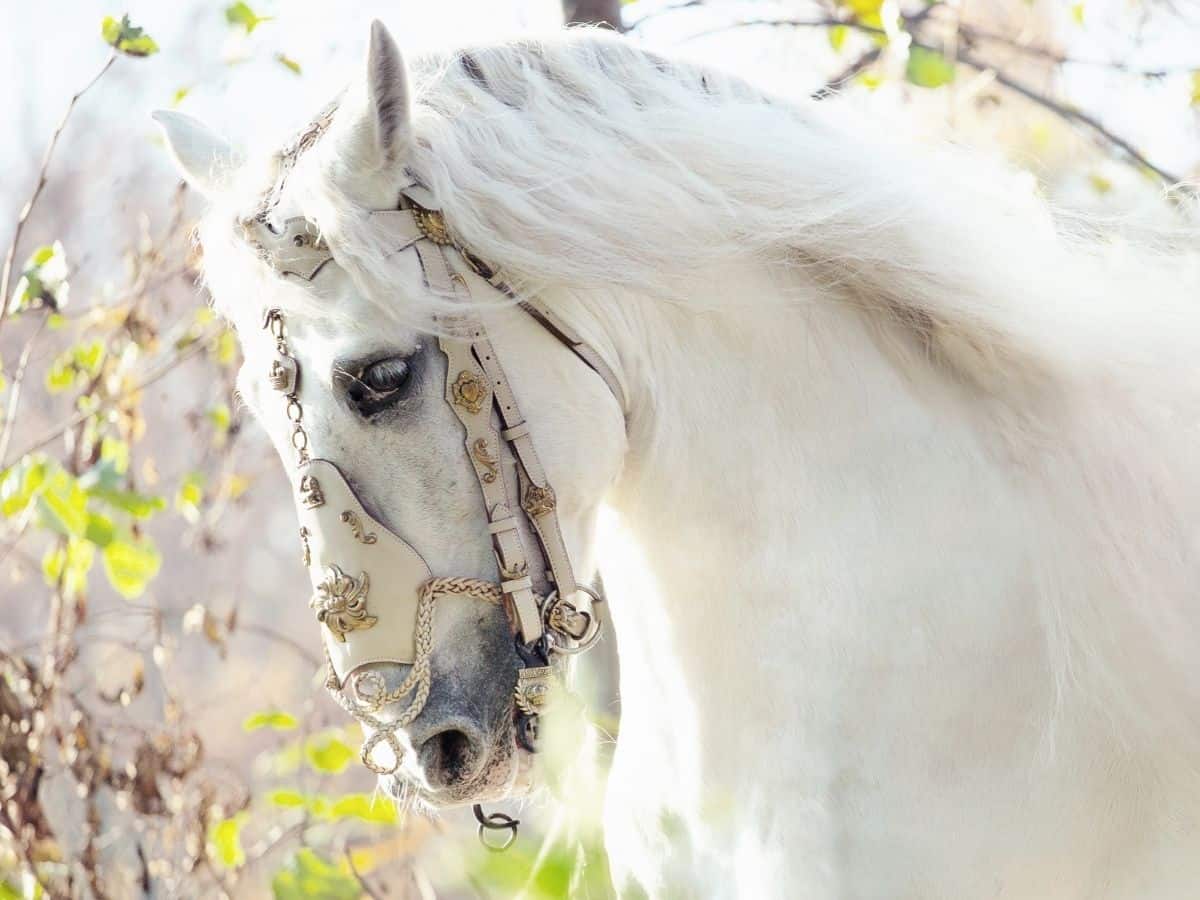 Again, the image may be beautiful, but leaving a halter on the horse is dangerous. In this instance, let's hope that the owner or photographer had good control or even edited out the lead.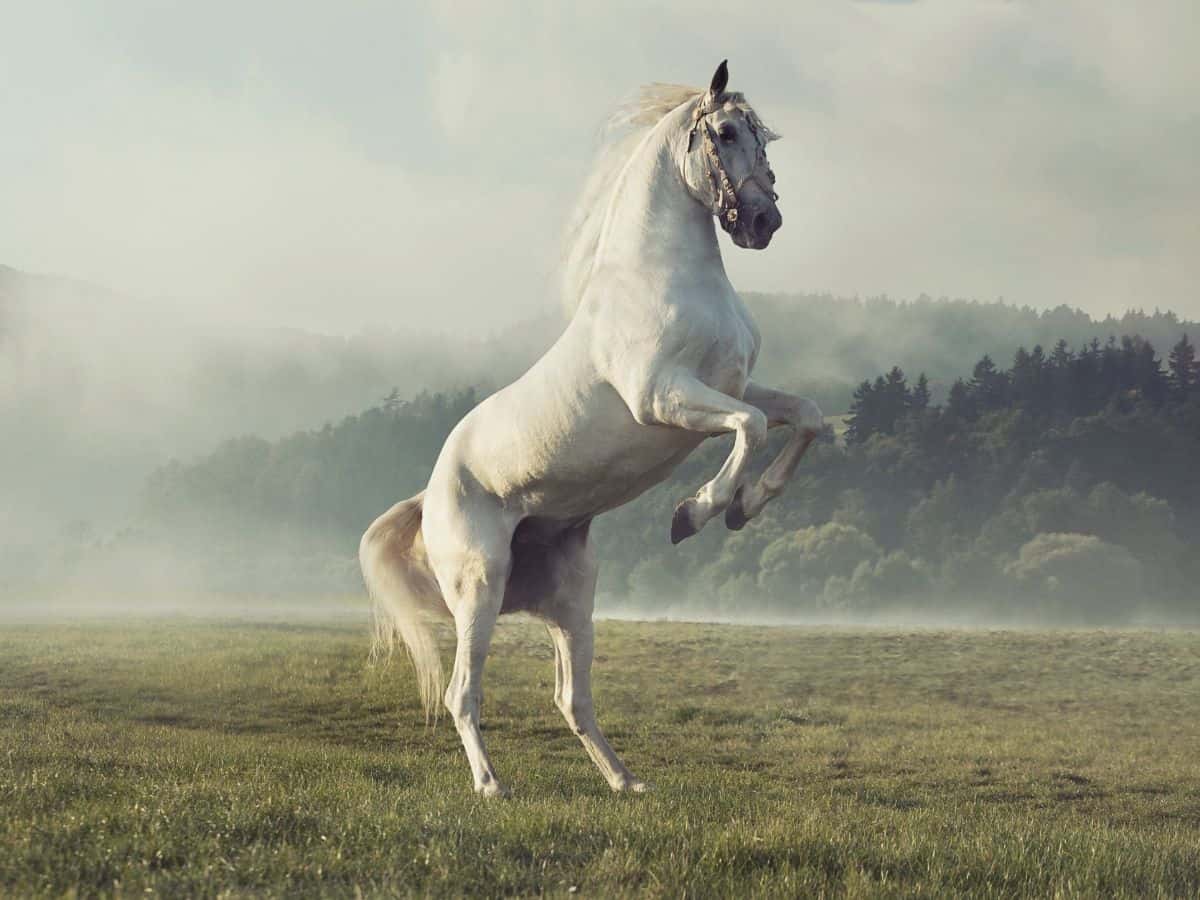 Do Horses Need to Run?
Yes! horses need to exercise regularly, and while they may prefer walking or a simple trot, a full gallop or run is something all will do and should regularly. Otherwise, you would find yourself with overweight horses that are unable to carry their rider, have joint injuries, and are unhappy in general. Regular exercise is a must, but make sure you aren't pushing them too much.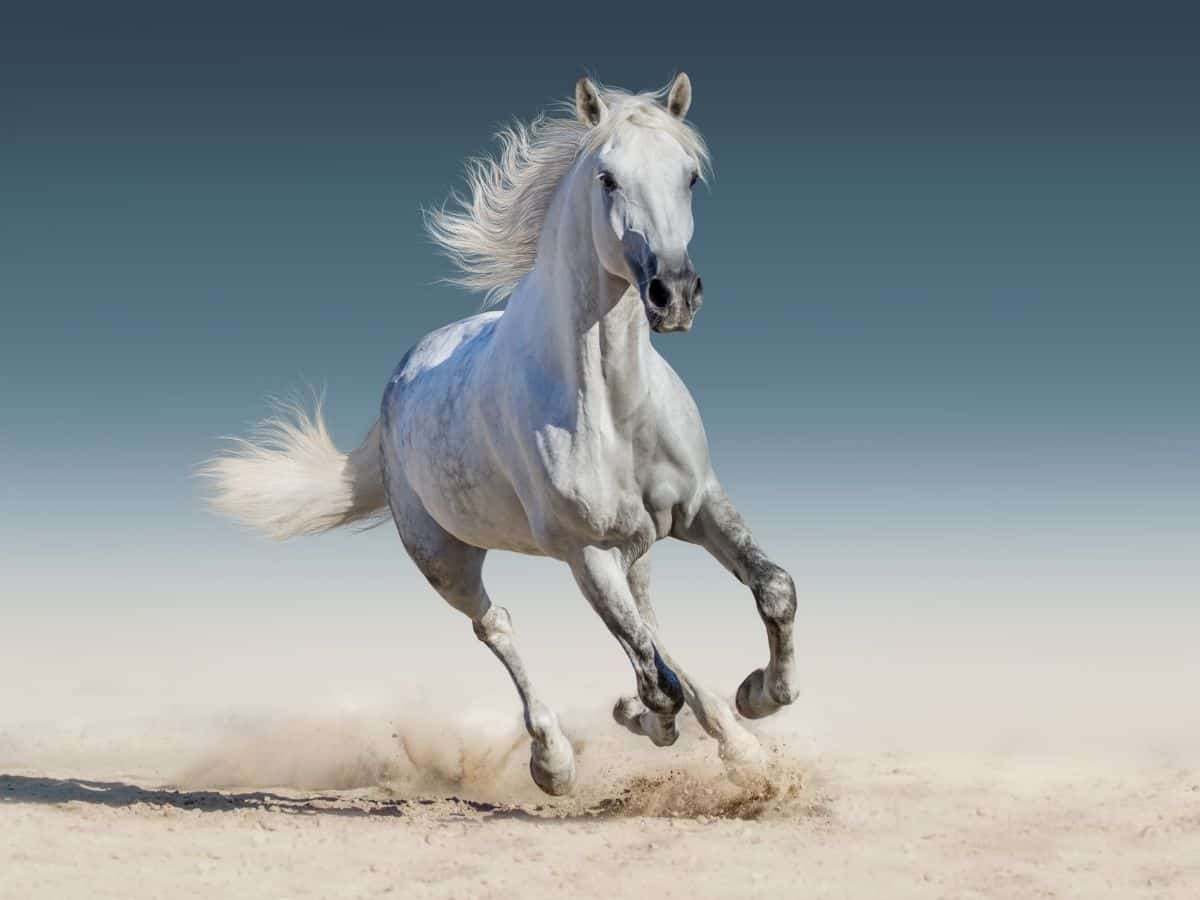 And always make sure you provide a safe place for your horse to run and exercise. The horse below is running in the snow, and while that looks fun and can be safe, it's also important to be aware. Underneath that snow could be hidden dangers, so get to know your pasture and watch for safety issues.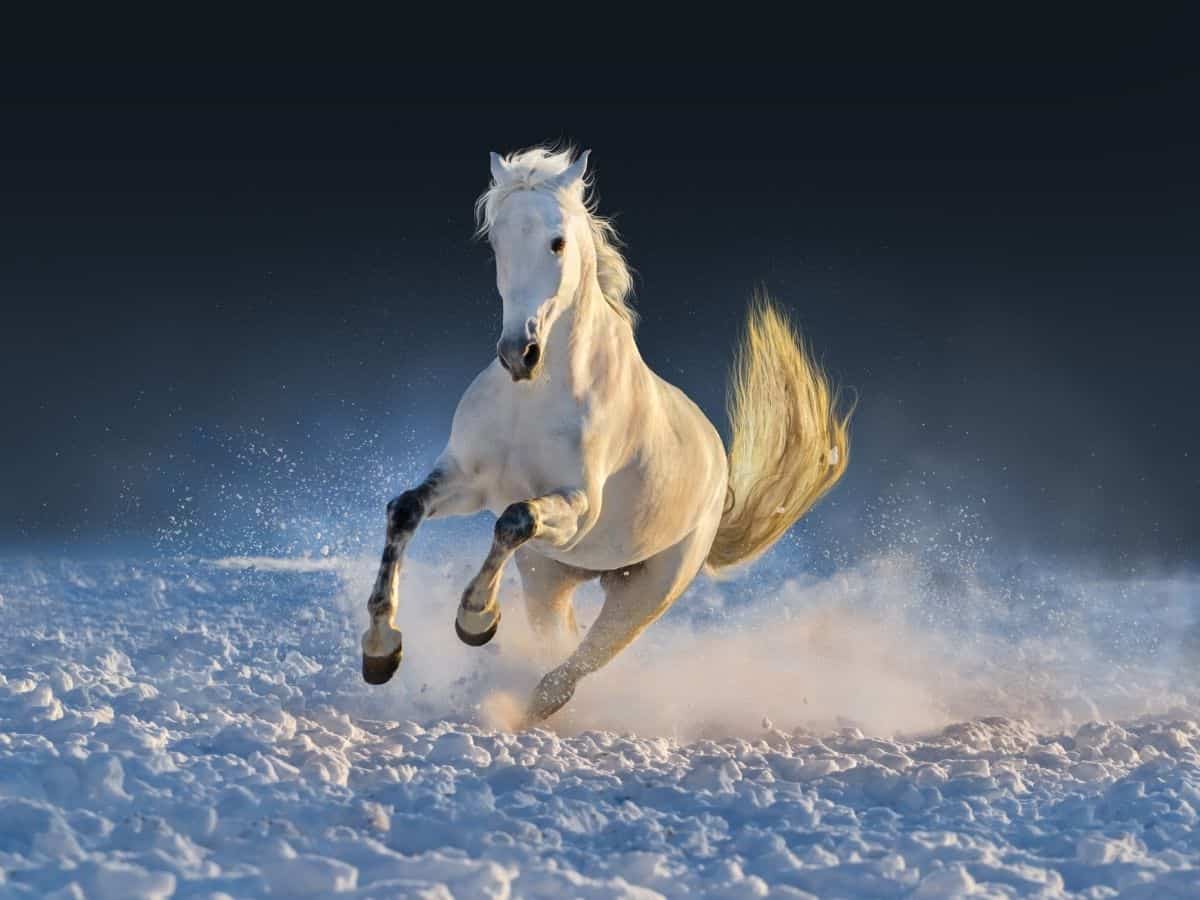 White Horses Are Rare and Beautiful
Whether you have a true white, a blonde, a gray-white, or any other color horse, you know just how beautiful these creatures are. They are truly loving, beautiful, strong, and amazing creatures to observe and this list of pictures is just the beginning of the beauty you can see!