There are two benefits to grooming your horse daily. Grooming helps us to develop a positive relationship and to check on the horse's physical health. We need to know what red flags to look for when grooming our horses. These red flags can help you to identify a problem, so you can take action to improve your horse's health and well-being.
Skin Conditions
Horses can develop several unwanted skin conditions. Some are contagious, and some are not. The four most common skin conditions are rain rot (also called rain scald), dandruff, ringworm, or warts. You can learn more about these in our article, 4 Common Horse Skin Conditions & What to do About Them. Look for these red flags when you are grooming your horse.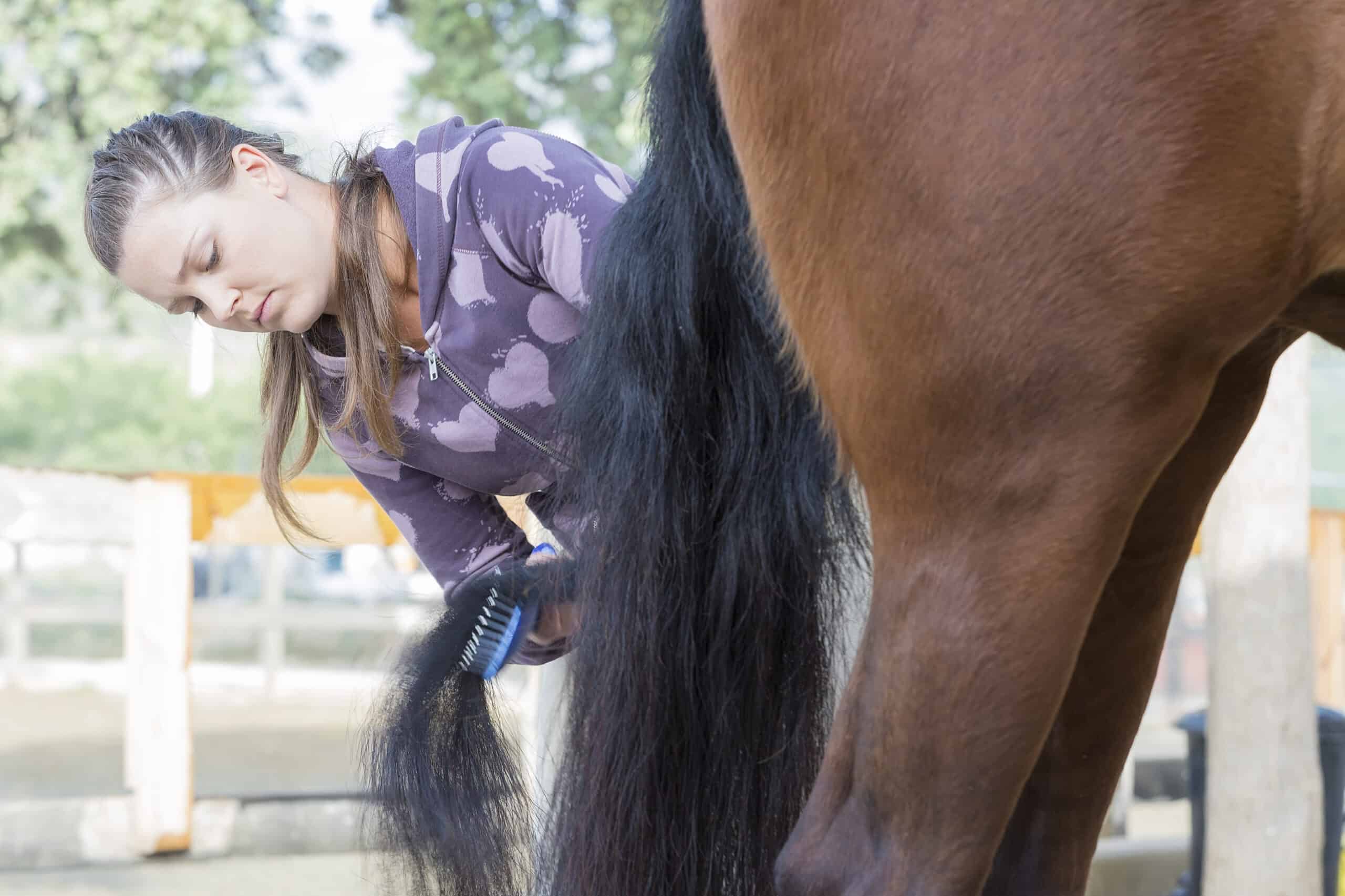 scabby crust of bumps that causes the hair to mat into raised tufts,
a round patch of hairless skin with a crusty scab
cauliflower-like growths on the muzzle, near the eyes, on ears, genitals, and lower legs
If your horse has rain rot, or dandruff there are shampoos available for these conditions. If for some reason a bath with water is out of the question, (weather, or water restrictions) there is dry shampoo available also.
Cancerous Growths
Horses can develop lumps and tumors that can be cancerous. You can read more about "The 5 Most Common Types of Cancer in Horses" in this article. If you discover a new growth on your horse, you should investigate it further and call your veterinarian.
Muscle Soreness and Raw Sores
Check for muscle soreness along the withers, shoulders, and back. This must be done to ensure the tack is fitting properly. Also, check the girth area and underside of the horse's barrel.
Tack that is not fitting correctly can cause both physical pain and behavior problems. Red flags to look for are:
The horse moves away from pressure as you rub along the spine and on either side of it.
Rub marks or open sores along the girth and at the elbow of the horse (where the front legs meet the barrel)
Sores at the corners of the mouth and on the tongue
Behavior/performance problems

"No Hoof No Horse"
The expression is very true. It is essential to clean your horse's feet, even if the horse is not being ridden. Horses that live in a damp environment, whether in stalls, a muddy dry lot, or a dewy pasture, can develop thrush. Rocks can get embedded around the frog or cause bruising on the sole.
In addition, horses can develop laminitis. Laminitis is when the laminae of the foot become inflamed. Laminitis can be very painful and, if not treated, will cause permanent lameness. You can read more about 7 EARLY WARNING SIGNS OF LAMINITIS IN HORSES in this article.
The red flags to look for when cleaning your horse's feet are:
A rotten smell and tar-like discharge in the frog and surrounding area (thrush)
Tenderness when pressure is applied to the sole or heel
Mis-shaped or changed hoof shape
Cracks in the hoof wall
Loose nail or missing nails in the shoes
Tenderness at cornet band
Shoe pad has holes or cracks
Horse Teeth
Don't forget to take a look at your horse's teeth. https://ihearthorses.com/facts-horse-teeth/ This is especially important for older horses or horses with a compromised immune system.
If a horse has dental problems, it can affect the way they eat and their overall health. A sore mouth can also make carrying a bit very painful. In addition to getting your horse's teeth floated, take time to look for these red flags when grooming your horse:
Infected Teeth
Loose or Broken Teeth
Red and inflamed gums
Unusually bad odor
Excessively worn teeth
Nutrient Deficiency
Horses are like all mammals. A proper diet, full of the correct nutrients, is necessary for optimal health. The nutritional needs of a horse can change over time. An older horse will require different nutrients than a younger horse. A broodmare needs different nutrients than an athlete at the top of their career. If these nutritional changes aren't met, it can result in minor to severe health problems.
Unfortunately, the signs of nutrient deficiency do not present overnight. It comes on gradually. However, there are some red flags to look for:
Weight Loss
Dry Skin
Dull Haircoat
Minimal Hoof Growth/Cracked Hooves
Slow Healing Wounds
Muscle Loss
Poor Performance/Fatigue
Learn more about nutrient deficiency in horses here on iHeartHorses.com
Parasites
There are two general classifications of parasites: Internal parasites (endoparasites), external parasites (ectoparasites). It is vital to keep your horses on a regular deworming schedule. One option is to deworm, with alternating deworming medicines four times a year. Another option is to have a fecal test run and deworm when the fecal egg count is high.
Consult your veterinarian to set up a deworming program for your horses. Here is a partial list of red flags that a horse might have worms.
Diarrhea
Weight loss
Not shedding hair
Dull hair coat
Anemia
Coughing,
Nasal discharge

Flies and Ticks
Owning a horse and dealing with flies go hand and hand. The bot fly likes to lay its eggs on a horse. It seems to prefer the legs and wounds, but they can be found anywhere on a horse's body. These little eggs look like yellow specs and need to be scrapped off. When the eggs hatch, they will burrow into the horse's skin and develop from there. Every time you groom your horse, look for, and remove these bot eggs.
Ticks are an external parasite that can cause a host of problems for a horse, including paralyzing it. If you live in an area where ticks are common, it is good to give your horse a good inspection for ticks every time you groom. Ticks can be found anywhere on the body, but seem to prefer the genitals, under the tail, the bottom of the jaw, and in the ears.
Final Thoughts
Part of working with horses is keeping them healthy and sound. There are numerous red flags to look for when grooming your horse to give you a heads up that something is wrong. Look all over the horse for these signs. Do not forget these areas: under the tail, the sheath (on gelding), between the teats (on mares), down the legs, the bottom of the hooves, around the fetlock where there is long hair, and inside the ears.