Are you curious about entering your horse into competitions? If so, then you may want to know more about the different types of jumps commonly found at competitions. Horses that are naturally good at jumping are perfect for entering into different shows and competitions, and below are some of the most common jumps you will see!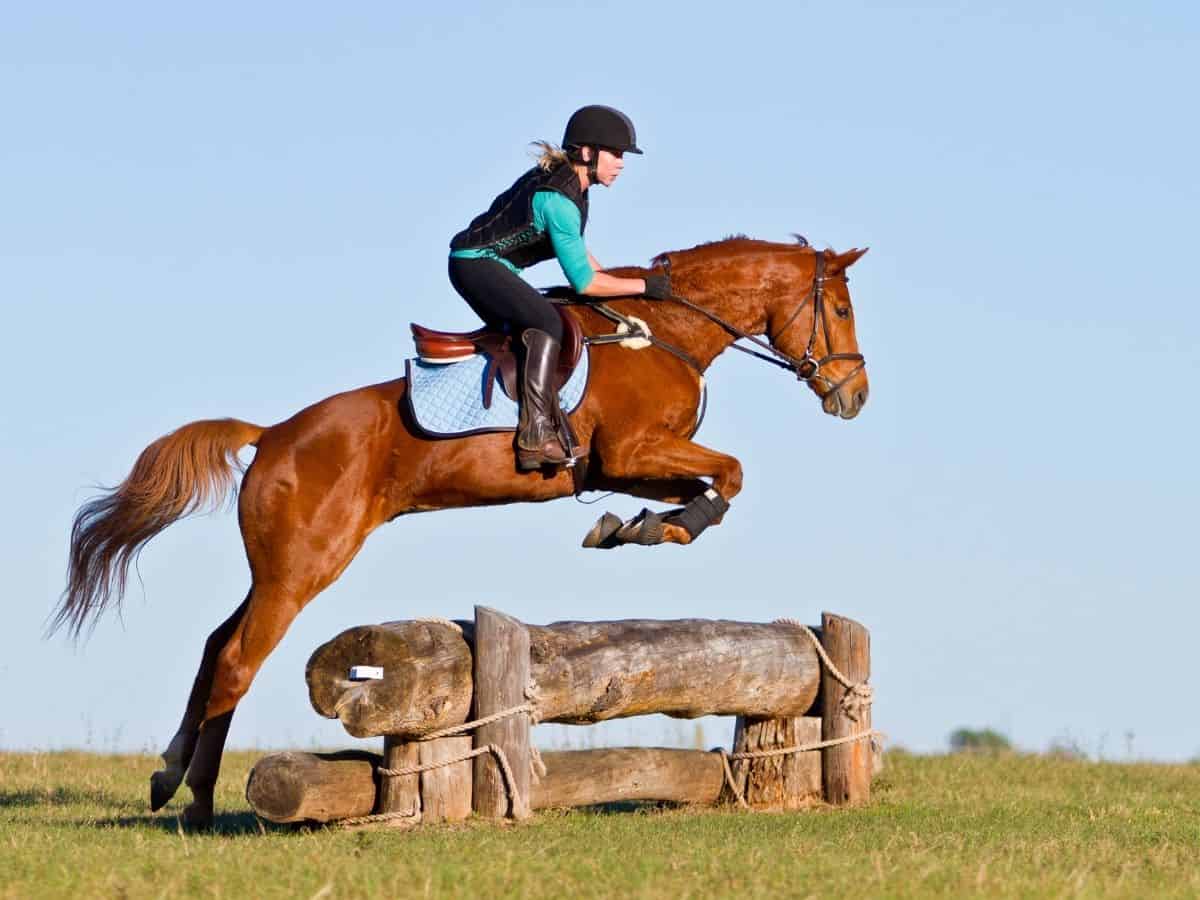 Types of Jumps In Horse Competitions
There are quite a few different types of jumps available for horses to complete when participating at shows. It helps to know more about these jumps and what they entail before choosing to participate in a competition with one of your horses. A horse can easily win competitions that include not just the ribbons and prices, but sometimes monetary rewards. For many, this is not just a hobby, but a career!
If you know you want to enter competitions, then you may want to check out this list of horse breeds perfect for jumping. Not all breeds are ideal for sports, and this is a great place to begin.
Gates
During competitions, it is not uncommon for horses to have gates to jump over. In fact, this is one of my favorite jumps. There are tons of ways to get started in horse sports, and this is just one that happens to be a great starting point.
The gates come in different materials, such as solid wood or vinyl. Depending upon the actual competition, the length and width of these gates will vary tremendously. Experienced jumping horses will have no problem getting over the gates.
With the right stamina, speed, and stance headed into the jump, your horse can work its way over gates of different sizes. There are other fast-paced sports for horses that are great for testing out if gates aren't your thing.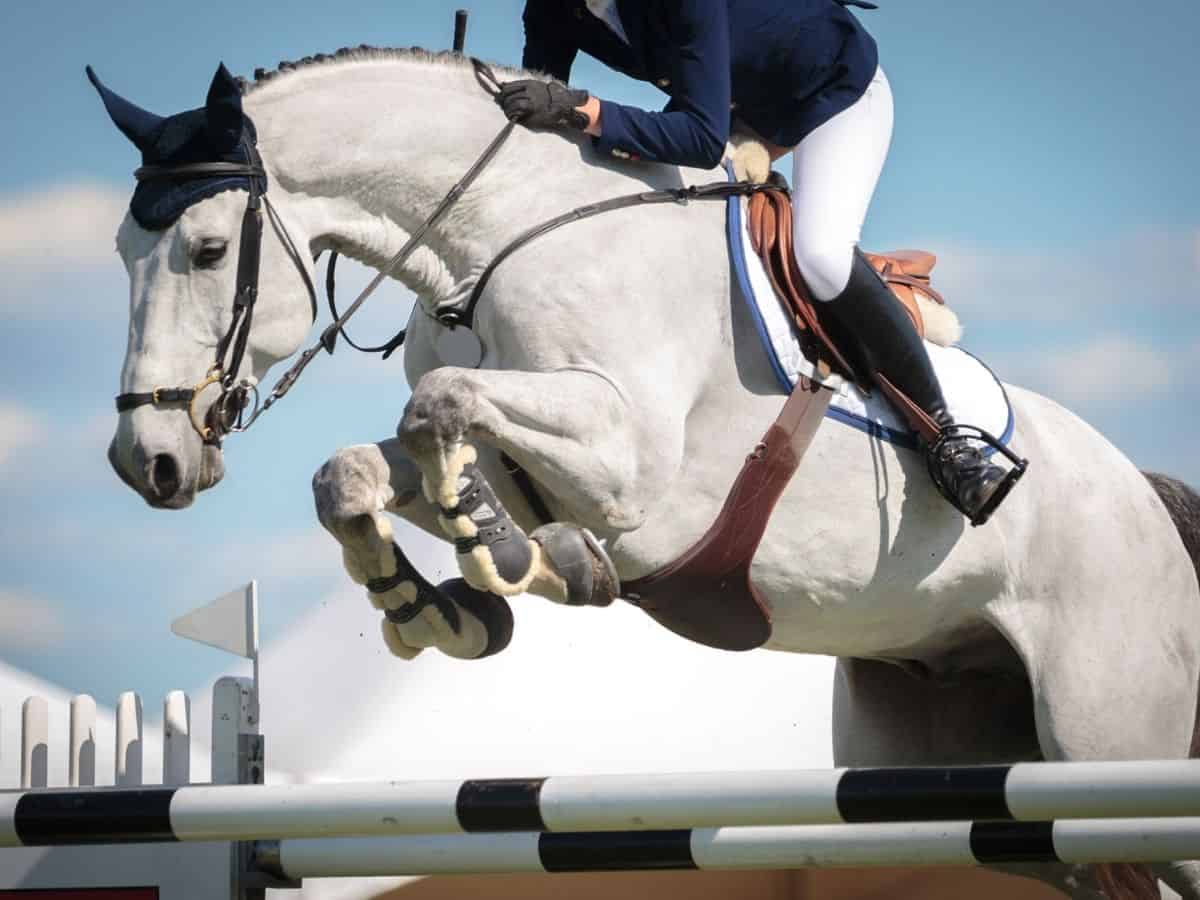 Triple Bars
The triple bars are slightly more challenging for horses. While attached to one stand, the bars are set at different heights, ultimately putting horses to the test to see if they can get over all bars.
An experienced jumping horse should have no problem hopping over the triple bars without knocking one down. Of course, if a horse hits one of the bars during its jump, points get deducted from its score.
This is probably the jump you recognize most often from images. It can be an excellent sport, to begin with as you can elevate the bars at different levels from beginner to advanced.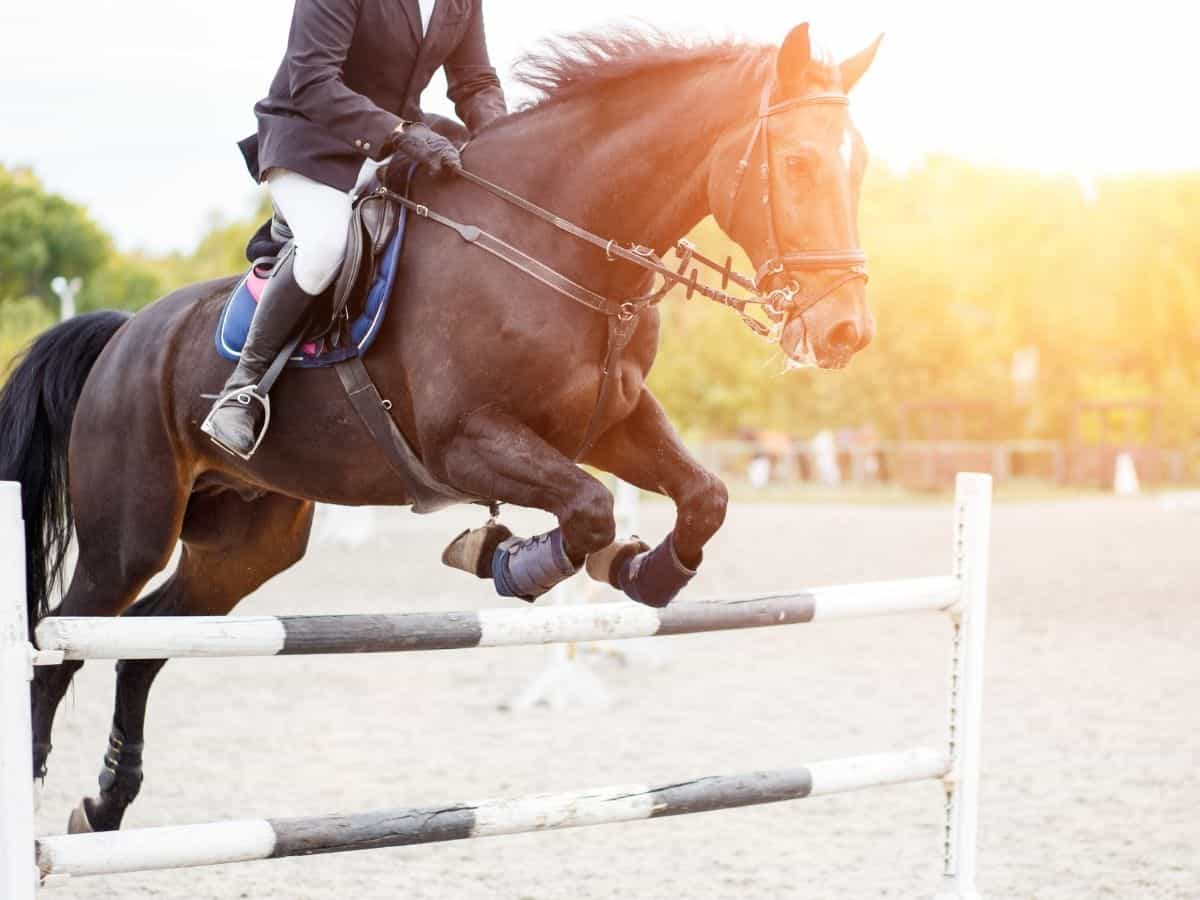 Brush With Rails
The brush with rails jump is similar to the triple bar jump. Some rails go across the ground. However, there is a large bush placed in front of the rails or directly behind them. The purpose of this is to see if the horse will know well enough to jump over both the bush and the rail.
Another popular one seen in movies and television, this event is easily recognizable by the shrubs or bushes by the area. For a horse that is already used to riding around your property and navigating debris in the way, this may be a great start to competition jumping. You may also benefit from these tips to find the right distance to jump when beginning.
Wall
The wall is another type of jump that most horses will need to attempt at some point while attending competitions. The wall often consists of a brick pattern at a specific height. The wall's height is typically high enough to challenge even the most advanced and experienced horses during the competition.
Some of the wall jumps are as high as 10 feet tall. While the wall jump is excellent to watch, it is not necessarily the best jump for beginners. It is better for more experienced horses that have attended numerous competitions and have gotten plenty of practice jumping over assorted obstacles.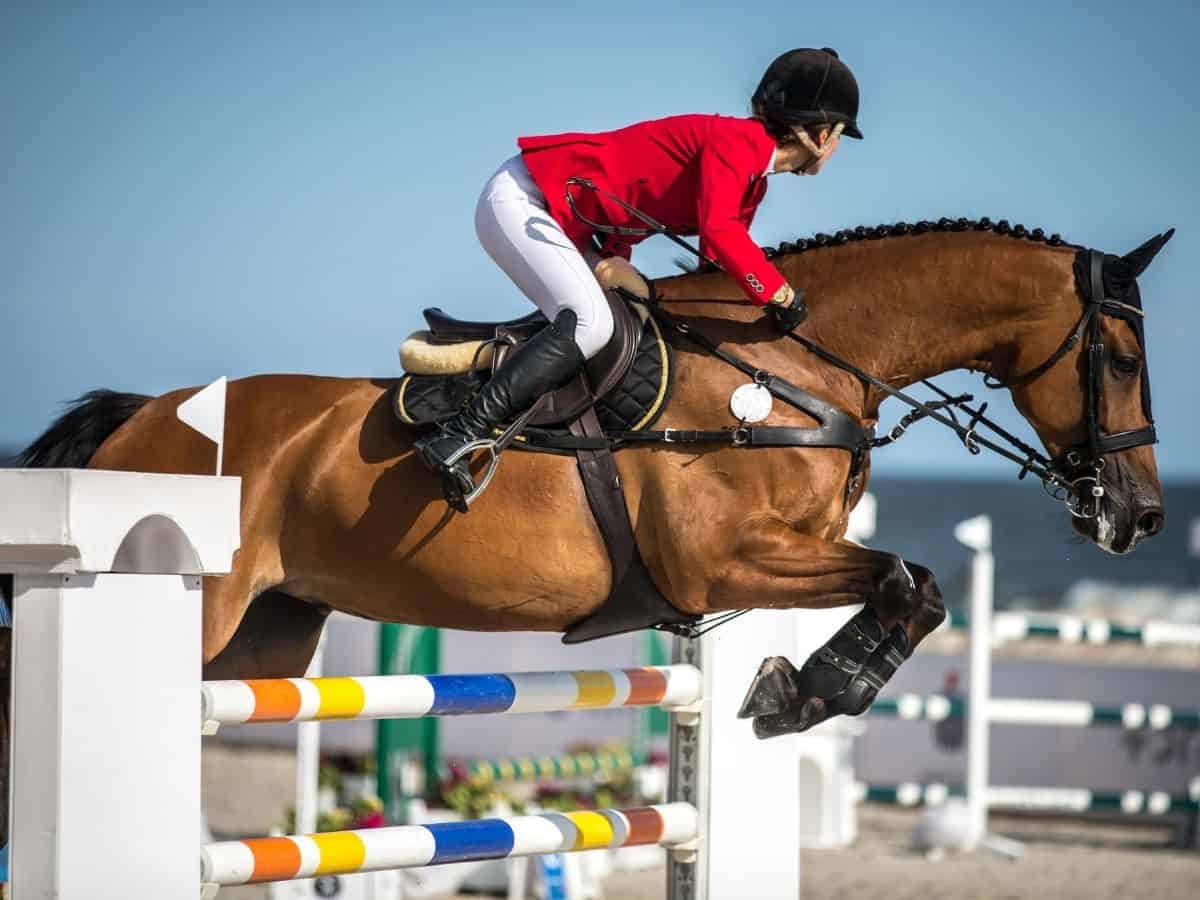 Crossrail
The Crossrail is one of the most common types of jumps. If you watch horse competitions, you have probably watched different horses completing this jump multiple times.
The best way to nail the Crossrail is to trot forward with ease. When the horse keeps a steady pace as it trots closer to the Crossrail, it will glide right over without any issue. The horse needs to move at an ideal pace to get over because when moving forward at a slower pace, the horse can collide with the Crossrail instead of getting over it.
This one can be fun for the rider and horse, but is definitely one that requires a bit more practice. Don't worry, with practice, it will become a natural choice when considering competition jumps.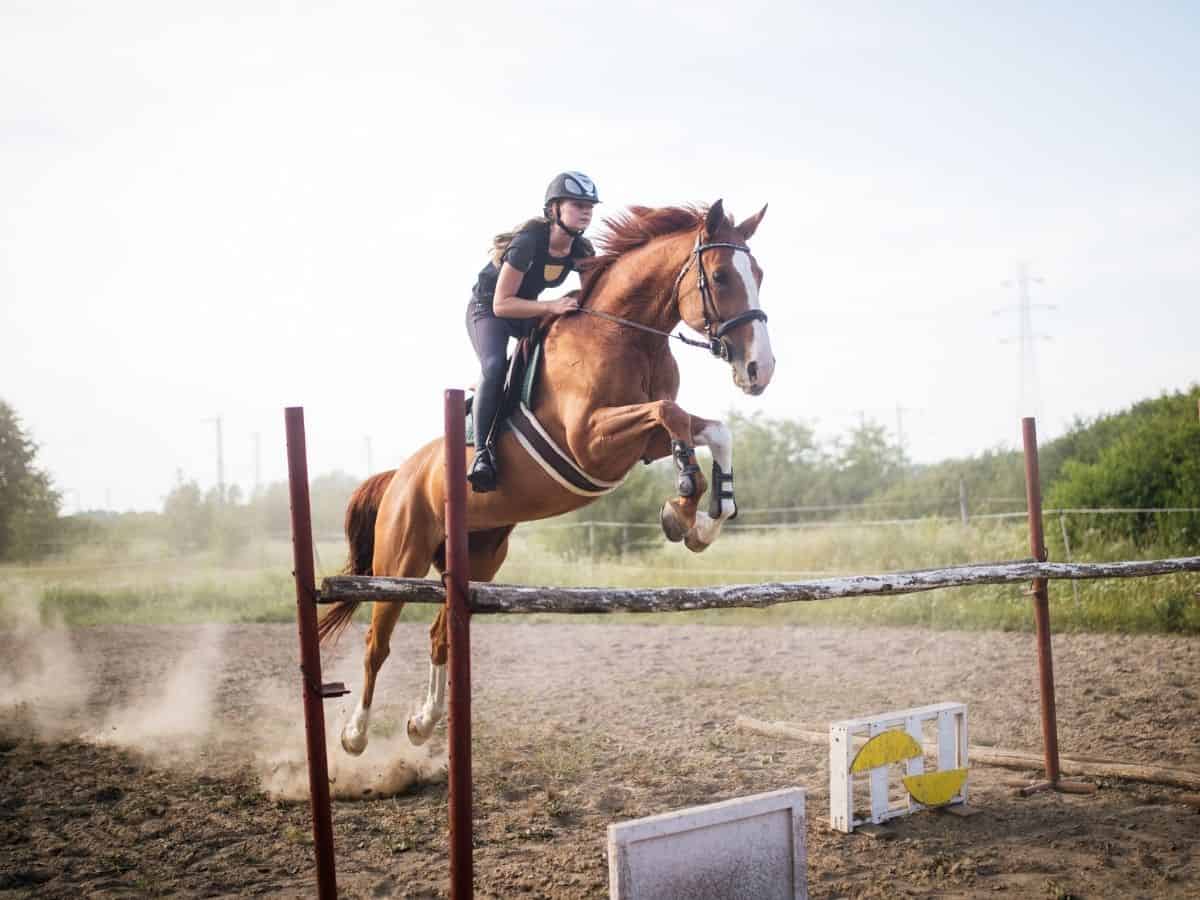 Water Jumps
Water jumps are more advanced jumps for horses. The width of the water makes the jump more challengings. Horses naturally have that instinct that makes them a bit fearful of the water because they are not sure if it is too deep. However, a trained horse will master the art of jumping over the water without even getting wet.
This is definitely one jump to leave for the professionals. While it looks fun and can be exciting, it is also more dangerous to both you and the horse. Learning proper technique and working your way up to the right depth and width for the water is vital to the success of your jump.
Make Sure to Be Safe and Have Fun
Horses that participate in competitive shows may need to jump over various obstacles. Some of these obstacles are more challenging than others. You can practice these different jumps with your horses before participating in any shows. When appropriately trained, show horses can become skilled at jumping over hurdles, even those that are more complex.
More Tips for Horse Owners