If you are new to owning a horse, it may seem obvious that horses eat hay, but what kind? Since one of the primary foods given to horses is hay, it's important to know what is best and safest to feed your new family member. While horses can have other treats from time to time, including carrots, sugar cubes, and fresh apples, hay is their primary source of nutrients.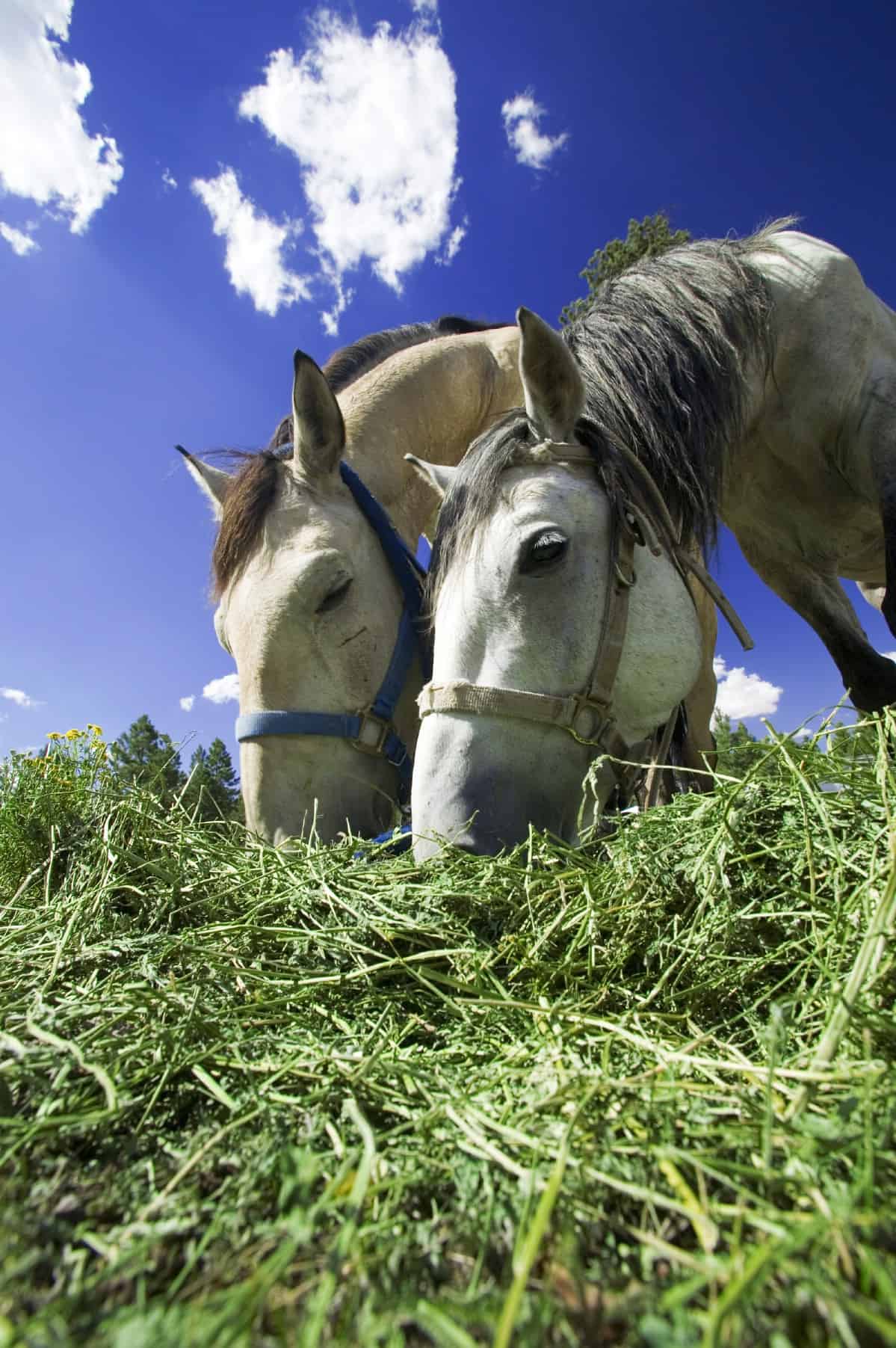 Types of Hay Safe For Horses to Eat
You may feel like this is one of those things everyone would know before buying a horse, but if you have never raised horses before, then it may truly be totally new to you. Hay isn't just one generic food source but can be from many different sources. Some offer more nutrients and some may not be the best for long-term storage.
It is necessary to make sure you provide your horses with the right type of hay at each meal. After all, the average horse eats up to 20 pounds of hay in a single day. Check out some of the following types of hay that are safe for horses to consume.
Tip: Check out these tips for keeping hay in long-term storage. Perfect for those who have multiple horses and live in climates where bulk amounts would be needed for winter months.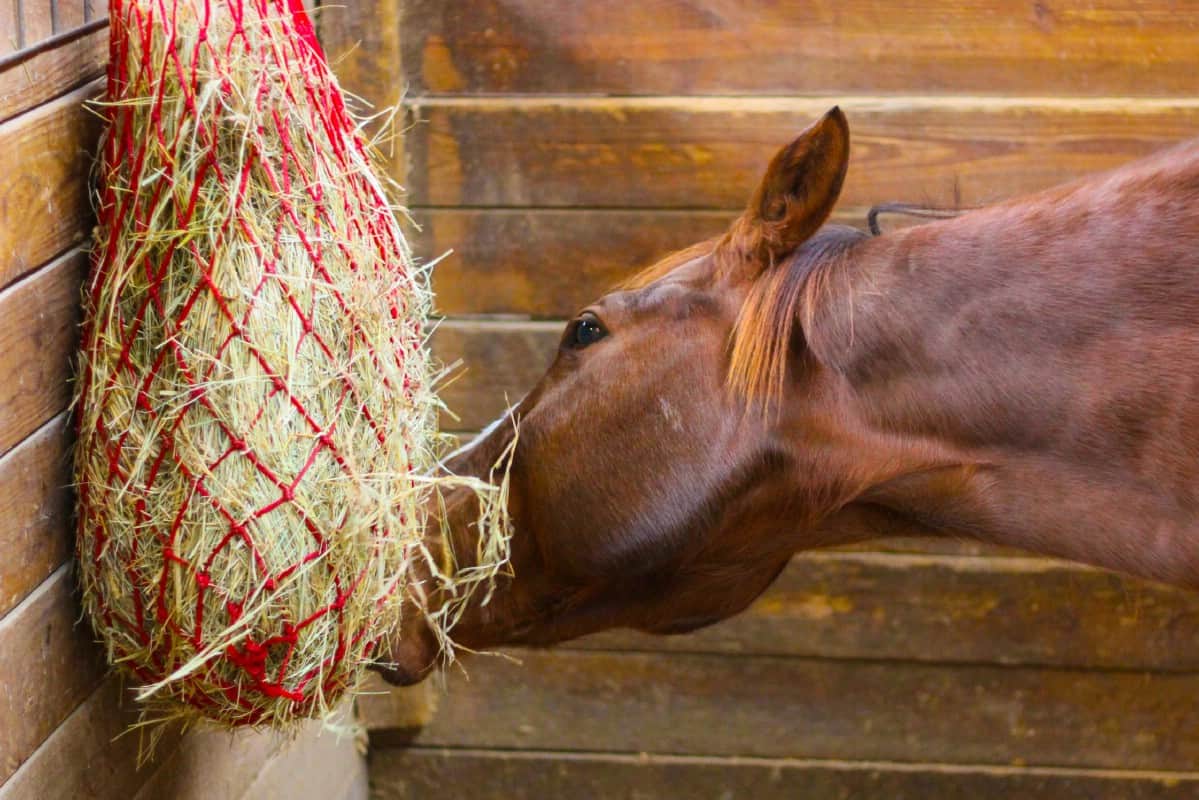 Timothy Grass Hay
While there are many types of hay in existence, Timothy hay is one of the best ones to give to horses. It is easier to digest than other options, causing less irritability in the intestinal tract.
While it only provides horses with a small amount of protein, it is rich in fiber. The fiber keeps horses regular and prevents constipation from occurring.
There are other benefits associated with the use of Timothy grass hay. It can cause horses to have a shinier, healthier-looking coat. Of course, another important thing is that it can also keep horses at a healthy weight, preventing them from being overweight or underweight.
As it is so popular, it is one of the easiest to find options. That said, you need to make sure you check the quality of the hay you buy and don't just grab from any local source. Not all hay is the same, and it's important to know who is growing the hay you feed your animals.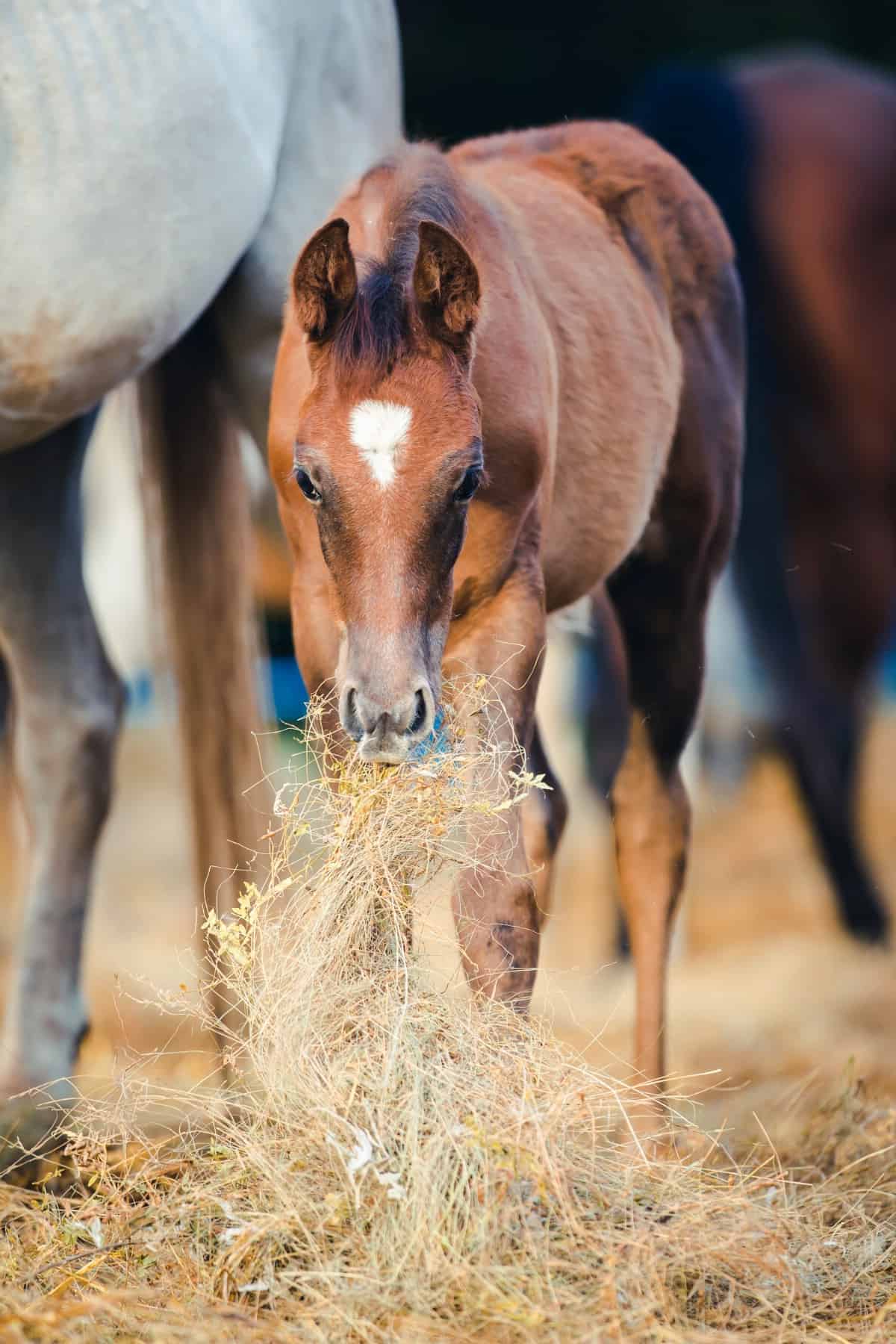 Legume Hay
While legume hay is not as popular as Timothy hay when it comes to feeding horses, it still has plenty of benefits to offer. It is a great source of protein and fiber. Another bonus is that it offers more protein to horses than Timothy hay.
Besides protein, it is also a good source of calcium which is important for all living things, including your horse. Just like humans, horses need calcium to have strong, healthy bones. The legume hay contains essential nutrients and vitamins that horses benefit from consuming, including vitamin A.
Learn more about these vitamins horses need and how you can add them to their diets easily. I love that legume hay manages one of the most important already!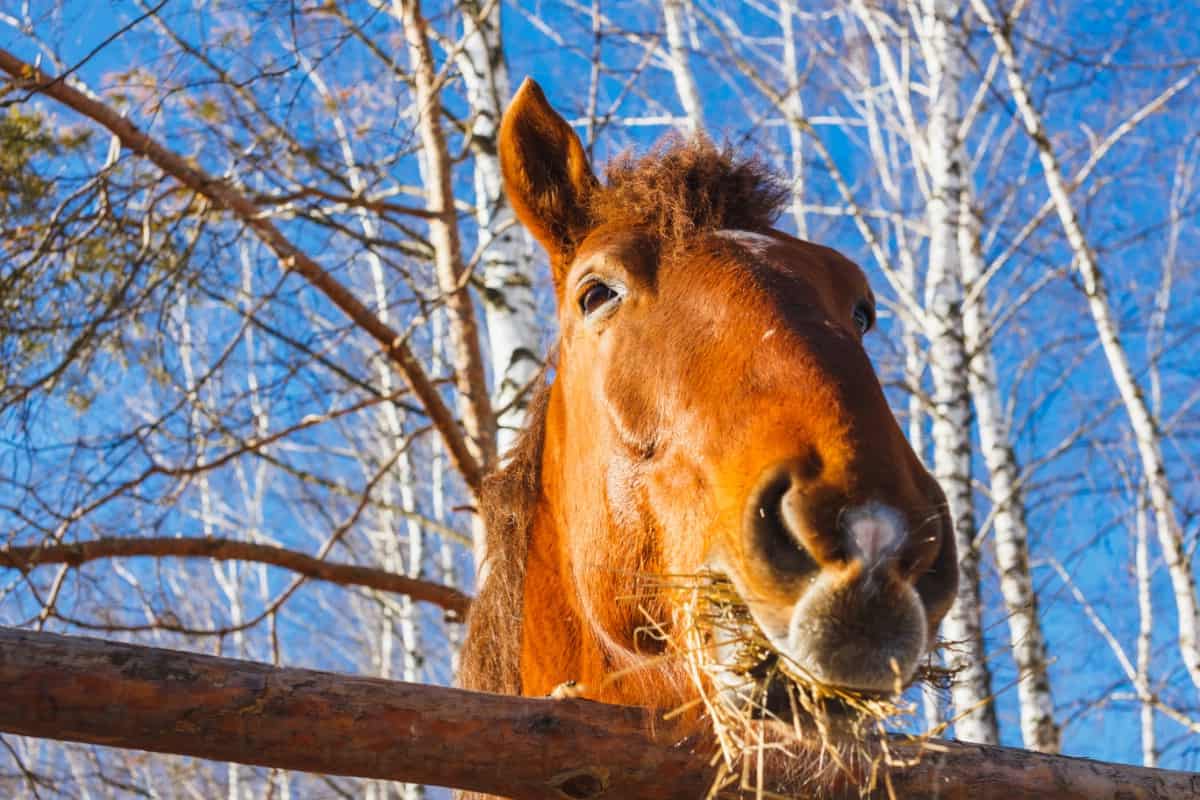 Orchard Grass Hay
When feeding horses hay, Orchard Grass is becoming a popular selection. It contains plenty of nutrients that are good for horses. Since it consists of around 12 percent protein, it keeps horses energized throughout the day. It does contain more calories than other hay options, but that is not a bad thing.
You may need to reduce the amount of hay provided when offering this option to keep your horses from gaining an excessive amount of weight. Even so, the Orchard Grass hay is still a great option.
It offers the same amount of calcium that your horses would get from eating Timothy grass. So, if you want to offer something different, Orchard Grass hay is worth trying. And, if you are worried about your horse becoming overweight, you may also want to check these tips for how much a horse should eat a day.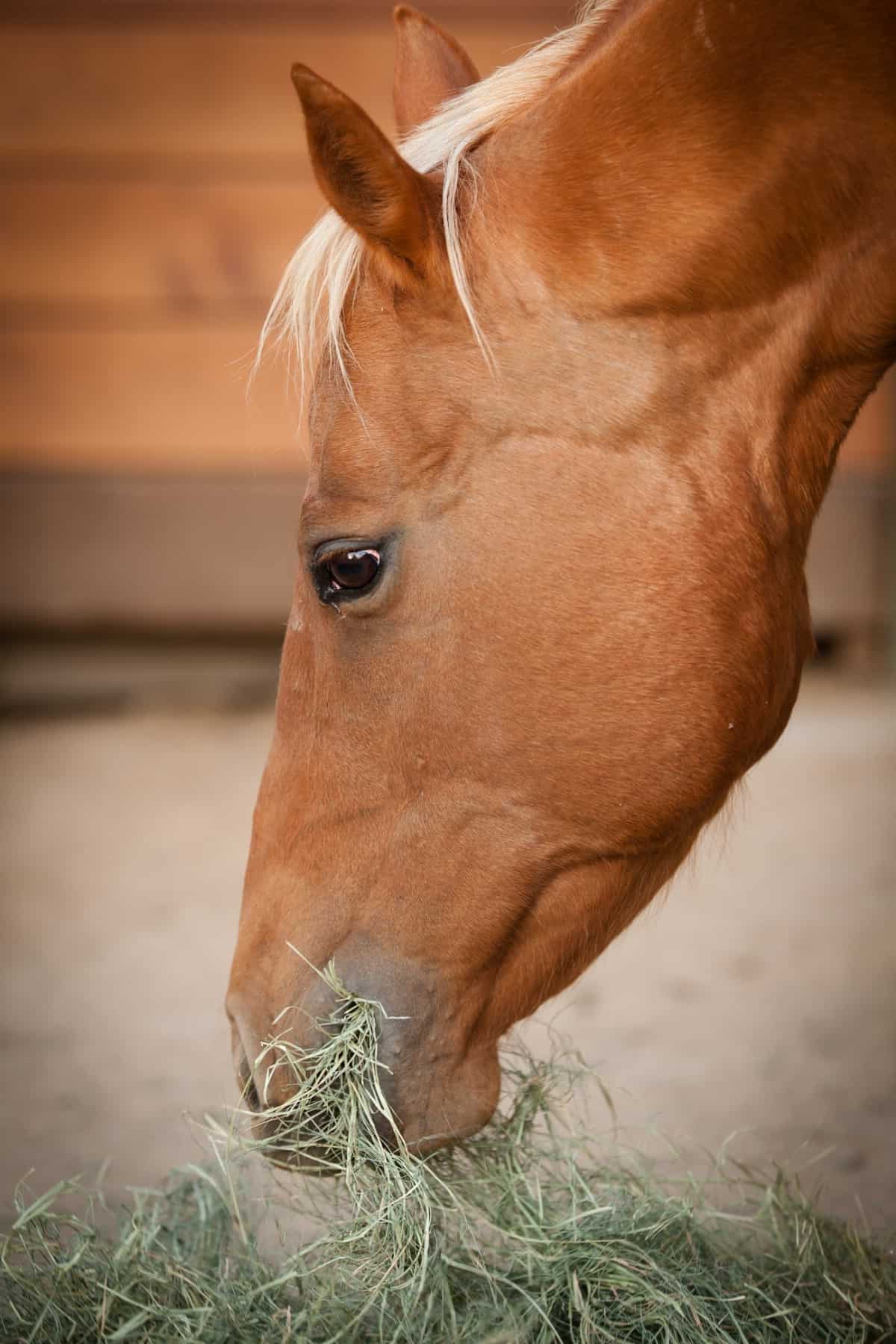 Alfalfa
Alfalfa hay has so much to offer horses. It is an excellent source of calcium, protein, and essential nutrients. It is great for lactating horses that need to produce milk for their young. While it is a good option for some horses, it is not the best type of hay to give certain horses.
If you have horses with kidney or liver issues, it is best to choose a different type of hay. Unfortunately, alfalfa hay can worsen symptoms in horses with these medical conditions. If you know that your horses are perfectly healthy, you can provide alfalfa hay as often as you would like, along with horse feed and assorted treats.
Offer Variety to Keep Happy Horses
The average horse will eat pounds of hay in a single day. So, if you have multiple horses, you know that you need to have tons of hay available for them to consume each week. While hay is good for horses, there are several different options available.
Some of the options that are safe for horses to consume include Timothy, Legume, Orchard Grass, and Alfalfa hay. It helps to understand the benefits associated with each option before you start purchasing the hay and providing it to the horses on your land. You want to make sure you offer your horses the most nutritious option.
More Tips for Horse Owners