Most of us get into equestrianism because we want to ride. But there are going to be times when you cannot ride. Spending time with your horse and continuing to strengthen your relationship is important during those times, however. And there can be other advantages to doing more non-riding activities with your horse on a regular basis as well.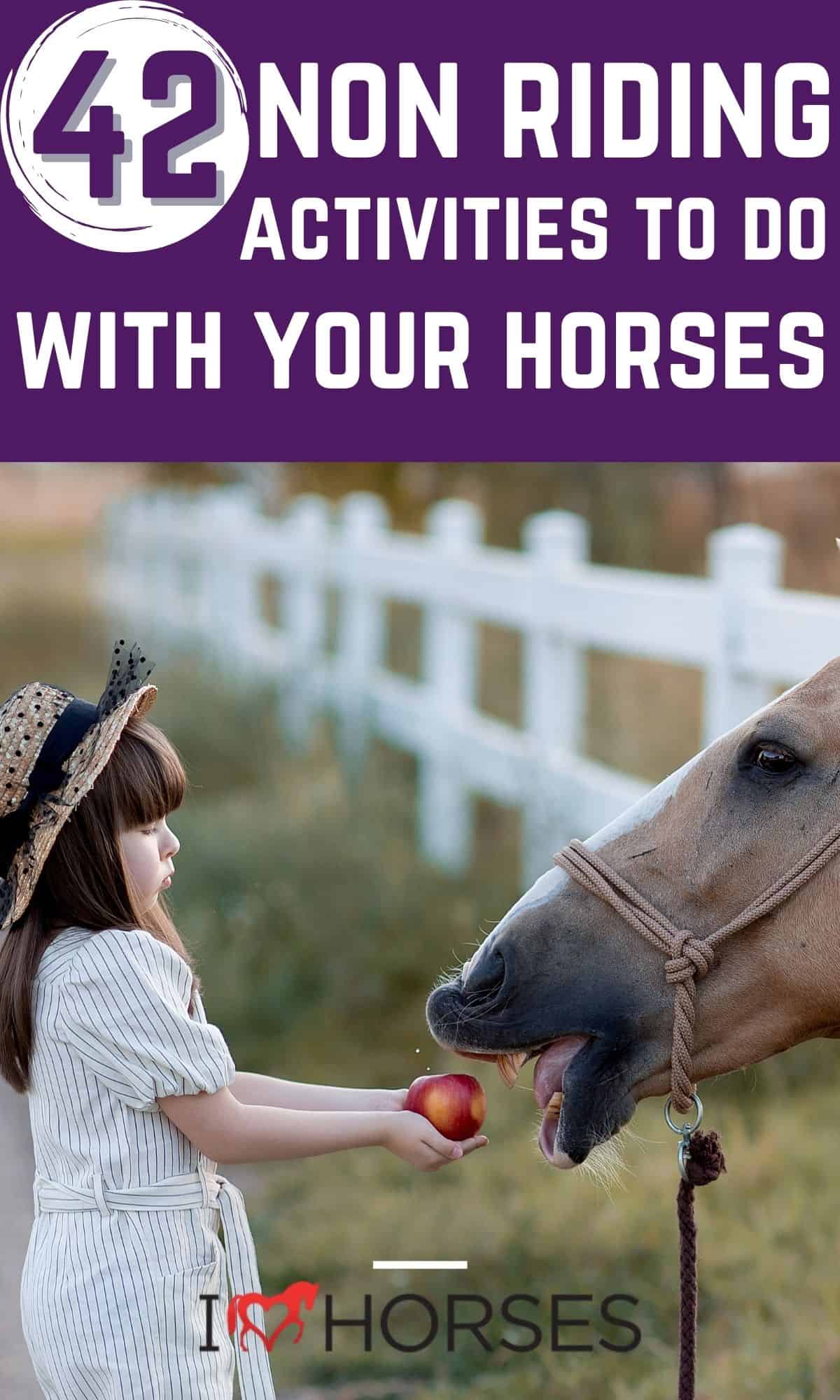 Non-Riding Activities to do With Your Horse
You may be wondering why you wouldn't be riding a horse if you had one, well, you'd be surprised at how many reasons there are. Here are some reasons you might not be able to ride:
Maybe you are injured.
Perhaps your horse is injured.
The weather could be bad.
You may be waiting to replace broken tack.
Your horse may no longer be fit for riding because of age.
Alternately, your horse may not be old enough to carry you.
You might be recovering from surgery.
You or your horse may be suffering from anxiety problems.
Here are some benefits of doing non-riding activities with your horse:
Bond with your horse even when you cannot ride. Riding is an amazing bonding activity, but it is not the only one. There are so many other things you can do to deepen your bond with your horse. The more time you and your horse get to spend together, the better.
Reinforce existing training. If you spend very little time with your horse when you are not riding for long time periods, training could be forgotten. If you find other activities to do together, you can keep that training in place.
Train your horse in new ways. Riding is not the only opportunity to train your horse, either. In fact, non-riding activities present many excellent opportunities to teach your horse new things.
Help calm an anxious horse (or an anxious rider). If you have riding anxiety, or your horse gets anxious while you were riding, spending more time together when you are both calm may help. For more ideas in this department, see 20 Tips to Reduce Riding Anxiety.
Enjoy each other's company. Finally, you enjoy spending time with your horse. But if you get used to only doing riding together, you may be depriving yourself of more valuable time for companionship if you do not try some additional activities.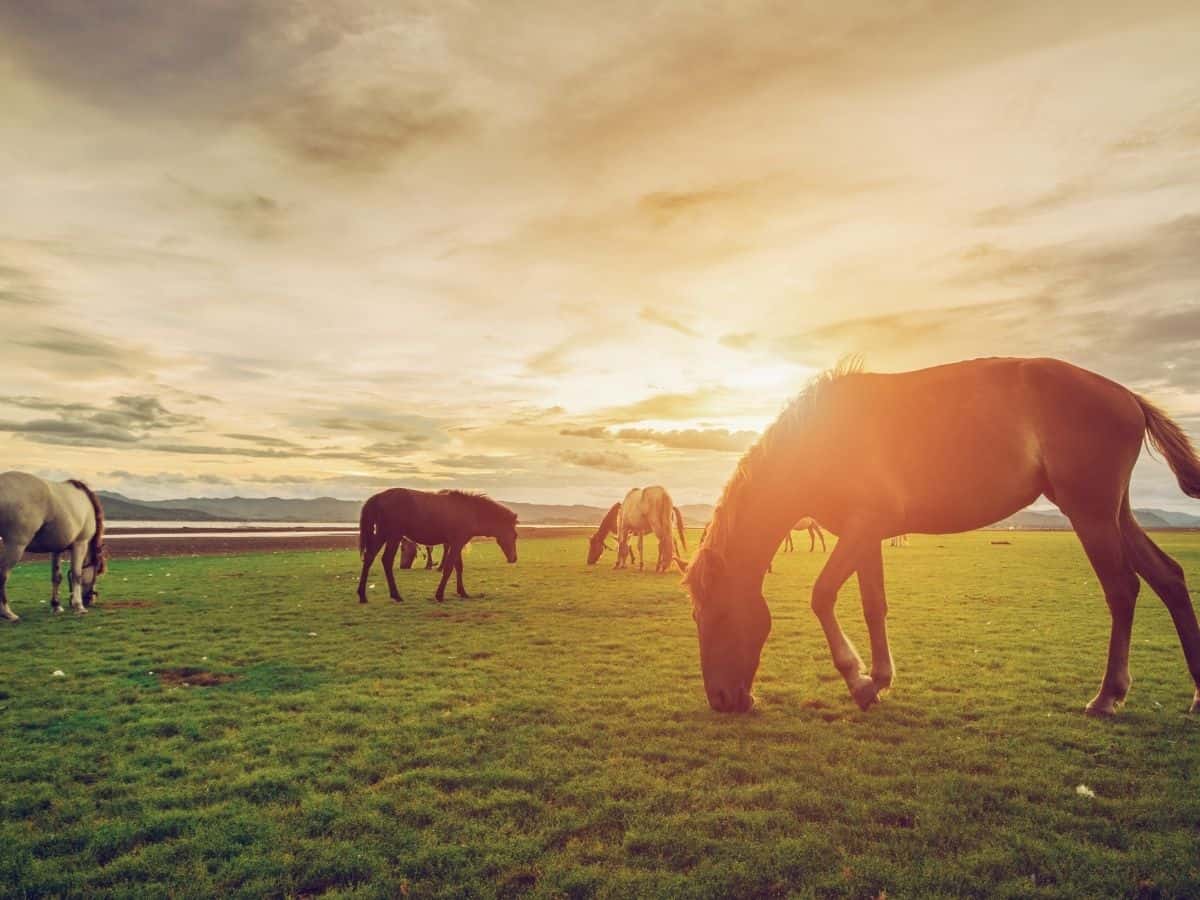 Here Are Some Fun Non-Riding Activities to Try
Now that we have gone over the benefits of participating in non-riding activities with your horse, here are some ideas to get you started. Consider these different activities to enrich your horse's life as well as your own. You may also want to check out these horse activities for the whole family for more inspiration.
Training Your Horse
We will start with some non-riding activities you can do to train your horse. One of the first things to remember is to get your horse used to touch. Before you begin training, build that connection.
Train your horse to stand in one place.
One of the first things you'll probably start training your horse how to do is to stand in one spot. But let's admit it—horses love to wander, and it can be difficult to get a horse to stand in one place for a while.
Chances are good that you have difficulties with this now and again, so why not spend some time training your horse to stand still? The more you work on this, the better the results will be. And you will find this training comes in handy for all sorts of reasons.
Try clicker training.
If you have heard of clicker training, there is a good chance it was in conjunction with dogs. But some people use clicker training for horses.
All you need for clicker training is:
A clicker (you can get one at a local pet shop for a few bucks)
A reward (food is typical, but there are other options, like a nice scratch)
When you do clicker training, you get the horse to associate these things:
A command
The sound of the clicker
A reward
If you do not have a clicker, you can substitute another sound, even just the snap of your fingers. Check out this example of a horse learning tricks with just a click to see more about how it works.
Practice walking through puddles.
Does your horse get finicky about puddles? This can interfere with riding on days that might otherwise be acceptable. The next time there are some puddles around, consider spending the day training your horse to walk through them, without the pressure of heading out for a ride.
Train your horse to stand still after you open the stable door.
Related to training your horse to stand still, in general, is training your horse to stand still and wait once you have opened the door to the stable. Once you have trained your horse to wait for your command, it can really simplify your life moving forward.
Teach practical tricks.
Along with training basic commands like "stay," you can also try training your horse to do tricks that happen to have a practical application.
One example is to teach your horse how to pick up objects if you drop them and hold them up to you. This is a cute trick, but it is also extremely helpful. Not only can it be handy around the barn, but when you are on a ride, it can save a lot of time and hassle. You can just stay right in the saddle, and your horse will grab what you dropped.
Another idea is to train your horse to lift its own foot. You are probably used to doing that yourself when hoof work is necessary. But after you teach this genuinely helpful trick, you won't have to.
Teach impractical tricks.
Your goal if you are reading this is mainly just to spend more time with your horse, so why not teach some impractical tricks that are cute and fun as well? For instance, you can train your horse to give you a hug by wrapping its head around your back. Another idea is to teach your horse to bow in greeting. Here is a post showing you how to teach your horse to bow to get started!
Set up an obstacle course.
This could be filed under training or fitness since it will give your horse great agility practice. You can set up some obstacles specifically for your horse to navigate, like cones, hoops, and so on.
Others can be there solely for exploratory purposes. In fact, any unfamiliar object can be part of an obstacle course. Even if it doesn't pose an agility challenge, it is something for your horse to investigate.
Horses can get anxious around new objects, but they can also find a fun side to checking them out. The more experience your horse has with this in a safe, familiar setting, the easier it will be for your horse to deal with unfamiliar objects in different environments.
Give your horse a treat from a syringe.
Does your horse hate the syringe? While that is typical, did you know that you can train some of the dread out of your equine companion? The trick is to teach your horse to stop associating the syringe exclusively with medicine and to start linking it to something nice.
So, now and again, fill the syringe with applesauce instead, and give it to your horse. If you do this on a fairly regular (but not completely predictable) basis, your horse may stop automatically anticipating the medicine, and thus be more receptive when it is time.
Get your horse used to spraying.
Does your horse flip out when you want to use a spray bottle? Training your horse to get used to spray bottles can be another good non-riding activity that will make life easier for both of you over the long run.
How can you do this? You're going to want to fill a spray bottle with water, go out in the open, and gradually acclimate your horse to it without making it scary. That means simply spraying the air away from your horse while your horse hangs out to start with. Over time, you should be able to spray the air nearer your horse without issues.
Eventually, you can spray your horse. Again, staying in the open is really helpful here. Your horse will not feel as intimidated by the spray, and is also less likely to cause hassles if it tries to get away. You can try incorporating treats into the process if you want. Regardless, you should offer plenty of reassurances and make your horse feel as safe and calm as possible.
Eventually, the spray bottle will no longer be as big a deal. And it will be a lot less stressful the next time insect season rolls around. Next time you notice a fly problem, whip up this fly spray for horses and see how they react after your training.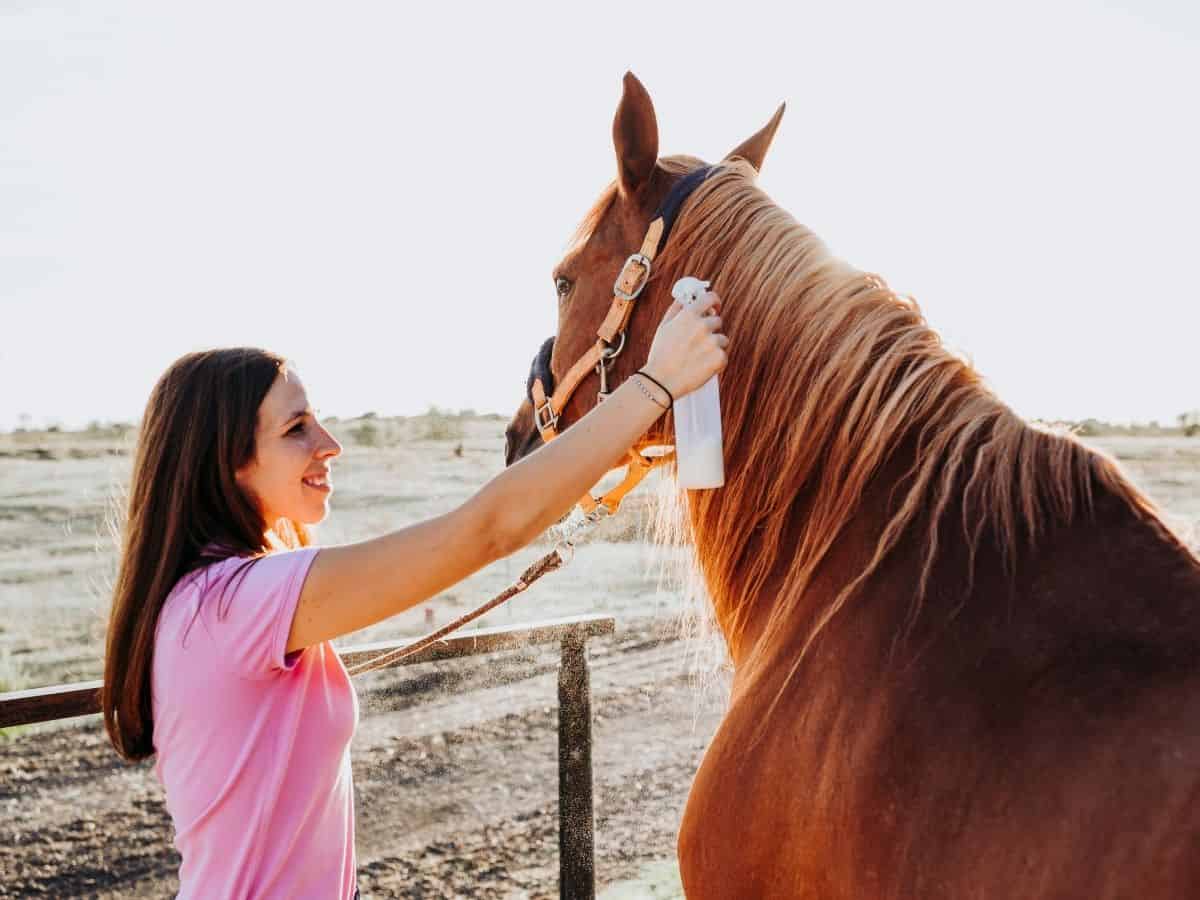 Try loose schooling.
Normally, you probably keep your horse on a lead during training. But have you ever tried out loose schooling? This is where you take your horse out into the pasture to practice jumping. You don't ride the horse, and you don't put on any tack. The horse wears boots for leg protection.
Equestrian Maria Green writes,
If I was asked to answer the Horse and Hound question about my "secret weapon", loose schooling would rank fairly high … Like everything to do with horses if it is done right the benefits are enormous.
She continues,
I find loose schooling is the most time efficient form of exercise and would happily exchange ridden work for loose work by incorporating exercises that are helpful to that particular horse. Why not loose school for twenty minutes then allow your horse to have a roll and cool down while you muck out and have a cup of tea? I can exercise, brush, rug and muck out three horses in just over an hour in this way.
There is a learning curve with loose schooling, but it is not as hard to get into as you might think. Once you do, you and your horse should have a blast.
Play with ropes.
We always hope our horses will never get caught in anything while we are out riding, but it can happen. When it does, a panicky horse can injure itself or its rider trying to break free.
You can train your horse to panic less in situations like these by gently putting ropes around its legs or body. Remember to go slow with this type of training so your horse does not panic during the process.
Practice with a mounting block.
Wish it were easier to get on your horse? Take some time to practice using a mounting block. Train a simple command to get your horse to stand next to a block. That way in the future, getting into the saddle will be easier. Your horse will probably be happy about it too.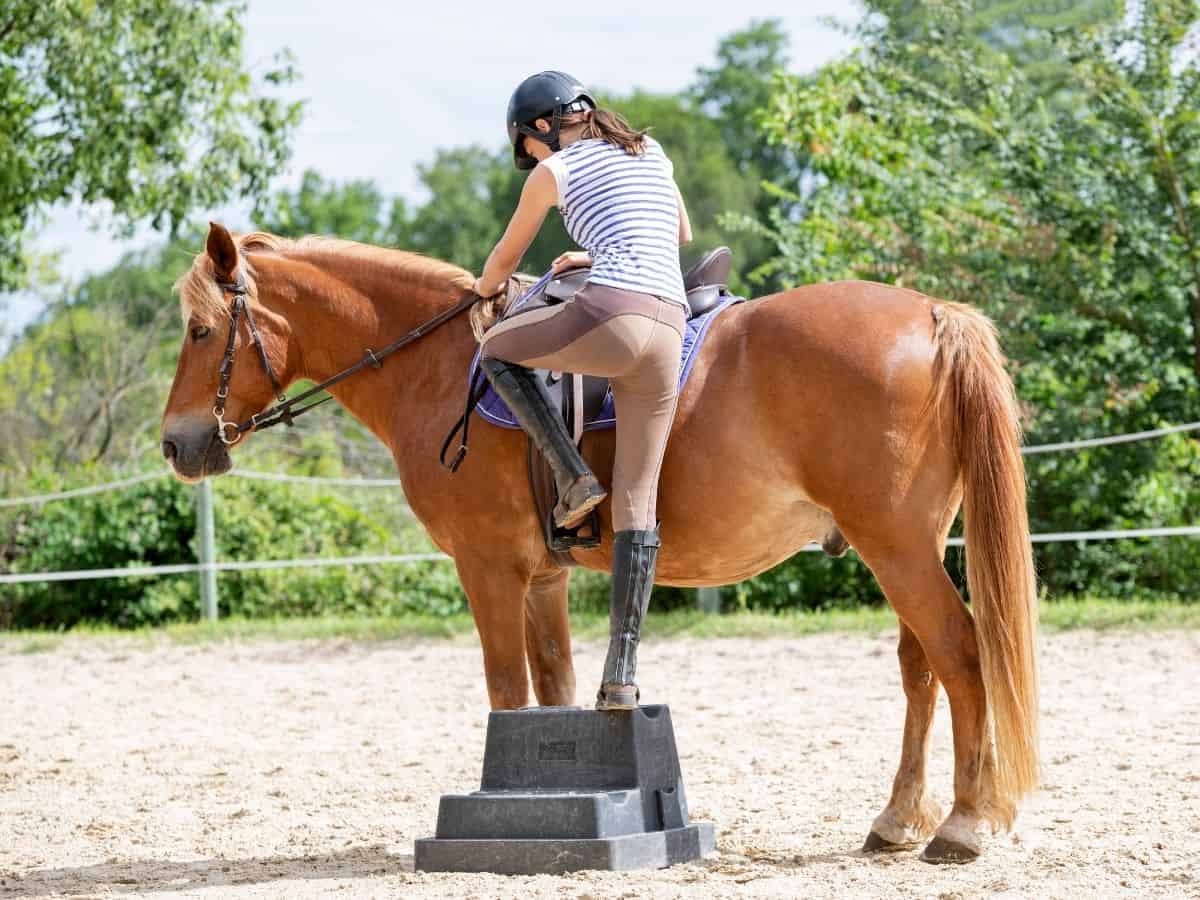 Train a command for your horse to lower its head.
When a horse is antsy in some way, telling it to lower its head can help it to calm down. This can come in handy when you are doing all sorts of chores.
Why does a horse feel calmer after lowering its head? Well, think about your own nervous habits. When you are anxious, do you breathe shallowly or tense your shoulders up? It helps to remind yourself to relax your shoulders and to take deep, slow breaths, doesn't it?
For a horse, head position is like that. A horse may raise its head when anxious, and then the raised head turns into a positive feedback loop, promoting more anxiety. Lowering the head can signal to the horse's body to calm down just like breathing more slowly can for you. But it can be hard to get your horse to lower its head if you don't have a way to communicate to it that this is what you want to have happen.
So, try teaching your horse a command to lower its head. In the future, you will probably find yourself using it pretty often. It can make life easier for both you and your horse.
Get rid of an annoying habit.
No matter how well-behaved and well-trained your horse is, chances there is something it does that causes you grief. Instead of focusing on training your horse how to do something new, why not try training it to stop doing that thing you can't stand?
You will be grateful when you no longer have to deal with that issue as frequently in the future.
Set specific goals and go after them.
Okay, so this one has more to do with you training yourself than you training your horse. When you are taking time out of the saddle, it can easily become pretty amorphous. Your usual routine is disrupted, so you may find yourself without any sort of structure.
If you want to keep accomplishing things during that time, it makes sense to come up with specific goals for training and bonding. Consider writing them down and putting the list in your barn. You can hang out with your horse while you are working on this. You can then check off the goals as you accomplish them later.
After you achieve your goals, think about getting some kind of reward for yourself and your horse.
Take some kind of a class with your horse.
While you can learn and train a lot on your own, a lot of things are easier to learn (and sometimes less frustrating) with a trainer working with you. Consider looking up courses in your area that are hands-on, but don't involve riding, and enrolling.
You and your horse will learn new things, and maybe even some that you didn't expect. You will also have a chance to get to know others in the equestrian community.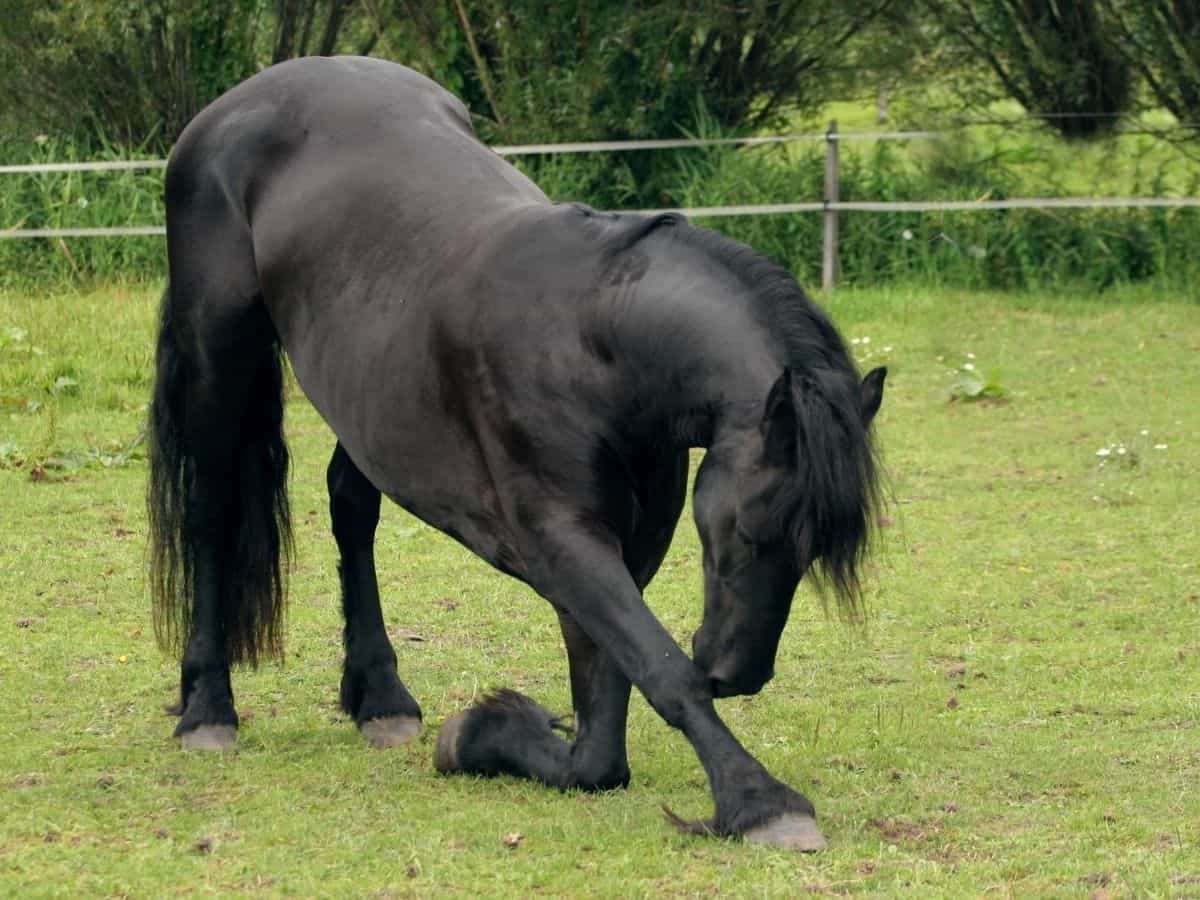 Enhance Your Horse's Fitness
Now, let's go over some activities you can do to improve your horse's fitness and your own. These are important for long term health, and for making sure you are aware of your horse and their needs.
Lunges
If you want to improve your horse's balance and rhythm without going for a ride, a session of lunges is a great option. You can do this for around 15 or 20 minutes at a time before your horse is likely to start fatiguing.
As a bonus, this will burn off some excess energy, which may be helpful if your horse tends to be restless and hard to control as a result.
Go for a walk together.
You can walk a horse the same way you can walk a dog. Doing so can be a lot of fun if either you or your horse are not up for riding, but still want to head out together and explore. This is a great way to keep up with many aspects of your riding routine without actually riding.
It'll help to expend your horse's energy, and it will give your horse and you a workout. Some people even go jogging with their horses.
Catch Up on Chores
De-clutter your tack.
How recently have you done a thorough inspection of all of the tack and riding clothes you own? Don't be surprised if you discover that a lot of your tack and clothes are worn-out, damaged, or simply not in use anymore.
De-cluttering your barn is time you are spending with your horse, but also put to good practical use. Donate items you no longer need that are still in usable condition. Here are some tips for how to know tack isn't working properly.
Clean and repair your tack.
After you finish decluttering your tack, something else you can do is catch up on maintaining it. Here are some tips for cleaning mildew off of your tack, but that's not all.
There are probably more than a few items that you need to wipe down. You also may find some that need repairs. Mending them while hanging out with your horse is a wonderful way to pass the time. And the next time you go riding, you'll be grateful you put in the effort.
Check to make sure the barn itself is safe and functional, and make repairs as necessary.
Is your barn in tiptop condition, or have you let repair tasks fall by the wayside? Spend some time conducting a thorough safety inspection. If you find any issues, you can go about repairing them.
You may want to check out these tips for getting your barn ready for winter, as well as checking for dangers to your horse hiding in your barn. This is an excellent time to double-check.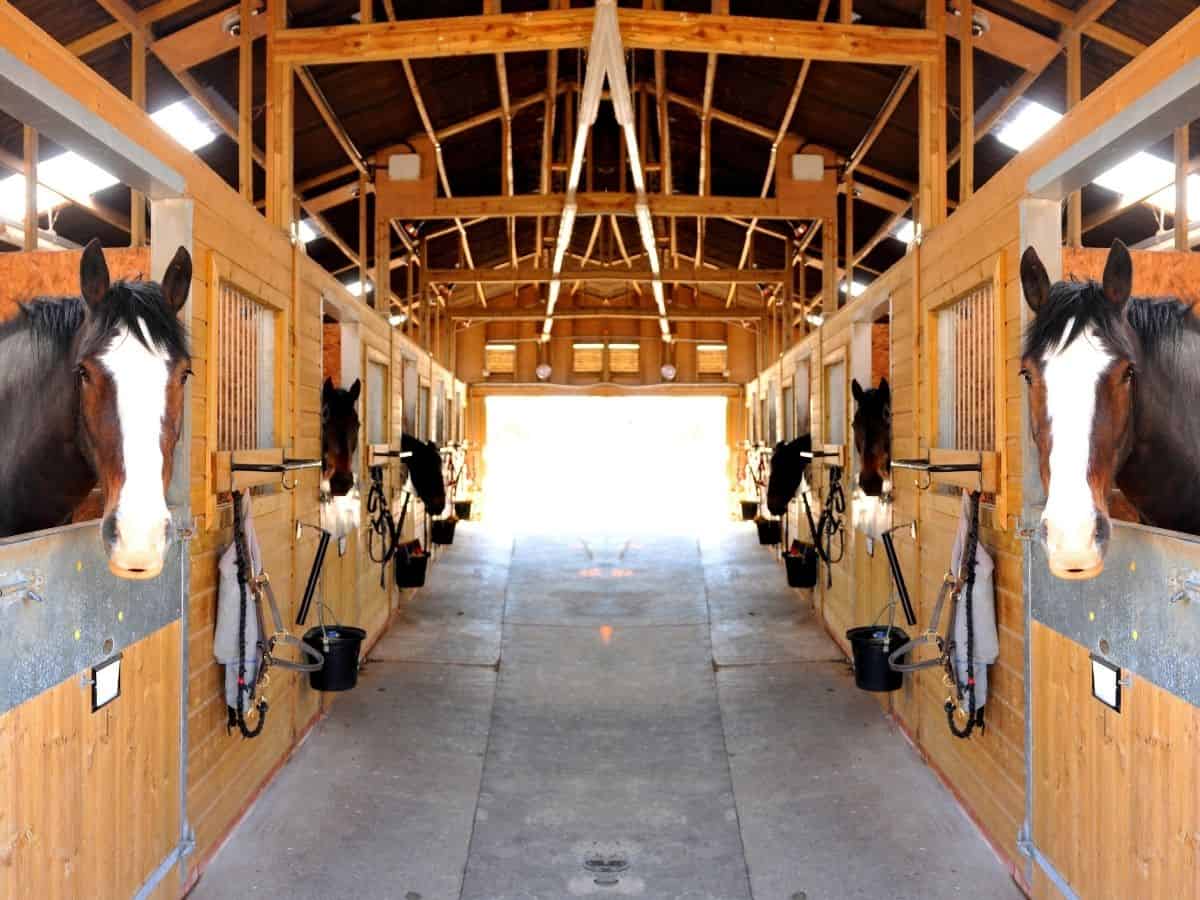 Bonding With Your Horse, General Wellness, and Fun
Sometimes it isn't as serious, but all about the bonding instead. Included here are extra treats, basic care, and just plain old fun ideas to spend time with your horse.
Give a treat in a toy, or make a treat toy.
Just as there are treat-dispensing toys for dogs and cats, these also exist for horses. If you don't have any, think about buying some. I love this hanging ball hay feeder, but it can be used for other treats to be hidden in the hay.
You also can make treat toys for your horse. Here are a couple of ideas:
Punch holes in a plastic jug. Insert carrots in the holes. It should take a little effort to pull them out (though not a ton). Hang it in the stall.
Alternative jug with holes. Instead of inserting carrots into the plastic jug with the holes, just put other treats inside. Your horse will need to shake them out.
Is it a hot day? Another fun way you can feed your horse a treat is to get a bucket and fill it with water. Add some vegetables that your horse enjoys, and then freeze the bucket. You can then remove the block of ice with vegetables from the bucket, and you will have the equivalent of a popsicle for your horse. It is tasty and entertaining!
Once you start making treat toys for your horse, you may very well find yourself coming up with other creative ideas. Seeing your horse having fun with these treat toys is as much fun as making them, so be sure to stick around and watch for a bit!
Share a picnic lunch.
Instead of sitting down to eat lunch at your table like you usually do, why not pack a picnic lunch and bring it with you to the pasture? You can eat while your horse enjoys the pasture. You also can bring along some treats. You can mix them in with training as rewards if you want, or just give them to your horse.
Have fun in the water.
If it is a hot day, your horse will love a chance to cool off! Take your horse to a nearby stream or lake. Your pal will have a lot of fun in the shallows.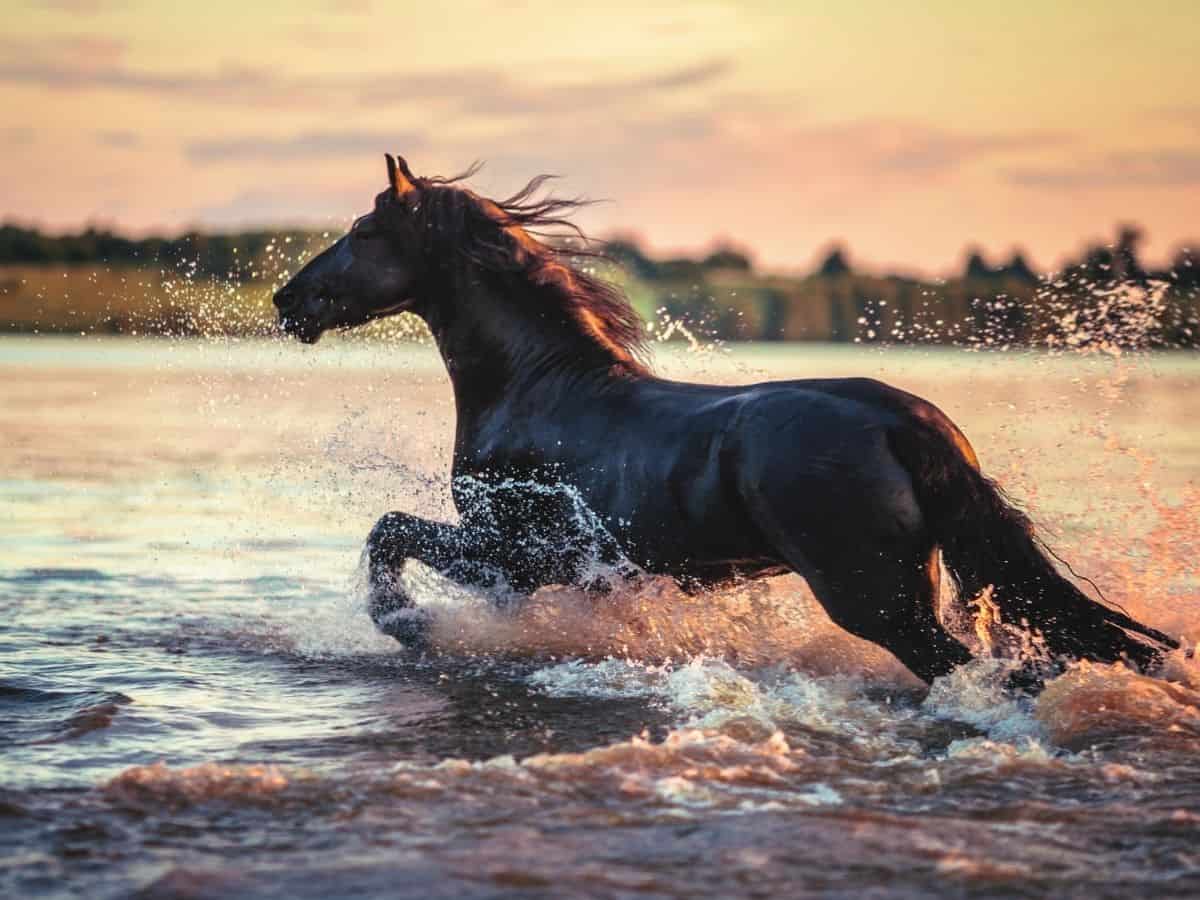 Have a "horse show."
Chances are good there is someone in your life who would enjoy watching you show off your horse. And you could probably use some practice if you are thinking about taking your horse to real shows.
So, have a friend or a relative come and hang out with you as you show off your horse. Kids, in particular, would probably enjoy this, so it could be a way to train and bond with your horse and spend time with a niece or nephew.
Give your horse a nice rub or scratch.
Horses like being rubbed or scratched, much as dogs or cats do. Set aside a few minutes to scratch your horse's favorite spot, or massage its muscles. Doing so can be good for your horse's body and mind, and it is a great way to show how much you love your equine pal.
Play with a ball.
Some horses love to play with balls! You can use a regular ball, or you can invest in an extra-large one designed for equine use. You can use a horse ball for training, or you can just encourage your horse to burn off some extra energy.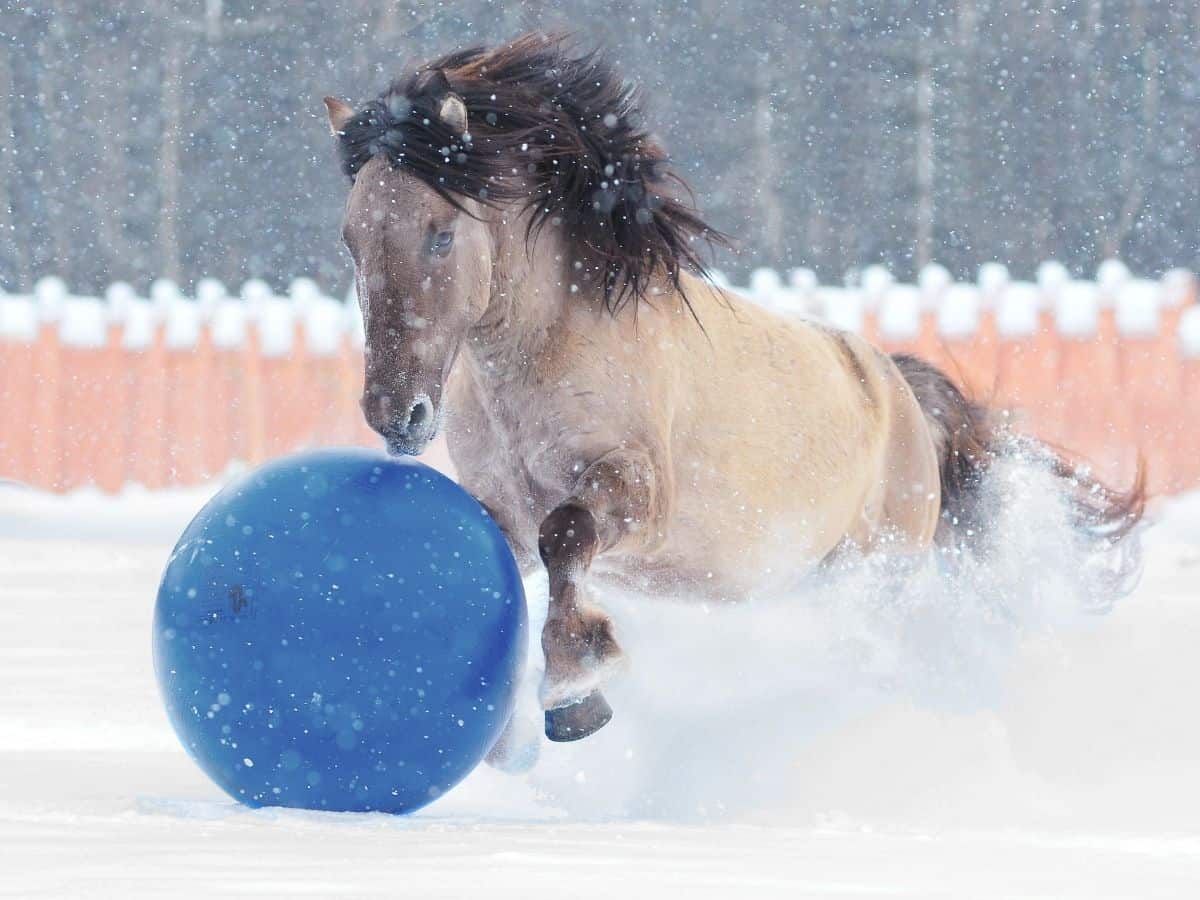 Give your horse a bath.
Bathing your horse obviously has a practical application, it may also be something your horse just really enjoys, especially if it is midsummer and blazing hot outside. While you are washing your horse, that is a great opportunity to give a nice massage.
Brush our braid your horse's mane or tail.
Your horse probably likes it when you run your hands through its main or tail, right? Make an activity out of it, and brush out tangles carefully. You could even try braiding the mane or tail. This can be pleasant for your horse and fun for you too.
Just keep in mind that if you do braid your horse's mane or tail, you should not do so too tightly. To get started, here are some horse mane styles to try!
Groom your horse with massage gloves.
We mentioned the idea of massaging your horse, but have you thought of massaging your horse with grooming gloves made that purpose? Massage gloves are a personal way to groom your horse. They can boost circulation, which is a nice health benefit, and they can relieve itches.
Get to know what constitutes "normal" for your horse.
Here is something to do which falls under the category of general wellness. Think about the last time you got nervous over some vital sign. Maybe there was a time your horse seemed to be panting more than usual, or its heart rate seemed high.
When that happened, you probably found yourself thinking, "Is this different from normal, or am I just imagining things? If only I knew what 'normal' was …"
To give yourself some peace of mind—and useful information—try tracking and logging your horse's vital signs during rest to establish a baseline. Take notes on your horse's mood, the time of day, how recently it has eaten, and so forth. Take multiple readings at different times.
You will then have a reference point to use in the future for "normal" breathing, heart rate, etc. in different scenarios. Not only will that help you to feel less anxious at times when things are normal, but it increases the likelihood that you will actually spot a problem if there is one. You will be able to give a better description to the vet when you get on the phone as well, which should help them to better help you make a decision about whether or not to schedule an appointment.
Play doctor with your horse.
How does your horse react to vet appointments? What about examinations by a dentist? These experiences are generally not a lot of fun for your horse or for you. They can produce a lot of anxiety.
One thing you can do to prepare your horse for these appointments is to "play doctor." That means going through some of the motions that are associated with such appointments.
Earlier we talked about acclimating your horse to syringes. But you can also do things like take your horse's temperature, or train it to open its mouth. These things are a lot less intimidating for your horse when it is just you doing it. You can even turn it into a game with rewards if you want. When the next appointment rolls around, your horse will probably be a lot less anxious and a lot more cooperative.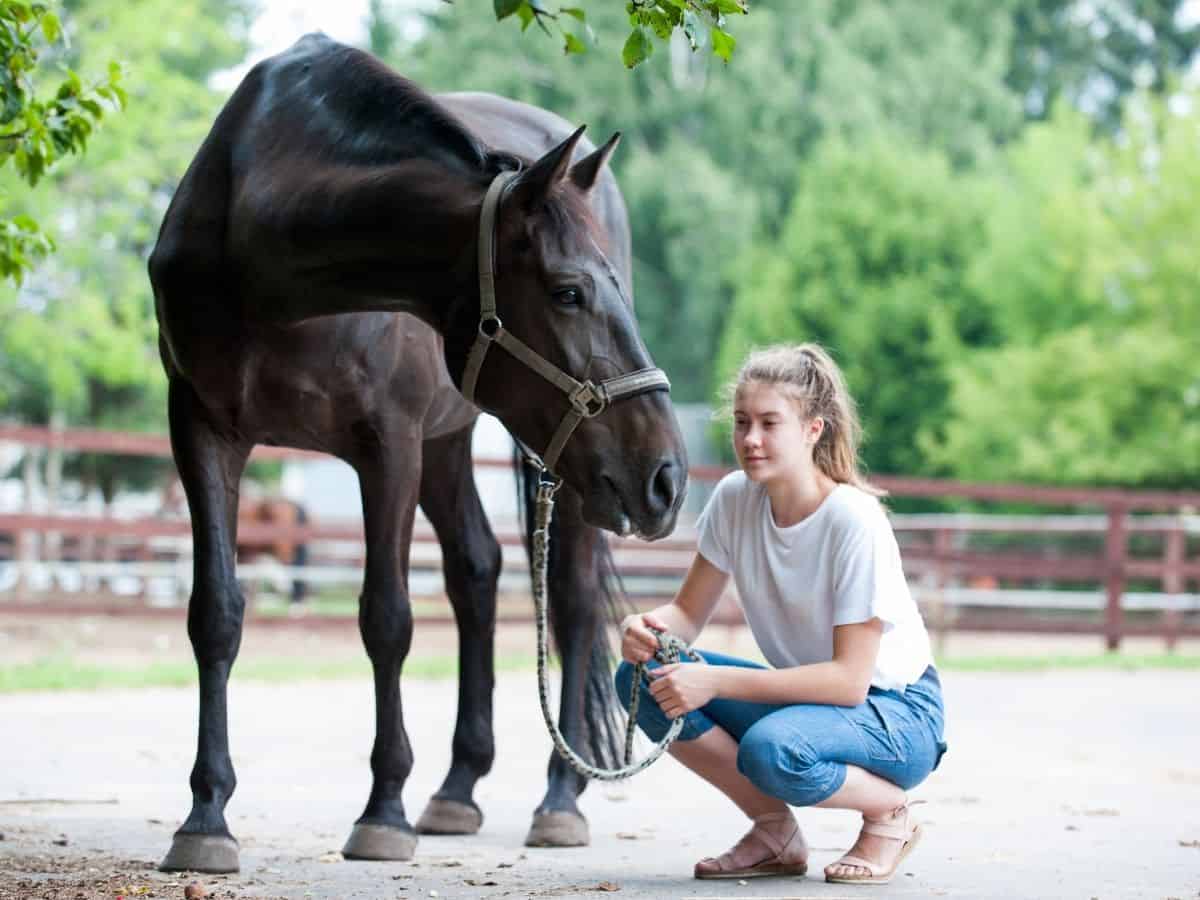 Try cooking for your horse.
You may feed your horse a variety of treats, but are any of them homemade? Cooking for your horse isn't really something you can do with your horse, but it is something fun and creative you can do for your horse.
And feeding homemade treats to your horse is definitely a fun shared activity. And it is a great way to bond because you can come up with special recipes that are tailored entirely to your horse's tastes!
Dance with your horse.
Some equestrians have a fun time teaching their horse's basic dance steps, and then dancing with them (i.e. the Hokey Pokey). This may be a good way to train precision with movements. It also can be a fun skill to show off to others.
Volunteer
Horse shelters and other organizations in your local community can always use an extra hand. This isn't necessarily something you will be doing with your horse, but it is still a great non-riding activity that will help you feel closer to your equestrian community, and by extension, your horse.
Make artwork with your horse.
Did you know that horses can learn how to hold a paintbrush and put paint on canvas? You shouldn't expect any sort of realistic rendering, but your pal can still produce some cool abstract pieces. You can even work together on the same painting!
Check out this cool story about a police horse that learned how to paint! How amazing is that?
Get photos taken with your horse.
Have you ever had a professional photographer take pictures of you with your horse? If not, you are missing out on a chance to capture the magic of your special bond with your horse.
Hiring a pro to take photos will cost you, but it will be worth it. You and your horse will have fun together posing, and the results will look spectacular framed around your home! You can also send extra shots to friends and family.
Take some photos of your own.
Don't have the cash to hire a professional photographer? Instead, why not try taking some photos yourself? It will be easiest to take photos of just your horse, not you and your horse together—but you can set a timer on your camera and try to take some together too.
You can spend a lot of time with your horse practicing your photography skills, experimenting with different lighting, angles, and environments, and striving to get the perfect shots. Just don't do what this photographer did to get pictures of horses in the wild.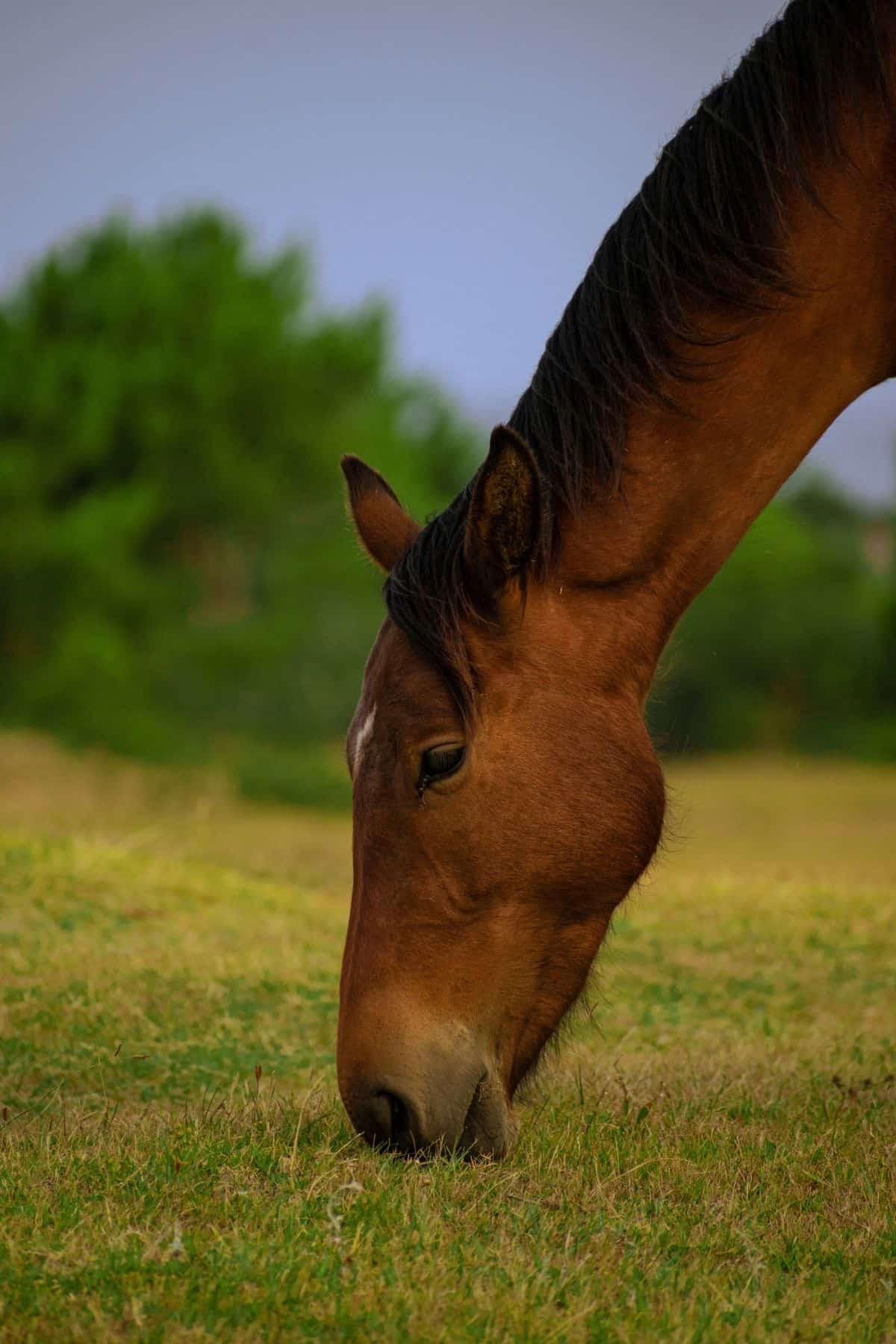 Make YouTube videos.
If you enjoy photographing your horse, another thing you can try is making videos! You could just take videos of your horse doing cute things and share that on YouTube or other video sites, or you could try your hand at making instructional videos.
By now, you have a ton of knowledge about how to train and care for horses. Sharing that knowledge with the world gives you an opportunity to do some fun non-riding activities with your horse and help out other equestrians.
And who knows? You might discover it is something you really get into. And if you share your horse videos around in your local community, they might just become more popular than you expect.
Read a book with your horse.
When is the last time you kicked back and relaxed with a good book? Since you are probably super busy with your equestrian duties, maybe it has been a while. But there is no time like the present.
Reading in the barn or out in the pasture is a good way to enjoy catching up on your reading while also spending more time with your horse. You can read in your head or you can read aloud. Your horse will not understand the words, of course, but may like hearing the sound of your voice.
Here is a list of some books horse lovers should read, and even print magazines horse lovers should buy. A great way to start!
Share your skills in person.
Making instructional YouTube videos with your horse to share with the world can be fun and rewarding. But have you ever thought about doing something similar in person?
Maybe there is someone in your community who is learning and could use some personal instruction. Offer to teach that person some skills for free. They will be super grateful, and you and your horse will enjoy the experience.
Just be with your horse.
Finally, do you know the phrase dolce far niente? It refers to carefree idle relaxation. This is something that is lost on a lot of us in our modern, fast-paced era when we expect to constantly be working on something.
But sometimes you need a little dolce far niente. But instead of relaxing in carefree idleness by yourself, why not do it with your horse? You don't always need to be working on something to enjoy being together.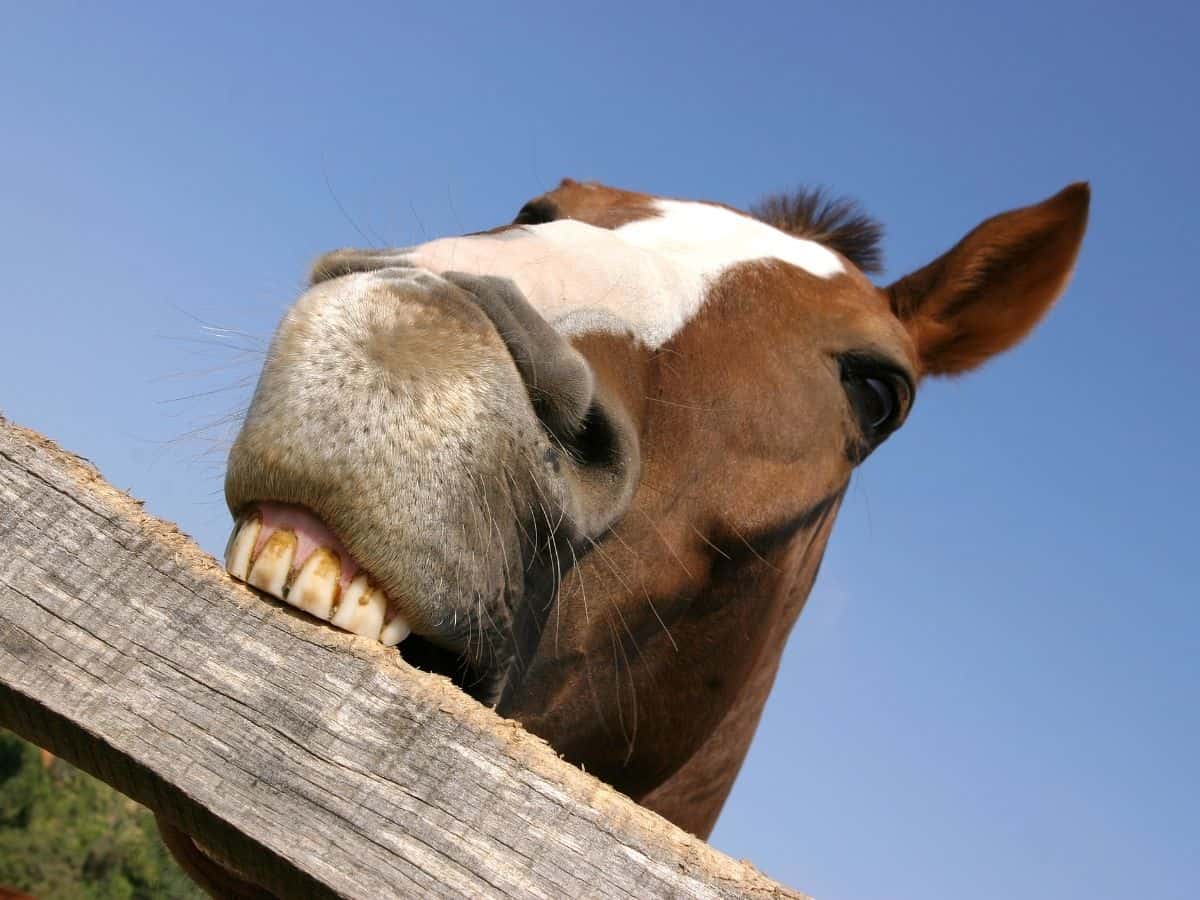 Enjoy Non-Riding Activities With Your Horse
While riding on your horse is always fun, it isn't always possible. Thankfully, you now know there are tons of other activities you can do with your beloved equine pal. Have fun with these non-riding activities, and enjoy bonding more closely with your horse.